Let's get started! Apply for free.
Whether you're fresh out of high school, Transfer and Readmits or an international learner, we know how exciting this next step is. That's why our campus admission team is here to help you get ready for what's next.
Let's get started!
Get ready to take the next step!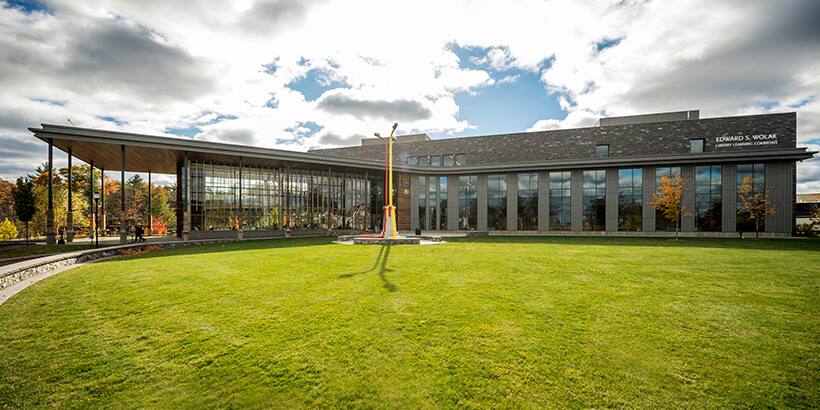 We know how exciting applying for college is, and we're just as excited as you are! Apply today and start your journey.
How to Apply
Here are the steps you'll take when applying to Southern New Hampshire University as a first-year student. The Office of First-Year Admission can answer any questions about application requirements along the way. We're here to make this as easy as possible.
1. Complete application:
Visit the Common App to fill out and submit your application. Then, celebrate! It's a big deal.
2. Submit additional documents:
We'll also need you to send a few documents, along with your application, to the SNHU Office of Admission. Here's a list of required documents and things to keep in mind:
Official high school transcript (or GED)
One letter of recommendation from a school counselor or teacher
Standardized test scores are optional and not required for admission
3. Explore financial aid options:
While it has always been our mission to make college more affordable, we understand it's still a financial investment. If you have questions about financial aid options, please reach out to Student Financial Services at SFScampus@snhu.edu.
Application Deadlines
Please keep an eye on these important deadlines:
Early Action Deadline - 11/15/2023
Priority Deadline - 02/01/2024
If you're applying as a transfer student, please visit transferring to SNHU for more information.
Considerations for First-Year Applicants
When evaluating applicants, the first thing we look at is your academic background, but we don't stop there. SNHU looks for well-rounded students with a variety of interests in and out of the classroom. Have a pastime you're passionate about? Let us know! Did a volunteer experience change your life? Share it with us! Dreams of traveling near and far? We're all ears.
Most candidates admitted to SNHU have completed 16 college-prep courses, including:
Four years of English
Three or more years of Mathematics
Two or more years of Science
Two or more years of Social Science
Considerations for Home-Schooled Applicants
A traditional high school experience is not required to apply to SNHU. Our students come from all types of educational backgrounds including home-schooling.
Accredited home-schooled application requirements:
An applicant must submit the equivalent of a high school transcript or records of homeschool studies. If the applicant has finished coursework in a non-homeschool setting, official transcripts or an official copy of the General Educational Development (GED) test scores or equivalent are required.
An applicant must provide verification that they have completed a secondary school education. This requirement may be satisfied by a signed statement from the parent or guardian, a home education diploma or a graduation date posted on the home education records.
The applicant must provide verification that the home education was carried out in compliance with applicable commonwealth or state laws. The form of this documentation will vary state-to-state. The documentation may be a letter from the local school board or public school superintendent, a letter from an umbrella school or a signed affidavit from the parent or guardian.
Non-accredited home-schooled application requirements:
If the home school program is not accredited, the applicant must meet all state regulations put forth by their home state and the state of New Hampshire, and may be asked to submit a portfolio including course descriptions, an annotated reading list and graded work for review.

Get Connected
At Southern New Hampshire University, we're committed to making the admission process easier. Whether you have questions about your application or want to learn more about the SNHU community, our dedicated admission team is here to help.
To connect with the team, reach out to admission at 603.645.9611 or admission@snhu.edu.