Be the "People Person" Behind Any Business with a Human Resources Management Certificate
Hiring, training and rewarding employees is among the most important jobs at any organization. Southern New Hampshire University's Human Resource Management Certificate is a great way to break into this rewarding line of work. You'll build your knowledge of business-employee relationships and organizational behavior, putting you in a position to launch a career in human resource management, switch from another profession or increase your chances of a promotion.
See Yourself Succeed in Human Resources Management
SNHU's human resource management certificate delivers the undergraduate training you'll need to apply for entry-level jobs in the human resource field, or refresh and augment your skills if you're already an HR professional.
As a private, nonprofit university, SNHU has one mission - to help you see yourself succeed. The benefits of earning your human resource management certificate at SNHU include:
Supportive community. Join the SNHU campus community of students who are closely connected with faculty and staff dedicated to your success.
Affordability. It's our mission to make higher education more accessible. That's why, SNHU is one of the most affordable private, nonprofit universities in New Hampshire.
Accessible faculty. Learn from highly credentialed faculty who are experts in their fields and interact with you in the classroom, dining hall, fitness center and the stands.
Flexibility. Complete your undergraduate certificate on campus or online.
Opportunity. Tap into our nationwide network of alumni and strong connections with employers for internship and career opportunities.
Campus experience. Enjoy more than 50 student clubs, champion Division II athletics and fun events on our 300-acre campus in Manchester, NH, named a "Best Place to Live" by Money magazine.
Internships & Outcomes
Human resource management is a growing field. The Bureau of Labor Statistics reports that employment for human resources, training and labor relations managers and specialists "is projected to grow by 15% between 2010 and 2020, much faster than the average for all occupations."
By completing SNHU's online or on campus human resource management certificate, you'll be well-versed in the HR principles, policies and practices today's employers seek.
Curriculum
The human resource management certificate provides the foundation in human resource principles and practices. Required courses will cover: Human Relations in Administration, Human Resource Management, Employee and Labor Relations, Total Rewards, Organizational Behavior and Human Resource Strategy and Development.
List of Courses
Courses May Include
Certificate in Human Resource Management Campus
OL 125
Human Relations in Administration
The human relations skills that managers need to develop interaction skills that contribute directly to effective human resource management and the development of higher productivity are studied. Skill areas include leadership, motivation, communications, group dynamics, organizational development, management by objectives, and stress and time management. Students learn techniques for becoming more effective managers, subordinates, peers and persons. Students are introduced to the international aspects of human relations.
OL 211
Human Resource Management
This course examines the fundamentals of policies and administration. Major tasks of procedures and developing, maintaining and utilizing an effective team are studied. Students are introduced to international human resource management.
OL 318
Employee and Labor Relations
This course examines employee-management relationships in both the union and non-union environments with an emphasis on best practices. Junior standing or permission of instructor.
OL 325
Total Rewards
This course covers the development and administration of compensation and benefit programs for organizations. Wage theory, principles and practices, unemployment security, worker income security, group insurance, and disability and pension plans are investigated. Emphasis is placed on objectives, policies, organization, implementation and revision of compensation and benefit systems.
OL 342
Organizational Behavior
This course focuses on the primary factors that influence behavior in organizations. Emphasis is placed on leadership, group dynamics, inter- group dynamics, organizational structure and design, change, culture, power and politics, environment and technology and organizational behavior in an international context. Offered every year. Writing and team intensive course. Junior standing or permission of instructor.
OL 442
Human Resource Strategy and Development
This course provides an in-depth examination of human resource strategy and development. Students will gain an understanding of the importance of sound HR practices and the integral role they play in achieving organizational success. Students will examine the environment of HR management; the challenges of staffing organizations, locally and internationally; the relationship of a learning organization to training and development; the role compensation and benefit strategies play in motivating the developing employee; and the concerns and issues related to employee and labor relations. Senior standing or permission of instructor.
Total Credits: 18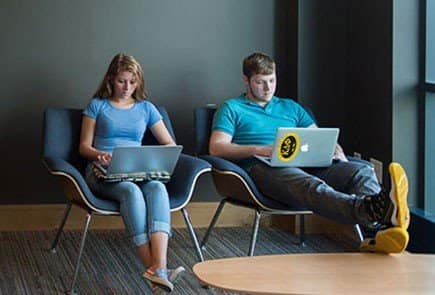 Campus Undergraduate Tuition
Our Manchester campus aims to keep tuition and related costs low for our students so that you can pursue your degree and your goals.