Earn your B.S. in Environmental Science with a Wildlife and Conservation Biology Concentration
Gain a full understanding of the role that wildlife plays in a stable environment and ecosystem, as well as the important role that humans play in conservation. A Bachelor of Science in Environmental Science with a concentration in Wildlife and Conservation Biology will provide students with a specific, specialized understanding of the many ways that animals influence the world around them, while underlining the importance of conservation. Students will graduate with a firm grasp on the biological sciences.
In addition, students are able to tailor the concentration to align with their specific interests. With courses in ornithology, zoology, botany, animal behavior, and conservation biology, students will have the opportunity to gain a well-rounded understanding of the field or focus on the aspects of the concentration that interest them.
See Yourself Succeed as an Environmental Science Major
Through coursework, research, independent study and working closely with your professors, you'll gain the communication, interpersonal and technical skills needed to make a difference in the world. Whether you choose to work for a private company, nonprofit or governmental agency, or continue your studies at the graduate level, you'll leave prepared to meet the growing environmental challenges around the world. Highlights specific to this BS program include:
Numerous field research opportunities on and off campus
Faculty-led domestic and global learning experience opportunities
Small classes that foster individual learning, independent study projects and internships to fit your career goals
As a private, nonprofit university, SNHU has one mission - to help you see yourself succeed. The benefits of majoring in environmental science at SNHU include:
Supportive community. Join the SNHU campus community of students who are closely connected with faculty and staff dedicated to your success
Affordability. It's our mission to make higher education more accessible. That's why, SNHU is one of the most affordable private, nonprofit universities in New Hampshire.
Innovative programs. Study abroad at little or no extra cost
Accessible faculty. Learn from highly credentialed faculty who are experts in their fields and interact with you in the classroom, dining hall, fitness center and the stands
Opportunity. Tap into our nationwide network of alumni and strong connections with employers for internship and career opportunities
Campus experience. Enjoy more than 50 student clubs, champion Division II athletics and fun events on our 300-acre campus in Manchester, N.H., named a "Best Place to Live" by Money magazine
Internships & Outcomes
Graduates who have chosen a Wildlife and Conservation Biology concentration will find a rich and varied job market available to them. Employers in many different fields have need of environmental science (and specifically conservation) experts. Among these industries include:
Conservation Groups
Environmental Protection
Federal Agencies
Land Development
Law Enforcement
Local Government
State Government
Curriculum
Students will receive a broad education in biology while having the opportunity to select specific courses in areas that are of interest to them.
Courses To Prepare You For Your Life & Career
SNHU's bachelor's in wildlife and conservation biology program includes:
General education courses
Degree-specific courses
General Education Program
SNHU's required general education program, known as The Commons, aims to guide you toward success in not only your academic career, but your personal and professional life too.
Throughout the curriculum, you'll gain some of the most in-demand skills in today's workplace, including:
Research and information analysis
Diverse audience communication
Critical thinking and ethical problem solving
Leadership, emotional intelligence and collaboration
This expertise will prove practical, transferable and invaluable as you grow in your career and contribute positively to society.
Beyond foundational skill development, the general education program also provides the benefit of allowing you to explore a wide range of fields outside of your intended major.
List of Courses
Courses May Include
BS in Environmental Science Wildlife and Conservation Biology
BIO 120
General Biology I
General biology course that includes mammalian cell structure and function, cellular reproduction and physiology, and Mendelian genetics. Laboratory exercises (BIO 120L) to follow lecture topics.
BIO 120L
General Biology I Lab
Laboratory course to follow topics presented in BIO 120.
BIO 121
General Biology II
This course builds on information presented in BIO 120. Topics include: principles and history of evolutionary theory, taxonomy, and systematic examination of the five Kingdoms of organisms: Bacteria, Protista, Fungi, Plantae, and Animalia.
BIO 121L
General Biology II Lab
Laboratory course to follow topics presented in BIO 121. This course gives students hands-on experience with laboratory techniques, and in-depth investigation and comparison of organisms. Students will observe the structure and function of cells, tissues, and organs. They will also examine evolutionary connections between the five Kingdoms of organisms.
BIO 312
Zoology
This course will discuss the anatomy, classification, adaptive physiology, ecology, and evolution of the major phyla of invertebrate and vertebrate animals. Virtual lab exercises and demonstrations will be used to support lecture material.
BIO 314
Introductory Botany
This course will examine the physiology, genetics, taxonomy, and evolution of plants. Lab exercises, field work, and demonstrations will be used to support lecture material.
BIO 315
Ecological Principles and Field Methods
This course introduces students to the principles of ecology and practical methods used in the field. Students will explore theoretical topics in the ecological systems including the level of the population, community and ecosystem; energy flow and biogeochemical cycles; and the concept of sustainability. Students will read literature and conduct research projects in the field and will use critical thinking to evaluate research, design studies, present findings and debate on the issues.
BIO 325
Animal Behavior
This course will introduce the student to the field of animal behavior. To gain a full understanding of the complexities of this subject, students will study aspects that influence innate behaviors, such as genetics, population biology, evolution and learned behaviors, such as learning theory and cultural transmission. The course examines theoretical and conceptual issues in animal behavior using experiments and case studies to highlight examples. We will focus on many important biological activities such as mating, the role of kinship, cooperation, communication, aggression, and play. In addition to identifying major patterns and processes of animal behavior, we will discuss the observational and experimental techniques used to study behavior and explore the major conceptual models guiding past and current research in this field. The course is offered as an upper level science course aimed at environmental science and psychology majors.
BIO 330
Conservation Biology
This course will focus on the importance of biodiversity. Currently, we are experiencing an unprecedented loss in species; losing, on average, two species a day. Unlike past mass extinctions humans are largely responsible. Following the Society of Conservation Biology's guidelines for conservation literacy, this course will investigate how we can apply biological principals to reverse trends in species loss. We will focus on case studies to develop our understanding of what maintains, reduces, and restores biodiversity. The course will be organized into three sections 1) history and value of conservation biology, 2) threats to biodiversity, and 3) approaches to solving conservation problems.
CHM 120
General Chemistry I
First semester of a one-year sequence covering the basic principles of chemistry. Topics include atomic and molecular theory and structure, the chemical and physical behavior of gases, liquids, solids, and solutions; chemical bonding; chemical equations and thermochemistry.
CHM 120L
General Chemistry I Lab
This course will introduce laboratory techniques that will be used to gain fundamental knowledge of chemical systems associated with the subject matter of CHM 120 - College Chemistry I
ENV 101
Environmental Science
This course provides an introduction to the scientific aspects of the environmental field. The first part of the course introduces students to the foundations of environmental science, while the second part concentrates on the application of these foundations to real life environmental problems. Therefore, the course not only engages the fundamentals of environmental science but also shows students how science informs sustainability, environmental policies, economics and personal choice.
ENV 111
Environmental Science Compass
This 1-credit course familiarizes students with the structure and personnel of the Environmental Science degree program, and the resources in place for their support and success. Course sessions focus on introducing students to science faculty members and their areas of expertise, to lab spaces on campus and the equipment available to them, and to additional resources such as the Shapiro Library's science databases. Students will also be introduced to professional experiences through Career Services and guest talks from local Environmental Science professionals from a variety of organizations.
ENV 220
Field Methods and Technologies
This course introduces students, interested in environmental field work, to the tools and technology of the profession. Students will read and discuss primary literature that use these techniques and will participate in hands-on activities to improve their skills. Main topics of the course will be the use and application of multiple environmental field research techniques and statistical and data analysis software.
ENV 250
Environmental Science Research Methods
This course provides students with an understanding of how to evaluate, conduct, write and design research. Required for environmental science majors, it introduces the why, when and how quantitative and qualitative methods are used as investigative tools. The course follows the scientific method and focuses on how to search the literature, write a literature review, formulate research questions/hypotheses, and design experiments to test these hypotheses. We will also explore qualitative methods and discuss their use in the field with special attention to conducting interviews, case studies, and focus groups. Students will prepare a research proposal on a topic of interest. Formulation of this project begins early, forms the basis for a final project, and is presented in a mock scientific conference.
ENV 440
Senior Seminar
This is an issue-based discussion course designed to define and explore the multifaceted consequences of environmental science issues. Several topics will be explored from either long-standing or current environmental science issues. Students are expected to conduct extensive research on relevant topics and communicate their knowledge in both oral and written assignments.
GEO 200
World Geography
This course examines the implications of global location and topography for the people of planet Earth. Students will explore how geography shapes the dynamics of human societies, with an emphasis on the geoenvironmental, geopolitical, and geosocial phenomena that help to define the modern world.
HIS 270
American Environmental History
The course examines the history of the American environment, paying particular attention to the impact of European settlement on the landscape and the subsequent commodification of resources that defined the American experience in the modern age. it will pay close attention to such phenomena as industrialization, pollution, population trends, urbanization, chemically-dependent food production, and energy consumption, to name only a few. Particularly important, the course will delve into the process of political responses to environmental and ecological challenges as they have evolved over time.
PHY 105
Geology
This course surveys the major themes in geology. Students will examine topics such as plate tectonics, the rock cycle, surface processes, and concept of geologic time.
PHL 363
Environmental Ethics
This course analyzes the application of ethical theory to moral questions about the environment. A number of different traditions in environmental ethics will be discussed and their strengths and weaknesses evaluated by applying them to practical moral problems.
Total Credits: 120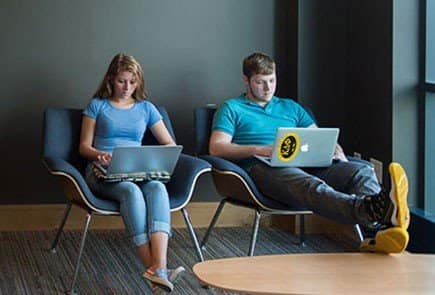 Campus Undergraduate Tuition
Our Manchester campus aims to keep tuition and related costs low for our students so that you can pursue your degree and your goals.