Live Life on Campus
We want SNHU to feel like your home away from home. That's why we offer a variety of housing options that meet your needs. With residence hall suites and shared apartments, we make it easy for you to get to your classes, to meet new people and to feel welcome on campus.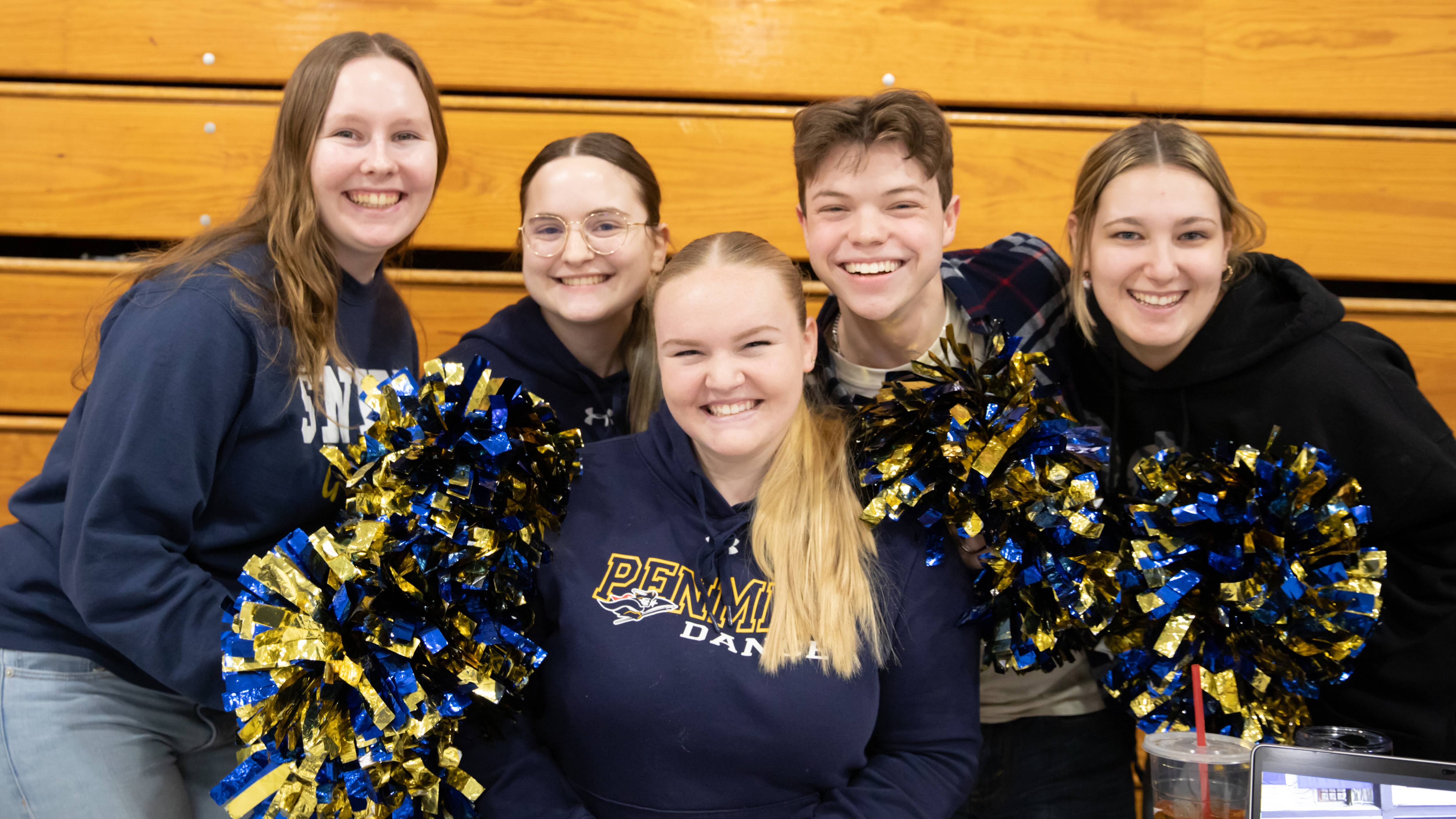 Are you ready to see what your dream college experience could look like? It's not too late to visit or apply!
Make Yourself at Home
Our state-of-the-art dorms and apartments feature all the amenities and safety features you need to take on your schoolwork and social life.
High-Speed Internet Access
Easy-to-access Wi-Fi makes studying and browsing at home more efficient.
Essential Furniture
Your room comes with a bed, desk, chair and wardrobe, so you can feel comfortable.
Meal Plans
All you can eat dining plan with delicious options to accommodate every appetite.
Community Happenings
Common spaces and community events to encourage hanging out and having fun.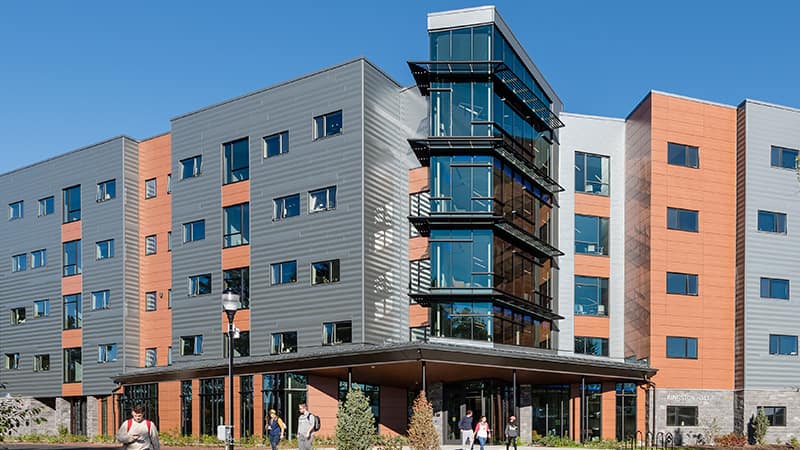 Residence Halls
Our residence halls located around campus will provide you with convenient access to dining services, academic buildings and other facilities. Residence halls are usually assigned to freshmen and sophomore students.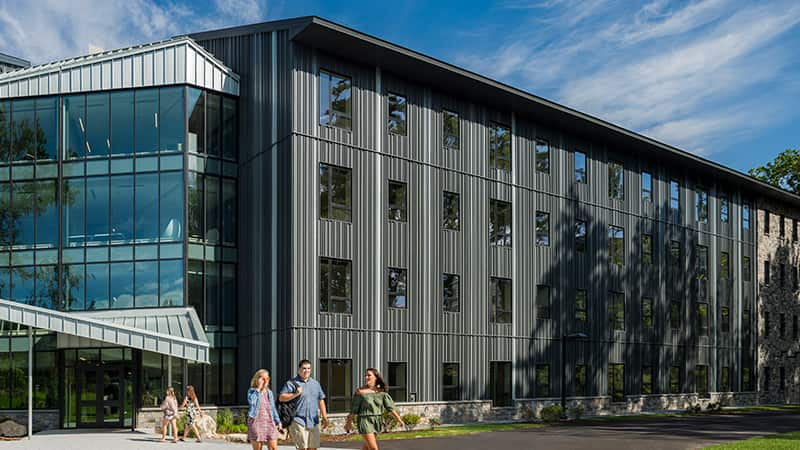 Residence Apartments
Our fully furnished residence apartments offer a bit more independence with apartment-style living. Think private bedrooms and bathrooms! This housing option is usually preferred by juniors and seniors.
Residence Life FAQs
When do first-year students and incoming transfer students move in?
We know how excited you must be to move into your new home - we are too! Be on the lookout for an email with your specific move-in date and time details. Until then, mark the following dates on your calendars.
New student move-in on Friday, 8/25/2023
Returning Students move-in on Sunday, 8/27/2023
We ask that students move in on their assigned move-in date and time - no earlier.
When will I receive my housing assignment?
For the fall semester, we send out room and roommate assignments in July. Assignments for the spring semester will be sent out late December.
If you have a specific request for housing accommodation, please email cac@snhu.edu. By requesting accommodations, you give permission for the Campus Accessibility Center to discuss your request (not disability information) with the Office of Residence life.
Can I live with a friend?
Once you have filled out your Housing License, you will be able to complete roommate matching. You can request a roommate of your choosing by searching the student's name. Students must be a matched pair on your MyHousing Director Portal to be roommates.
How do you choose where we are going to live?
Once a student puts down their housing deposit, they are entered into our housing database. Pulling from this database, we assign students based on mutual roommate choices, roommate preferences, hall and area requests and availability of these requests. Housing assignments begin in late June, so be sure to get your housing deposit in by the deadline - May 1.
All of our residence halls are co-ed. Co-ed floors have separate bathrooms for men and women. Our apartment and suite-style living areas (Windsor and Hampton) are co-ed within the housing unit.
I received my housing assignment – can I make a change before I arrive?
If you're not completely satisfied with your housing assignment, you may request a change prior to arrival. Simply fill out the Room Change Request form on your MyHousing Director Portal. Whether or not a change can be made to your housing assignment depends on the availability of rooms.
Is there air conditioning?
You'll be pleased to know that some of our buildings have air conditioning to keep you cool during the hotter months of the school year. These halls include Kingston, Tuckerman, Windsor and Hampton. In Monadnock Hall, there is air conditioning in the middle of the building near the common areas but not in the apartment units. Unfortunately, university policy does not allow for the installation of personal air conditioner units in any of the residential buildings.
One of the most exciting things about moving onto campus is the opportunity to make your space your own. All of our housing options come fully furnished, which should help you narrow down your packing list. So as you start getting your things together for move-in day, here are some essentials you should consider bringing:
Bedding: pillow, XL twin sheets, bedspread/blanket
Portable shower caddy, shower shoes/flip flops
Toiletries
Towels
Blow dryer
Laundry bag, laundry detergent
Wastebasket
Alarm clock
Coat Hangers
Desk or floor lamp
Vacuum/Broom/Swiffer, basic cleaning supplies
Tacks or small finishing nails
Small refrigerator (should be no larger than 3.5 cubic feet)

If you are interested in renting a microfridge, visit New England Student Services at www.nestudentservices.com or call 401.405.0920. Our registration code is 9481.
As far as furniture goes, your room will have everything you need - bed, mattress, desk, desk chair and wardrobe. If you do decide to bring any additional furniture, just remember that all university furniture must remain in the location and students are financially responsible for university furniture that is missing or damaged.
It's also important to note that due to safety hazards and community living guidelines, there are a few items you can't bring to campus:
Air conditioners
Candles
Halogen lamps
Hot plates
Hot tubs
LED strip lights
Immersion heaters
Microwaves
Pets (except fish)
3M hooks/Command strips
Space heaters
Toaster ovens or any other cooking appliances
Two-prong extension cords
Waterbeds
Weapons of any kind
Any items used to raise the bed off the ground are also not allowed in the residential buildings based on construction limitations and fire safety issues.
The university reserves the final decision on any item that they determine as inappropriate for the residence halls.
Can I see my room prior to arrival?
Since the rooms are occupied during the academic year, room showings can only be conducted if we have available showrooms. Contact the admission office at 603.645.9611 to arrange for a tour.
Am I allowed to have a car on campus?
Of course! All you need is a parking decal, which can be obtained from the Public Safety Office.
What about property insurance?
If you're interested in purchasing property insurance, you can apply for coverage through National Student Services. You can always renew or modify your coverage at any time.
When does spring break and summer start?
For all dates regarding term start dates and breaks, you can refer to the university calendar. In addition to keeping this calendar up-to-date, we will notify students living on campus about closing information electronically and via flyers. All residences are closed during breaks.
What do I do if I don't get along with my roommate?
Sometimes, roommates don't always work out and that's okay. The live-in staff, residence directors and RAs are there to help you get through this.
If you a concern or conflict with a roommate, contact your residence director to help resolve the situation. They'll provide mediation for you and your roommate. If you're still struggling with a roommate issue, they will work with on a room change.
Don't get us wrong. We love a late night mac and cheese snack just as much as anyone else. But unfortunately, there are no cooking facilities in the residence halls. Cooking facilities are only provided in our apartment units.
While you can't bring a microwave to campus, you can rent one through New England Student Services. Simply contact them at 401.405.0920 to rent a refrigerator/microwave for your room. Our registration code for the site is 9481.
No matter how cute and fluffy your family pet is, our residential buildings don't allow pets unless they're a fish, service animal, or emotional support animal. Call the Campus Accessibility Center at 603.644.3118 to register your emotional support or service animal.