Information for Parents and Families
We know heading off to college is an exciting time for both students and their families, and we want you to know we're in your corner. We've done everything we can to make sure your student is taken care of at every turn.
From a wide range of degree options, student services, public safety and beyond, we're committed to being a home away from home for your student during their time here, and we want you to know that their success, well being and happiness is always top of mind.
Fall 2022 Calendar
Opening Weekend - Friday, August 26 – Sunday, August 28
Classes Begin - Monday, August 29
Add/Drop Deadline - Sunday, September 4
Labor Day - Classes Cancelled and Offices Closed – Monday, September 5
Fall Break - Classes Cancelled and Office Open – Monday, October 10
Veterans Day - Classes Cancelled and Offices Closed – Friday, November 11
Thanksgiving Recess - Wednesday, November 23 – Friday, November 25
Last Week of Classes - Week of December 12
Final Grades Due in mySNHU - Tuesday, December 20
Dates subject to change
Sending and Receiving Mail
Part of the excitement of college is being in a new environment, but sometimes it's nice to receive a slice of home. If you'd like to send your student a piece of mail or a care package, please reference the below information.
Shipping and Receiving Information
Mailroom hours of operation:
Monday through Friday 8 am to 4:30 pm
Student mail and package address:
First Name Last Name
2500 North River Rd Box #
Manchester, NH 03106
Shipping services (from campus mailroom):
We are currently cash only.
We offer USPS and FedEx shipping.
We are a drop-off point for UPS.
How to open student mailbox:
Spin the dial to the left 4 times to clear the lock and then stop on first number.
Next, spin the dial to the right passing second number once.
Finally, spin the dial left directly to third number. Then twist the dial to the right to open mailbox.
To utilize our Amazon Locker located in the student center follow these steps:
Log into Amazon account and go to account tab
Go to addresses
Click add a new pick-up location
Use 03106 as the zip code
Scroll to amazon locker bearhat and add to address book
Looking to track a package?
USPS Tracking:
https://tools.usps.com/go/TrackConfirmAction_input
FedEx Tracking:
https://www.fedex.com/en-us/tracking.html
UPS Tracking:
https://www.ups.com/track?loc=en_US&requester=ST/
Mail Services is located in the Student Center, if you have any questions or concerns, please reach out to mailroom@snhu.edu.
Resources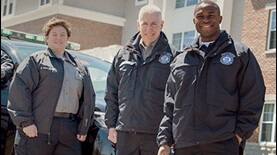 Campus Safety
We have taken steps to ensure that the SNHU campus is as safe as possible. Our SNHU Alerts system can quickly inform students and parents about situations unfolding on campus, and our public safety officers are always here to protect our students.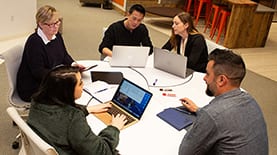 Campus Majors
There are over 100 programs of study on campus at SNHU, ranging from video game design to engineering. We also offer innovative 3-year degree paths, experiential learning opportunities and the hands-on resources you need for the career you want.
Campus Admission
At SNHU, we make the admission process easy. Whether you're a prospective first-year, transfer, or international student, your pathway to campus starts here!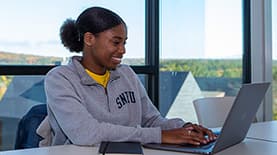 Tuition & Financial Aid
SNHU is one of the most affordable private universities in New England, and over 90% of our students receive financial aid.