Make an Impact as Adjunct Faculty
If you're looking to teach online at an always-expanding university, SNHU's adjunct professor jobs provide high-quality experiences for both you and your students. As a member of our adjunct faculty, you'll be able to work collaboratively in an academic environment while supporting students as they work toward their educational goals.
Come work at the fastest-growing university in the nation, and help transform the lives of our students. To apply, please review the open requisitions on our adjunct jobs page and complete an adjunct faculty application. If you'd like to check your application status, please navigate to the adjunct jobs page and login to your candidate account. If you have any further questions, feel free to email teachonline@snhu.edu.
Employment Honors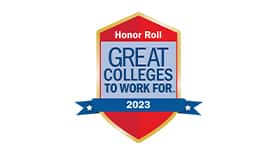 Adjunct faculty positions are offered to qualified applicants who live in and are authorized to work in the United States without sponsorship. Minimum qualifications will be listed in each job posting.
Review our list of academic programs
Review our available positions and apply through Workday. You will receive an auto-email once you have successfully submitted your application.
Although we are continuously accepting applications, we may not have an immediate need for faculty with your background and experience. Your application will remain active for 1 year should a position open, at which point you will be contacted by a faculty recruiter.
You can view the status of your application on the Workday portal.
New online faculty training is a blend of faculty expectations, best practices for teaching online, pedagogy, creating student-centered learning communities and effectively using SNHU academic technologies. This paid training is required for all new SNHU online adjunct faculty members, and must be successfully completed as a part of the onboarding process.
The 3-week course is delivered through our learning management system (Brightspace), in an online cohort format. Online classrooms are set up similar to real world classrooms and foster a sense of community and collaboration.
All adjunct faculty members are guided by online training facilitators who are seasoned SNHU faculty members. The time commitment varies depending on levels of software familiarity and classroom experience.
Ongoing Training and Professional Development
To promote continued learning, adjunct faculty are offered ongoing training and professional development opportunities through COLT (Center for Online Learning and Teaching). These trainings include faculty spotlights, trainings for new system upgrades and ongoing support, assistance and coaching.
While we are always looking for interested adjunct faculty to teach regularly, we are unable to guarantee teaching assignments every term. Teaching assignments are typically issued 6-8 weeks prior to the start of the term, up to 10 sections annually.
Our adjunct faculty are instrumental in ensuring that students are successful in the classroom. This commitment means faculty works closely with each student providing 1 on 1 support, collaborating with student advising and academic teams as well as giving course feedback. Adjunct faculty are required to respond to student inquiries within 24 hours and be active in the online classroom throughout the week.
SNHU online courses run on a term schedule. There are 6 undergraduate terms in an academic year, lasting 8 weeks each and 5 graduate terms, lasting 10 weeks each.
Compensation and Pay Schedule
The standard compensation for most courses is $2,200 per 8-week undergraduate course and $2,500 per 10- week graduate course. Nursing has a separate compensation structure.
Undergraduate and graduate adjuncts are paid biweekly and are considered W2 employees.
Since most of our students are located around the world, our online courses provide flexibility and give our students a sense of autonomy. The average course has 25 students. Some writing intensive courses, such as English and Literature, may have a lower cap per course. In order for the class to run, there needs to be a minimum of 10 students registered for the class.
While courses are pre-designed and developed in advance, we rely on our faculty to keep courses fresh and relevant by incorporating supplementary reading materials such as free online resources. Faculty will offer and evaluate feedback to students' assignments and identify areas where they can improve.
Required textbooks and resources are offered in a variety of forms, including digital textbooks, digital courseware and physical hard copies. Required course materials and textbooks are provided for the faculty free of charge.