Jacqueline Braswell '16: Surpassing the Limits with an SNHU Degree
Braswell, like so many others who graduated at SNHU commencement ceremonies earlier this month, is a non-traditional student and works in the financial aid department at a university in New York. Armed with her bachelor's degree, she can begin working on her dream to continue her education and become an English professor and author.
"I would love to become an English professor. I want to write books, and I want to get into fashion journalism. So I think it'll open up a lot of doors for me," Braswell said. "... I wanted the program to broaden my education in regards to writing and literature and English. And I can honestly say that the program did not disappoint. It was the perfect balance. I did critical analysis. I studied the great literature like Shakespeare and the great poets. And I also did the fiction... it was a lot of writing."
Braswell said the bachelor's degree she now has is the continuation of a love of learning first kindled during a semester she spent earlier in her life studying costumes, architecture and interior design.
"And that experience transformed my life ... I believe that single program sparked my interest and piqued my curiosity to go further, and I just haven't stopped studying since," she said. It helped form her belief that education is a key to opening so many opportunities.
"I really believe ... someone gets a great education, there are no limitations as to what they can do," Braswell said. "You can get into education. You can get into government. You can get into entertainment. You can get into business. You can get into law. I believe the sky is the limit and education is the foundation."
Joe Cote is a staff writer at Southern New Hampshire University. Follow him on Twitter @JoeCo2323.
Explore more content like this article
July 22, 2021
Your personal preferences, the time and resources you can put toward your coursework and any credits you've already earned are all factors that will impact how quickly you can reach your educational goals. An online bachelor's degree program can help you fit your learning into a busy schedule.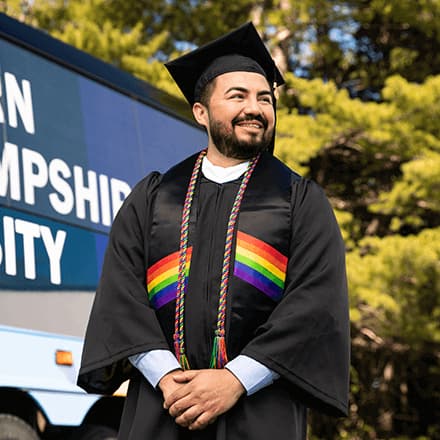 July 19, 2021
The moment Jesús Suárez '21 received his diploma in the mail was one he and his family will never forget. This was more than a degree—it was a cap to an incredible journey. While there was a series of hardships along the way, there was a persevering sense of love and accomplishment.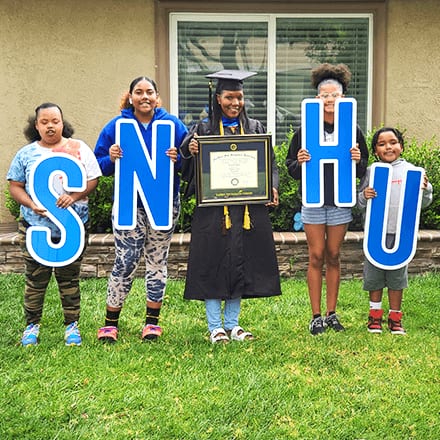 July 12, 2021
Latisha Aguilar '21 has always wanted to be a voice for special needs students and advocate for them. With the goal of becoming a middle school guidance counselor, she said finishing her psychology degree later in life allowed her more time to figure out what she wanted to do with her education.