The Future of Education Is Open - Part I
Co-authored by Keisha Sheedy and Megan North.
In recent years, quality educational resources that reach and inspire diverse audiences have been made available for free. The education world refers to these materials as Open Educational Resources (OERs), and they are flourishing.
These resources are both consistent and dynamic; they range from traditional-style textbooks to online games and simulations and collaborative documents created by instructors and students.
OERs resonate with many, but especially those whose educational opportunities have been limited by financial struggles. Simply stated, many potential students are being priced out of college due to the snowballing collective cost of tuition and textbooks. Putting this insurmountable price on education is restrictive in ways that are neither kind nor productive.
For true educators, this is not a secret. A shift in both perception and action has gradually evolved, and educational resources are seen as an opportunity for lowering students' financial burdens.
Looking Back
OERs have become a legitimate educational force over the last few decades. The establishment of Creative Commons in 2001 played a major role in defining OERs as teaching, learning and research materials that reside in the public domain under an open license and that permit appropriate uses. It also constructed parameters for more lenient creation, sharing and use of materials. Its mission is to maximize full use of the internet "to minimize legal, technical, and social barriers to sharing and reuse of educational materials." As a result, Creative Commons has become a community for creating and sharing across a range of technological platforms.
Taking advantage of those Creative Commons licenses, the MIT Open Courseware Program further influenced the current landscape of higher education. Committed to a mission of "openly sharing educational resources," MIT began using the internet to make core academic materials, such as syllabi, lecture notes and exams from their courses, available to everyone. This was considered by many to be "bold and counterintuitive," especially during the wave of for-profit online learning efforts. Shortly after, UNESCO organized the first Global OER Forum to begin to understand the impact of this growing number of freely available academic materials. The term "open educational resources" was coined in this forum, well after the growth had started.
Gaining Momentum
As the conversation about OERs continued to develop, educational stakeholders found numerous benefits to open resources, especially when integrated directly into higher education courses. Traditional textbook costs are extremely high and, as Executive Director Naomi Baron of the Center for Teaching, Research and Learning at American University found, increasingly more students are opting not to purchase a costly text when money is tight. When free and openly available learning materials are incorporated, student-facing costs are greatly reduced or eliminated, and many access and availability barriers are removed.
However, the economic value of OERs extend far beyond the obvious. In a large-scale survey, "An OER COUP: College Teacher and Student Perceptions of Open Educational Resources," TJ Bliss, T. Jared Robinson, John Hilton and David Wiley examined the cost, outcome, use and perceptions of the resources. They found that students believe open materials are as good as or better than traditional paid resources. Anecdotal evidence from MIT shows that students around the world can use OERs to tutor themselves in a specific subject, providing an additional financial benefit. OERs can also be used to inform important educational decisions, including whether or not a student is ready for college, giving institutions the opportunity to advertise their OERs to reach a more diverse population of students.
Over the last two decades, a growing number of schools have followed in the footsteps of the early OER adopters or blazed their own OER trails as organizations have become more cognizant of the economic gap that exists. In recent years, 38 schools in 13 states have joined the OER Degree Initiative—supported by the national nonprofit organization Achieving the Dream — to create entire two-year degree programs using only free, open resources. This initiative is "designed to help remove financial roadblocks that can derail students' progress.
Among the many schools involved in the initiative are Tidewater Community College in Virginia and San Jacinto Community College in Texas. Tidewater Community College offers a two-year Business Administration degree known as the "Z-Degree," as textbooks are zero cost to students, saving them an estimated 25% of the cost of traditional education. This year, San Jacinto College joined the initiative by introducing a General Studies program. Full-time students, who were spending around $700 per semester on textbooks, will save a significant amount of money in these programs.
SNHU has also focused on expanding its use of OERs. Among the seven design principles of the First Year Experience program is the notion that new students should have the opportunity to access learning resources at little to no additional cost... We have also partnered with publishers and vendors to remix and revise digital texts and embed them directly into the course, with the goal of lowering costs and engaging more students. In the true fashion of OERs, students are able to access the material from the first day of the term (or earlier), which can positively impact student retention. Additionally, we empower faculty in all courses to use their discussions and announcements as a place to interact with students. OERs can be incorporated to illustrate personal, instructional, and intellectual presence in the classroom.
Overcoming the Challenges
As with any new practice, there are some significant challenges to developing and incorporating OERs in higher education. Possibly the biggest challenge that an OER initiative faces is related to the cost of developing and maintaining OERs. While the content is free to use, it is expensive to create. The time and effort involved in developing tools and resources should be compensated. Similarly, ongoing responsibilities of quality assurance and maintenance also require some form of compensation. Grant funding often covers these costs. Unfortunately, these are usually one-time investments rather than ongoing budgets. As a result, projects may be neglected or left incomplete, calling the credibility of OERs into question.
Although these budgeting challenges seem overwhelming, that may not be the case. It's possible that a solution to the biggest challenge of OER development is built directly into the concept, because the use of OERs may have a significantly positive impact on student retention. Researchers and educators Wiley, Linda Williams, Daniel DeMarte and Hilton found the adoption of OERs resulted in higher enrollment and fewer withdrawals. The result is an increase in tuition collected, which, if distributed back to the OER initiative, can offset the cost of development and maintenance. This is called the INTRO (INcreased Tuition Revenue through OER) sustainability model, and Tidewater Community College has shown early success using this model with its Z-degree program.
With the development of open educational resources over the last few decades, higher education has made huge strides in the effort to provide all students with a quality, affordable education. More individual instructors, institutions and students are seeing the benefits of using open content in their courses and especially replacing traditional paid resources with material that can be accessed freely and immediately. OERs encourage the unique opportunities to present affordable, accessible and scalable materials for all students. As educators, we must seriously consider developing and adopting OERs to reduce financial burdens.
**In Part II we discuss the process of creating OERs, licensing open content and sharing educational materials.**
Allison Davis is a Learning Resource Advisor in the Academic Resources and Communication Department at the Southern New Hampshire University.
Megan North is a Learning Resource Vendor Manager in the Academic Resources and Communication Department at the Southern New Hampshire University.
Keisha Sheedy is a Learning Resource Analyst in the Academic Resources and Communication Department at the Southern New Hampshire University.
Explore more content like this article
May 26, 2021
The world is over a year into the COVID-19 pandemic and some people are growing tired of public health measures. What are some of the things that can be done to combat pandemic fatigue?
March 25, 2021
The importance of empathetic teaching in an online environment cannot be understated. Students appreciate when instructors show concern for what is happening in their lives, and having an instructor with a teaching approach that focuses on empathy helps them navigate anxiety or uncertainty.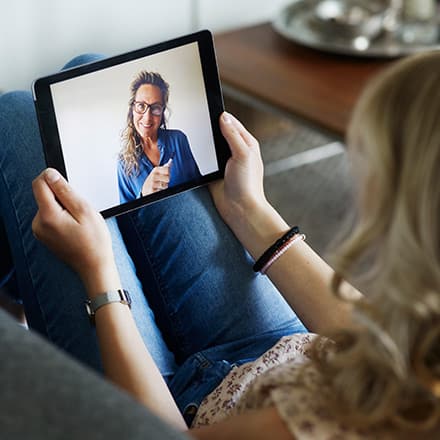 February 11, 2021
Consider what your role might be as a mental health advocate; someone who gives a voice to the problems and potential solutions related to mental health and mental health awareness. To advocate means more than just giving voice; it means to fight.