What is an Undergraduate Degree?
Understanding the Numbers
When reviewing job growth and salary information, it's important to remember that actual numbers can vary due to many different factors — like years of experience in the role, industry of employment, geographic location, worker skill and economic conditions. Cited projections do not guarantee actual salary or job growth.
An undergraduate degree marks the first step on your higher education path. It describes two kinds of degrees: associate and bachelor's degrees. By earning an undergraduate degree, you can better prepare yourself for a career or position yourself to attend graduate school.
According to the U.S. Bureau of Labor Statistics (BLS), workers with undergraduate degrees typically earn more and have lower unemployment rates than their peers who have less education. In 2022, for example, workers with a bachelor's degree reported median weekly earnings of $1,432, BLS reported, compared to their peers with a high school diploma who earned $853.*
Is an Undergraduate Degree the Same as a Bachelor's?
A bachelor's degree is often referred to as an undergraduate degree — but it's not the only degree under the undergraduate umbrella. An associate degree, often called a "2-year degree," requires half as many credits and takes much less time to complete than a bachelor's degree, but it is also an undergraduate degree.
So, if you are wondering, "is a 2-year degree an undergraduate degree?" — the answer is yes, it can be!
What is an Undergraduate Degree vs. a Graduate Degree?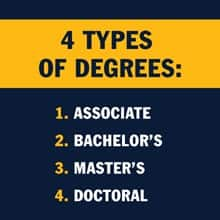 In the United States, an undergraduate degree refers to a program of study that you can pursue immediately after high school — or any time thereafter. The first rung on the higher education ladder is the associate degree. It allows you to earn credits you can apply toward a related bachelor's degree or can lead directly to an entry-level job role.
Bachelor's degrees include general education courses and classes specific to your major that can position you for direct entry into a variety of career fields. You do not have to earn an associate degree before enrolling in a bachelor's degree program.
Only after you've earned a bachelor's degree can you work toward a graduate degree. The types of graduate degrees include a master's or doctoral degree. Individuals pursuing graduate degrees gain expertise in a particular subject area, develop leadership skills or increase their earning potential.
While some earn a master's degree before entering a doctoral program, others do not. A master's degree requirement to pursue a doctoral degree may vary by school and program of study.
What are the 4 Types of Degrees?
There are four types of degrees you can earn — although you must complete a bachelor's degree before you are eligible to apply to graduate school. The good news: You can decide at any time after you receive your bachelor's degree to take courses that lead toward a graduate degree.
With so many part-time and online options available, earning a degree is more attainable than ever for adults with family or work commitments.
Associate Degrees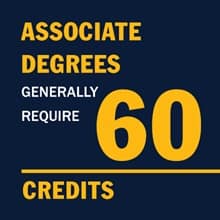 Associate degrees require 60 credits (the equivalent of 20 classes) and typically take 2 years to complete. They fall into two categories: Associate of Arts (AA) or Associate of Science (AS). Both include courses that provide a foundation of knowledge in your major.
Some types of associate degrees include:
At some schools, you can transfer the credits you've earned in your associate degree program toward your bachelor's degree. For example, if you come to Southern New Hampshire University (SNHU) with an associate degree, you can transfer up to 60 credits toward your bachelor's degree program.
Bachelor's Degrees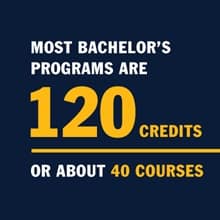 Bachelor's degrees require 120 credits (the equivalent of 40 classes) and traditionally take 4 years to complete. Today, online learning options and shorter, more frequent terms provide you with the flexibility to take classes that fit your schedule. Ultimately, your course load determines how long it will take you to finish.
There are many types of bachelor's degrees that generally fall into one of four categories:
A Bachelor of Arts often focuses on the liberal arts and social sciences, which include majors such as:
A Bachelor of Science emphasizes science, business and math-intensive majors such as:
Learn more about the difference between a BA and a BS.
The BFA focuses on the fine arts — such as studio art, creative writing and music. Licensed nurses in pursuit of a BSN typically seek to advance in their field.
Master's Degrees
To earn a master's degree, you must successfully complete a bachelor's degree. Most master's degree programs require you to earn up to 36 credits and take 1 to 2 years to complete, depending on your program and course load.
Today, you can take advantage of part-time online programs — which can accelerate or extend the time it takes to finish, allowing you to progress through your degree at your own pace.
More specialized than a bachelor's degree, a master's degree allows you to focus on one area of study.
Common master's degree programs include:
Similar to a BA, an MA includes majors related to the liberal arts and social sciences — but allows you to go deeper into those subject areas.
Popular MA programs include:
And, like a BS, an MS builds upon scientific and technical subjects.
Popular MS programs include:
Learn more about the difference between an MA and an MS.
If you decide to go for your MBA, you will gain a broad business management background and have the opportunity to specialize in topics. You may choose from 15+ concentrations, including:
An MEd helps you gain mastery in curriculum and instruction and builds upon your knowledge in areas like special education, reading and online teaching.
If you are a licensed nurse working in a health care setting, an MSN can help you improve patient outcomes by teaching you how to manage and improve healthcare systems, policies, processes and services. Finally, a Master of Fine Arts is a terminal degree that allows you to teach studio art, music or creative writing at the university level.
Doctoral Degrees
Doctoral degrees, or doctorates, are terminal degrees that can take 4 to 6 years to complete. You might seek a Doctor of Philosophy if you're looking for advanced research opportunities or want to teach at the university level.
Popular doctorates include the PhD in Education Leadership, which explores topics in social justice, equity and leadership within the field and prepares you to drive organizational change. A PhD in International Business allows you to research global business opportunities and build upon research related to multinational business strategy.
Besides a PhD, other doctoral degrees include the Doctor of Medicine (MD), the Doctor of Education (EdD) and the Juris Doctor (JD) degree.
What is a College Major and Minor?
Ideally, choosing the right college major can lead to a satisfying job and a rewarding career. Your major is the subject area you focus on within your college degree program. The purpose of choosing a major is to demonstrate competency in an area that will prepare you for a career in a particular field or for graduate study.
According to College Board, you will take between one-third and one-half of your coursework in your major. You might decide to "double-major" or major in more than one subject area, and others also pick a minor — a specialization that requires fewer credits than their major. Still, at other universities, you might be allowed to create your own major.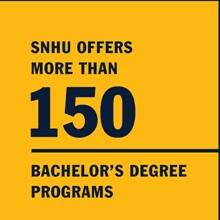 While both associate and bachelor's degrees require you to pick a major, they have different timelines when it comes to making a final declaration. You won't have to declare your major until about midway through your bachelor's degree at some colleges, but because associate degree programs are much shorter, you'll need to declare your major right away.
It's important to choose a university that offers a variety of majors in case your interests or goals change. For instance, SNHU offers more than 150 bachelor's degree programs. If you plan to earn an associate degree first, you should also ensure that the credits in your major will seamlessly transfer over to your bachelor's degree. Graduate programs by design are highly specialized, but they also offer both majors and concentrations. At SNHU, there are more than 100 master's degrees you can choose from.
Hung up on what to major in? Take heart: your college major alone is not likely to determine how successful you will be in your career. Your degree, prior work experience, soft skills and professional network are all key factors employers consider. In fact, only 27% of college grads work in jobs related to their major, reports Inside Higher Ed.
No matter what your final goal might be, an undergraduate degree gives you an edge in a competitive workforce and an opportunity to deepen your knowledge in a variety of subject areas.
Online. On campus. Choose your degree from 200+ SNHU degrees that can take you where you want to go.
---
*Cited job growth projections may not reflect local and/or short-term economic or job conditions and do not guarantee actual job growth. Actual salaries and/or earning potential may be the result of a combination of factors including, but not limited to: years of experience, industry of employment, geographic location, and worker skill.
---
Krysten Godfrey Maddocks '11 is a writer and marketing/communication professional. Connect with her on LinkedIn.
Explore more content like this article
Frederico Curty '23G was already a firm believer in the importance of education when he earned his Master of Science (MS) in Higher Education Administration in 2023. But he said he learned how valuable it is to be supported while earning your degree – especially as a dad.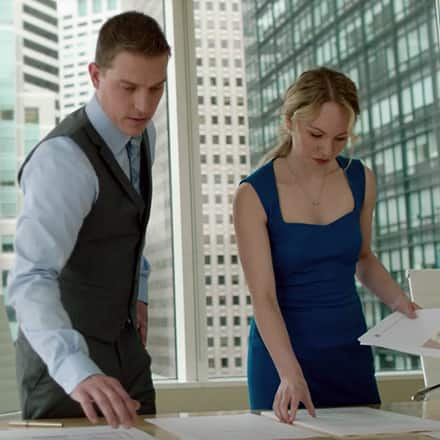 A master's degree comes after a bachelor's degree and is typically a two-year academic program that allows you to specialize in a subject area of your choice. Some common types of master's degrees you can choose from include: Master of Arts, Master of Science and Master of Business Administration.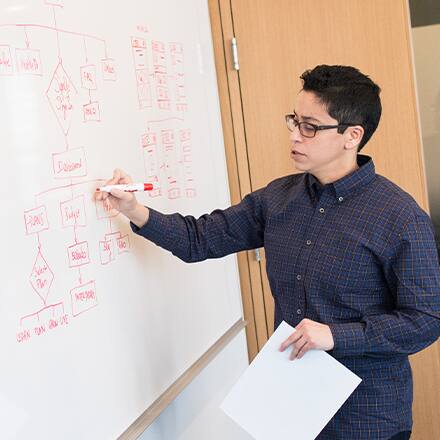 Everyone has a different style of learning. Through understanding the styles of study and note-taking that suit you best and knowing about different strategies for activating your learning, you can maximize your learning experience with formal education, and in all areas of life.
About Southern New Hampshire University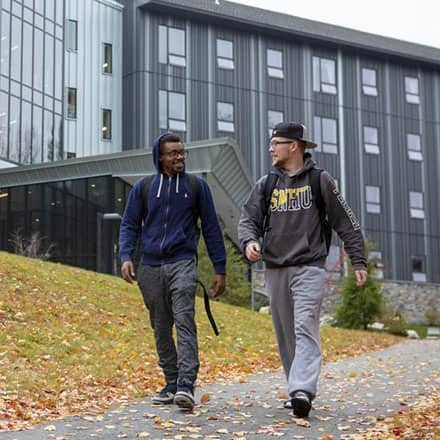 SNHU is a nonprofit, accredited university with a mission to make high-quality education more accessible and affordable for everyone.
Founded in 1932, and online since 1995, we've helped countless students reach their goals with flexible, career-focused programs. Our 300-acre campus in Manchester, NH is home to over 3,000 students, and we serve over 135,000 students online. Visit our about SNHU page to learn more about our mission, accreditations, leadership team, national recognitions and awards.