What is Global Health and What Are Some Common Global Health Issues?
A passion for global health means caring about more than equal access to healthcare. It means caring for inequalities in all the other things that lead to disparities in healthcare outcomes. That was the message from two practitioners of global health who presented their views on health equity at Southern New Hampshire University recently. The presentation came as SNHU launched its Global Health concentration within Master of Science in Public Health program.
What Is Global Health?
Dr. Tionna Jenkins, regional director of the Clinton Foundation's Health Matters Initiative, said global health practitioners are focused on public policy change and convening
stakeholders from inside and outside healthcare to address health outcomes - rather than clinical care and individual behavior. The "framework of health," she said, includes many more factors, such as access and quality of care, the environment, social and economic factors like family and social support and economic factors, like education, employment and community safety. She described some of what are called the social determinants of health as an example:
Economic Stability - Employment, income, expenses, debt, medical bills and support.
Physical Environment - Housing, transportation, safety, parks and playgrounds, walkability, education and early-childhood education.
Food - Hunger and access to healthy options.
Community and Social Context - Social integration, support systems, community engagement, discrimination and equity.
Healthcare System - Health coverage, provider availability, provider linguistic and cultural competency and quality of care.
Those and other social determinants of health allow global health experts to measure expected health outcomes for a community, including mortality, life expectancy, healthcare expenditures and more.
Dr. Sarah McCool, who has worked on global health issues in Haiti and for a cancer research center in Bangladesh, said in addition to focusing on improving health outcomes and health equity for communities, she likes to think of three more critical factors to define global health. First, the health issue has to transcend national borders, such as Ebola and other communicable diseases. Global health professionals also view health as a fundamental human right, she said; something that
should be available to everyone on equal footing regardless of their resources. "We don't view health as a privilege," McCool said. Third, she said, the problems global health is concerned with refer to the scope of the problem, rather than its location. Global health, she said, wants to improve a population's health by increasing their access to healthcare but also giving them resources in other parts of their lives that allow them to lead overall healthier lives.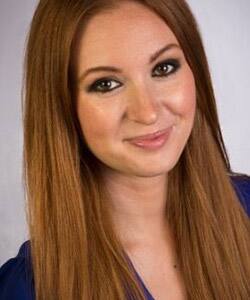 Global health professionals are well-suited to bring together diverse partners to help solve supply issues because they're specifically trained not to "think in silos," McCool said. "We are trained to think across a broad spectrum and consider root causes to health and illness."
The outbreak of Ebola in western Africa is a good example of why a global health perspective was critical to address the myriad issues facing the region. There were technical matters such as organizations that lacked the capacity to handle the outbreak and doing appropriate contact tracing to identify people who may have been exposed to an infected person. There were cultural issues, too, such as rumors that the outbreak was a hoax and western doctors were killing people, making some patients afraid to seek treatment. Burial practices in West African countries involve washing and touching the body, but Ebola is still contagious after death. There were also political complications, including a lack of strong borders between countries in the region allowing people to cross freely and increase the capacity for the outbreak to spread. The list goes on and on and involves far more than a clinical doctor in a treatment facility would be able to take on.
"Essentially, it was necessary to think about broad political, social, cultural and economic issues in order to understand why the disease spread so quickly and was not contained," McCool said. "This is what global health professionals are trained to think about."
Working With New Partners
Sometimes linking with those partners outside the traditional healthcare lead to unique projects.
Jenkins said her role at the Clinton Foundation puts her in a position to work behind the scenes with partners to talk about ways to address global health challenges like obesity. Although it's a preventable condition, obesity rates have doubled since 1980, and 600 million people were considered obese in 2014. Most of the world's population lives in a region where obesity kills more people than starvation. One partnership she highlighted was with McDonald's. The company made a series of commitments as part of the agreement that is showing early results, including featuring water, juice and fruit in Happy Meals as an alternative to French fries and including well-being messages in all advertising targeted to children.
"You now go to McDonald's, and the language has changed," Jenkins said, adding that the partnership began with talks that happened in 2013. "This was a historic agreement that was made with the McDonald's corporation and ... other big food industries have been ... following suit with some of those same things. So it's about changing the environment. This is systemic policy change. It doesn't happen overnight."
Why Get a Master's in Global Health?
No program can teach you to become culturally competent in a particular region by only having you read books. But a concentration in global health program can help you build the tools you need to make yourself culturally competent once you arrive in Haiti, for instance. It can teach you the questions to ask and approaches to take to have success.
"I think the most important skill that students will learn is to think holistically about global health issues," said McCool, who helped build SNHU's global health concentration within the master's in global health program. "It often is not just about having access to healthcare. It involves considering social, political, cultural and economic issues that have profound impacts on health."
Like many disciplines, global health practitioners can gain a deeper understanding of global health with a master's degree over a bachelors. "The opportunity to have learned more about global health at the master's level would give students significant advantages over someone with a bachelor's degree because at the master's level there are more opportunities for critical analysis and application than just at the bachelor's level," McCool said.
Joe Cote is a staff writer at Southern New Hampshire University. Follow him on Twitter @JoeCo2323.
Explore more content like this article
June 17, 2021
Both the nursing profession and some employers are calling on registered nurses (RNs) to obtain a Bachelor of Science in Nursing (BSN) to improve safety and help prepare for future healthcare challenges.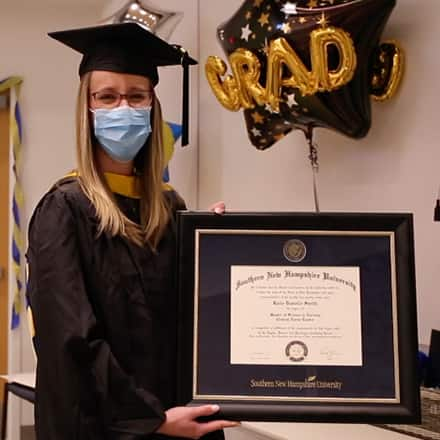 May 18, 2021
Just a couple of days after the SNHU community celebrated graduates with a virtual Commencement, the university coordinated a surprise diploma delivery for MSN graduate Katie Smith at Dartmouth-Hitchcock Medical Center in New Hampshire.
May 06, 2021
BSN student Daniele Fenn said she always had it in her heart to one day work in the medical field. During the COVID-19 pandemic, the RN earned national recognition for her work in navigating communication barriers between medical staff and patients.