OFYE Matters: Technology in the Classroom — Part 1

The disconnect of time and location is something that often challenges online learners and their ability to succeed and persist. This is can be particularly difficult for online first-year students who are unfamiliar with learning remotely. These students might find it a struggle to connect with online instructors and course content as they transition from their recollections of a traditional classroom experience to an online learning environment. This adjustment, along with the many other changes these students encounter as new learners, can make for a difficult start and contribute to feelings of isolation.
Many online first-year experience educators are leveraging technology in wonderful ways to help students succeed by helping them engage with and master course content, connect with their peers and develop rapport with their instructors.

For this iteration of OFYE Matters, we curated many strategies and ideas around technology in the classroom and student engagement. This is the first of a two-part series.
What technologies are you using to keep students engaged with course content?

Kristy Vukoder, SNHU Instructor
Working with first-year experience students is my passion. They are eager to learn new concepts, improve upon themselves and succeed. Entering the online classroom can be intimidating to them, especially if technology isn't one of their strengths. Because of this I use visually pleasing forms of technology and "talk them through it." To get my face and voice out to them, I use a variety of technology, including Animoto, Speakpipe, Remind, Screen-Cast-O-Matic. Each of these programs contains an element of my voice or face.

The more challenging part is how to get students voice and face heard. To do this, I create a class Padlet – a virtual corkboard. They also use Remind to communicate with me regularly and I incorporate Google Forms to solicit their feedback. Each week I choose one student to highlight and "quote" in the announcements. Students are thrilled to be asked to do this and readily share a "selfie" to include.

Just as important as what I am currently using is what I plan on using in the future. My tech "Idea Box" is always growing. Right now, I am considering using Twitter in the classroom, the app CLIPS and integrating podcasts into the class. Asking students for ideas works well too – sometimes they have the best ideas!!
How are you using technology to keep students engaged with course content?

Dr. Jaime Kulaga, Full-Time Faculty, Ashford University
Technology is not just the "new wave," it is "the wave." Our society is all about watching technology grow and develop, and then they use these new features as soon as they become available. People await the newest item in technology. They put their names on waiting lists for iPhones, they keep up with the newest tech trends and use social media almost two hours per day.

As a professor working with first-year students, I recognize that I need to leverage what our society is calling out for within my classroom. Our society wants to understand technology better and interact more on social media, thus I need to educate my students on these variables.

Here are three ways I use technology to positively impact my OFYE students:

1. Create Videos
In my classroom, I work hard to create videos on topics that students either request or that we are discussing for the week. I have created my own YouTube Channel and embed these videos in announcements, discussion questions and even in text feedback in major assignments. My video topics range from building willpower to tips on avoiding procrastination and discussions of the weekly content, like how to use social media effectively. I use videos to discuss current events, like in the case of the recent hurricanes, Harvey and Irma.

Not only do I get a lot of views on these videos, but I see an increase of interaction between students. Once you can get the students talking to each other, more than just the required "reply to your peer" for the week, you are beginning a real foundation for engagement and future relationships between peers.

2. Follow Me
Another way I use technology to positively impact my students is by encouraging them to follow me on LinkedIn. One of the best things students can do is follow people in their field or find people who can mentor them or they can learn from. LinkedIn has some great tips, tools and content for students to develop their professional skills.

3. Use Media Outlets
Last, I use major media outlets to leverage both my credibility in the classroom and inspire students to read and seek information from additional resources. The videos I create often start out as an article I first wrote. I then submit these articles to Forbes, Maria Shriver's blog, Huff Post, etc. When they are picked up by these outlets, I share with my students in an announcement or discussion response. When students are provided additional resources to learn from, we are providing a platform for students to expand their views about the world even more. This also fosters critical thinking and openness of the mind to new ideas. It builds their confluence and creativeness and can even generate new ideas within them.
How are you leveraging technology to stay connected with OFYE students?
Marie Knowlton, Instructor, Utah Valley University
Human connections and community can make the difference for OFYE students. Without online community, they can feel vulnerable and alone — like everyone else is coasting through, they're the only ones with questions or struggles, or they have no idea how to "do" college. Tech tools can help foster those connections, within and outside the LMS.

I use icebreaker activities over the first two weeks help students get to know each other, like a shared Google Map. Everyone pins their home location, adds a one- to two-sentence description, and uploads an image related to the pin. I ask them to comment on two peers' pins as well. We all learn about each other and find mutual connections in a fun, informal way. Collaborative Google Docs are another great tool, whether students are answering each other's syllabus questions, writing a collaborative story, or working together on a problem or project. I teach writing, so I use Docs for group peer review. Students can easily share, comment and have ongoing conversations on Docs. Drive and Docs need no software and run on any device with an internet connection.

Outside the LMS, Padlet.com is a gathering spot for brainstorming; giving feedback; and sharing images, websites and ideas. I also keep a class Facebook page; students use it to form study groups, ask questions, post ideas or links, and participate in a visual rhetoric scavenger hunt every semester. They can message me or each other with a quick question. Sometimes past students stop by to say hello and encourage the new ones. This works because I don't require them to use it, it's separate from personal accounts, and it belongs to the students, not me. I do post images, quotes and links that I think students would find helpful.

Creating community takes planning and effort, but is worth it. Sharing our real selves, our thoughts, and even our struggles online and encouraging students to do the same enhances everyone's learning experience and empowers OFYE students to succeed.
Where and how are you using technology in the classroom to generate a strong classroom presence?

Dr. Vicki Pallo, Assistant Professor and Textbook Coordinator, Virginia Commonwealth University
A common pitfall of online learning is the tendency for some students to simply forget about the class. Without the physical experience of attending class and connecting with other peers and the instructor, the course can easily slip to the back burner. Generating a strong classroom presence provides a more human element as well as accountability, making it far less likely that students will "disappear" over the course of the semester.

At the beginning of the course I reach out to students with introductory information and activities, including one in which each student is asked to provide a fun bio about themselves. I share my own as well, making sure to include many of my hobbies and interests outside of the classroom. I also send out a few introductory polls (using polleverywhere.com or surveymonkey.com) to help determine preferences for things like online office hours and other general housekeeping items. Then, on a weekly basis, I roll out the course activities and assignments.

Once students get into the rhythm of the course, they know to expect a short screencast or two from me each Monday (using screencast-o-matic.com), along with a list of the assignments and materials they will need to complete over the course of that week. I do provide an overview of the major assignment deadlines for the semester at the beginning of the course, but find that rolling out smaller activities on a weekly basis keeps students checking in and helps them complete the building block activities of the course in the right order. In addition, using the screencast rather than relying strictly on text for explanations provides a more interactive, human element, and helps address the implicit goals of the activities that might be missed if left open to interpretation. On occasion, I'll incorporate a quick survey or link out to a quiz during the screencast, to gauge participation and invite further dialogue about the activities.

While we use a standard LMS for our classroom hub, I also create an optional closed Facebook group for students to have a more informal place of connection. In this space, I provide one weekly online "office hour" in addition to my traditional face to face office hours, based on the time preferences the students indicated at the beginning of the term (the general preference is usually in the evening). This is also a place where students can connect with a research librarian I regularly collaborate with, as she is added to the group.

Along with the above, I make it a priority to respond to student emails as quickly as possible, so that they know I am there and waiting to hear from them. I also comment regularly on their weekly assignments, and post announcements when needed to follow up or provide additional instruction to get them through the weekly activities of the course. While I am mindful not to overload their email inbox, I do find that hearing from me at several points throughout the week and certainly in direct response to their work keeps students engaged and makes our interactions more authentic and productive.
How are you using technology to help OFYE students overcome specific barriers?

Dr. Kam Zinsser, SNHU Instructor and Team Lead
As an instructor of OFYE, I encounter students who struggle with writing and reading. I have discovered that implementing innovative ways to help students break through these barriers will promote success in the classroom and build student confidence. Academic deficiencies can be exacerbated in the online classroom setting but may be overcome by supplementing the current curriculum with technology-enhanced learning material.

Creating supplemental learning opportunities/resources with technology such as a Biteable video (World's Simplest Video Maker) or an Adobe Spark video (Quick and Easy Online Graphic Design) provides another perspective on the weekly topic to the struggling student. Offering extra learning material such as articles or TED Talks on the weekly learning content on the discussion board or in the announcements promotes a deeper understanding of the week's content. Another technology that I utilize in my classroom is the Techsmith Snagit (Easy Screen Capture and Video Recording Software).

Snagit is an innovative software that I use to capture a screenshot of assignment instructions, overviews and rubrics. Once I capture the screen, I utilize the tools such as highlighting, arrows and icons to help students focus on keywords, phrases, and main ideas. Students with reading deficiencies can then focus more on the important components of the overviews to create a more successful product. This literally takes a few minutes to create and students seem to experience more success with covering all areas of the prompt in their initial discussion. Quality has increased overall for all students in my classroom.

All students learn differently. Students enter our classroom with different skills and academic levels. Taking the time to utilize different media formats will offer a more diverse type of learning to appeal to all learning styles. The outcomes of using extra learning material in the discussion board and announcements are to enhance student learning, promote active learning methods, produce meaningful gains in performance, and to generate more engagement in the classroom.
Looking Ahead
We will continue this theme in our next installment of OFYE Matters next month.

Following this two-part series continuing in November, the next installment of OFYE Matters will focus around building positive rapport with OFYE students. Research shows that rapport between teacher and student can impact student success and retention in addition to enhancing the learning experience for students. Please share your thoughts on one or more of the following:
What do you feel is the biggest challenge in establishing rapport with new OFYE students and how do you overcome that challenge?
How do you work to establish a positive rapport with OFYE students in your class? What steps do you take or strategies do you use to develop rapport? Do these strategies differ from your approaches with non-OFYE students? If so, how?
What evidence have you received from students, or observed, that your rapport strategies are working and have made an impact on their learning experience and/or success?
How have you leveraged the positive rapport you have developed with students to help them overcome obstacles, challenges, or even re-engage in course content?
Please consider submitting your short (two- to three-paragraph) responses for publication consideration. Send to Jamie Holcomb, associate dean of First Year Experience, at j.holcomb@snhu.edu by Dec. 7.
We will regularly pose questions about specific OFYE challenges and seek responses from educators for each post. Our goal is to work together to help our new online learners find success. Read our most recent OFYE Matters blog here.
We also encourage you to continue the conversation in the comment area. Working together we can increase our virtual toolbox of skills, best practices, resources, ideas and strategies.
Explore more content like this article
May 26, 2021
The world is over a year into the COVID-19 pandemic and some people are growing tired of public health measures. What are some of the things that can be done to combat pandemic fatigue?
March 25, 2021
The importance of empathetic teaching in an online environment cannot be understated. Students appreciate when instructors show concern for what is happening in their lives, and having an instructor with a teaching approach that focuses on empathy helps them navigate anxiety or uncertainty.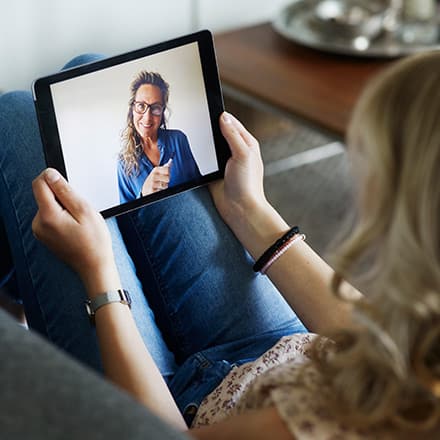 February 11, 2021
Consider what your role might be as a mental health advocate; someone who gives a voice to the problems and potential solutions related to mental health and mental health awareness. To advocate means more than just giving voice; it means to fight.