What is a BSN? Is There a Difference Between an RN and a BSN?
A BSN - or Bachelor of Science in Nursing - is an undergraduate-level degree for Registered Nurses that exposes nurses to topics such as patient care technology, research, health promotion, safety and quality within the healthcare system.
Nursing is the biggest health occupation in the United States today, providing a number of career options for registered nurses (RNs) to practice in hospitals, clinics, and private practices, according to the Bureau of Labor Statistics (BLS). However, RNs are finding that a Bachelor of Science in Nursing (BSN) can offer even more opportunities for career growth and satisfaction beyond RN licensure.
Why Do I Need a BSN?
Today, both the nursing profession and some employers are calling on RNs to obtain a BSN to improve safety and help prepare for future healthcare challenges. RN programs teach basic nursing skills that focus on nursing theory and clinical practice, whereas the BSN program expands upon that, exposing nurses to topics such as patient care technology, research, health promotion, safety and quality within the healthcare system, said Southern New Hampshire University clinical faculty member Elizabeth Christman, MSN, RN.
In 2010, the Institute of Medicine released its report, "The Future of Nursing: Leading Change, Advancing Health, which called for increasing the number of baccalaureate-prepared nurses to 80% by 2020.
The National Advisory Council on Nurse Education and Practice (NACNEP) calls for at least two-thirds of the nurse workforce to hold baccalaureate or higher degrees in nursing. Currently, 56% of nurses have a BSN or higher degree, an all-time high, and a 7% increase from 2010, according to the American Association of Colleges of Nursing.
In 2017, after 14 years of lobbying, New York State passed its "BSN in 10 Law." The state now requires all nurses to earn a BSN within 10 years of receiving an initial RN license. The impetus behind the law is "a result of a growing body of research evidence that additional education results in better patient outcomes."
The complexity of healthcare and need for strong leadership calls for nurses to sharpen their skills in management and research in years to come, Christman said.
"As a BSN, you have more opportunities than your RN counterparts. You can step up to a leadership position, move into nursing education, work in public health and focus on health education within the community, or even go on to pursue a nurse practitioner or nurse administrator degree," Christman said.
What Does BSN Stand For?
BSN is the abbreviation for a Bachelor of Science in Nursing and refers to someone who has earned a bachelor's in nursing in addition to earning registered nurse licensure.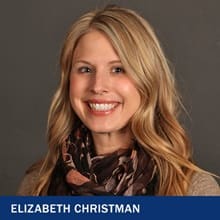 You are not required to earn a bachelor's degree in order to become an RN. To become an RN, you must have graduated from a state-approved school of nursing and have passed the National Council Licensure Examination (NCLEX) – a standardized exam that each state board of nursing uses to license candidates for entry-level nursing practice, according to the National Council of State Boards of Nursing.
An associate degree in nursing, or ADN, can prepare you to take the NCLEX exam and become a registered nurse, as can a hospital-sponsored diploma program. However, in order to practice as an RN, you must be licensed in your state.
What is the Difference Between an RN and a BSN?
Whether you are an RN practicing with or without a BSN, your primary focus is on providing patient care. This includes performing physical exams and taking health histories, providing health counseling and/or education, administering medication and other treatments, as well as coordinating care with other health professionals, according to the American Nurses Association.
RNs with a BSN and an ADN can work alongside each other on the same medical team, carrying out similar duties. The difference is BSN-qualified nurses open themselves up to a broader career path that can include leadership roles such as nurse manager, case manager and nurse educator, according to BLS.
How Do I Get a BSN and How Long Does it Take?
You can earn a BSN in a traditional 4-year college degree program, or you can earn your ADN in a 2-to-3-year associate degree program, and then opt to further your education after you begin working as an RN. Graduates of either program must pass the NCLEX-RN© licensing examination, according to American Association of Colleges of Nursing. To bridge the gap between an ADN and BSN, there are RN to BSN programs that help nurses earn a bachelor's degree.
It's true that earning RN licensure takes less time than to complete than a BSN program, but if you are already a registered nurse, you can complete an RN to BSN program in as little as 2 years without having to put your career on hold or cut back your hours, Christman said.
"One of the strengths of being an RN student pursuing a BSN is that you are able to work as a nurse the whole time you are advancing your education. This provides a very affordable opportunity," she said.
How Much Does a BSN Make?
Registered nurses earned a median salary of $71,730 in 2018, according to BLS, with the caveat that those salaries very widely according to specialty, geography, facility type and years of experience in addition to education.
The 2018 Advance Salary Survey for Nurses showed that it pays to pursue higher education in the nursing field. More than 13,000 full-time respondents answered a question related to their highest education level, with 5,100 respondents reporting that they had earned a bachelor's degree and 3,500 respondents reporting that they had earned an associate degree. In the survey, the average salary of a nurse with a bachelor's degree made about $6,000 more than a nurse with an associate degree.
In a survey conducted by the AACN, 49% of hospitals and other health care settings are requiring new hires to have a BSN, while more than 86% of employers are expressing a strong preference for nurses with bachelor's degrees.
Below are some examples of nursing jobs that typically prefer a BSN:
Charge Nurse – Nurses working in this leadership role oversee unit operations, monitor admissions and discharges, and oversee the activities of the nursing and support staff. They also may be involved in direct care. While Payscale lists the national average income of a charge nurse at $67,000, big employers such as the Veteran's Administration can pay charge nurses up to $78,000.
Nurse Case Manager – In this role, nurses oversee the healthcare needs of patients, acting as administrators of care. A nurse case manager works with both patients and their providers to develop a comprehensive care plan. He or she also communicates with the patient's health insurance company to determine eligibility for certain treatments or programs. The national average salary of a nurse case manager is $70,174, according to Payscale.
Military Nurse – Nurses who practice in a branch of the U.S. military treat service members and their families, monitoring wounds, prescribing medication and caring for them before, during and after surgery. In the interest of providing the best patient care and leadership, the U.S. Army, U.S. Navy and U.S. Air Force all require RNs to hold a bachelor's degree to practice as active-duty nurses. In addition, the Veteran's Administration (VA), the nation's largest employer of RNs, also requires a bachelor's degree as the minimum education requirement necessary to be promoted beyond an entry-level role, according to AACN. Depending on experience, military nurses can earn between $58,000 and $103,000, according to a Payscale salary survey conducted in 2018.
There is strong evidence that shows a BSN provides graduates the skills and education they need to both grow as clinicians and make a significant impact in the nursing profession.
Krysten Godfrey Maddocks '11 is a writer and marketing/communication professional. Connect with her on LinkedIn.
Explore more content like this article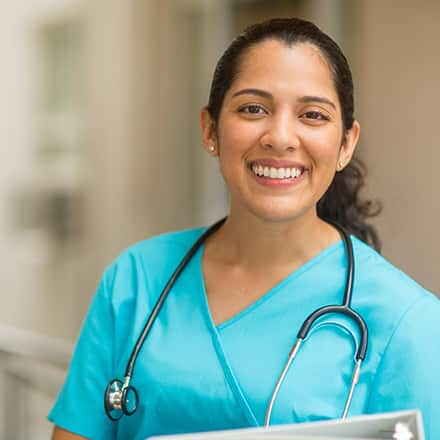 April 07, 2021
If you want an exciting and evolving career in healthcare, exploring how to become a nurse could be right for you. Learn more about your options for nursing degrees, licensure and how to stand out in the field.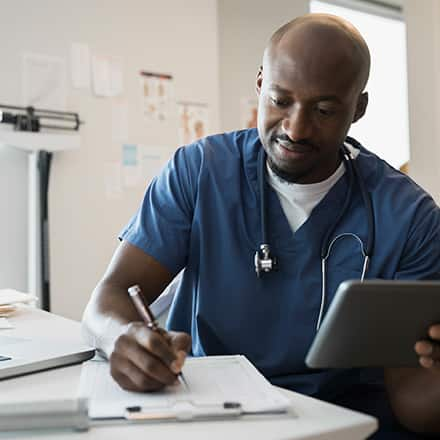 April 01, 2021
There are more men in nursing today than at any time in history – and that's good for male nurses and the profession.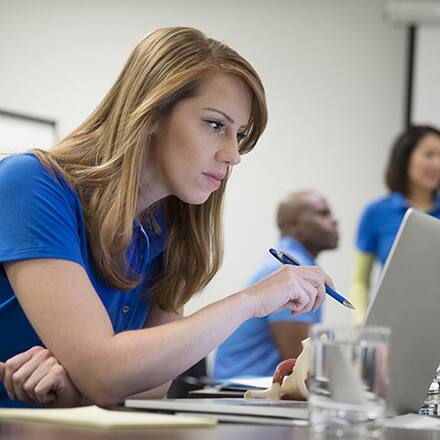 March 16, 2021
The importance of health education to a community impacts its overall wellness, access to healthcare by community members and in policy development.