After Childhood Accident, SNHU Instructor Continues to Give Back
There isn't much that will slow down Humberto Gurmilan, not even a surfing accident that paralyzed him at the age of 15. Now, the former sports broadcaster is teaching at the university level and recently created a foundation to help young people with disabilities.
Gurmilan was an active 15-year-old in northern Mexico. He played baseball and other sports, but surfing was his favorite activity. As he often did, Gurmilan joined a group of his friends early one morning to head to the ocean. He and a friend decided to catch one final wave before heading home. When his friend reached the shore, he quickly realized Gurmilan wasn't with him.
Later Gurmilan was told he dove into the water from his board but had already reached the shallows. He fractured his vertebrae and, if not for his friend quickly noticing he was injured, would have drowned.
"He was my lifesaver," Gurmilan said. "If I had been alone, I wouldn't have been able to make it."
He was treated in San Diego, where he now lives, and began a lengthy rehabilitation process.
"Obviously it changed my life and changed my family's life," he said. "It made it pretty rough for about a year in terms of recovery."
Eventually, Gurmilan recovered movement in about 20% of his body. He re-learned to brush his teeth and comb his hair. Using adaptive tools, he was able to write and type on a keyboard. He said the unending support of his family got him through rehabilitation and led him to a realization: "If I work really hard I would be able to eventually get out of there and back to a quote-unquote normal life."
Gurmilan returned to high school about a year after his accident but had to rethink his future. His mother made sure he continued his education. "My mom was always pushing me to get back to school," he said.
Since he was forced to be less active than before his injury, going back to school gave him the chance to return to a former dream. Gurmilan said he used to watch San Diego Padres baseball games on television when he was younger. He would turn off the sound and pretend he was the play-by-play announcer. "I always wanted to be a sportscaster," Gurmilan said.
Being unable to walk wasn't going to stop him. He earned his degree in communications and went to work in journalism. He spent 14 years as the sports anchor at Telemundo in San Diego covering Major League Baseball and National Football League games, and did play-by-play for pre-season San Diego Chargers games as well as some local boxing and mixed martial arts fights.
"That was one of the goals, so that was pretty awesome," Gurmilan said. "That job gave me the opportunity to meet a lot of people and establish a lot of relationships in the community."
Recently Gurmilan left the television station and began a teaching career because he was motivated to share what he'd learned from his years in journalism to a younger generation.
Locally, he teaches at San Diego City College as well as communication, public speaking and mass media online college courses for Southern New Hampshire University. He talks about his disability in the introduction video he posts online at the beginning of each course.
"I want to show them that we all have challenges and they can accomplish all they want if they work hard enough," Gurmilan said. "If I was able to accomplish my dream and keep looking for goals to accomplish, anyone can do it."
About 3 years ago he found another way to give back to his community. He established the Gurmilan Foundation. The nonprofit group raises money through donations to provide individuals with disabilities resources they need through "education and opportunity." Most often that means college scholarships or equipment and materials to be able to attend school, or medical supplies and equipment, according to the group's website.
Gurmilan speaks to thousands of students in San Diego and Tijuana, Mexico, about issues facing the disabled population. The foundation also partnered with Pure Stoke surf club to take disabled children surfing.
"I've always felt blessed, and for years I've been motivated to give back because I've received so much," Gurmilan said. "I received so much support and so many opportunities that helped me reach my goals, and now we're doing that for other people. That's the idea behind it."
Nothing much will slow down Gurmilan. Even with his disability and busy schedule teaching and at his foundation, he still finds time once in a while to get back on the water using a surfboard with handles and other adaptations.
"It's very different, but I still go surfing," he said. "It's a lot of fun."
Joe Cote is a staff writer at Southern New Hampshire University. Follow him on Twitter @JoeCo2323.
Explore more content like this article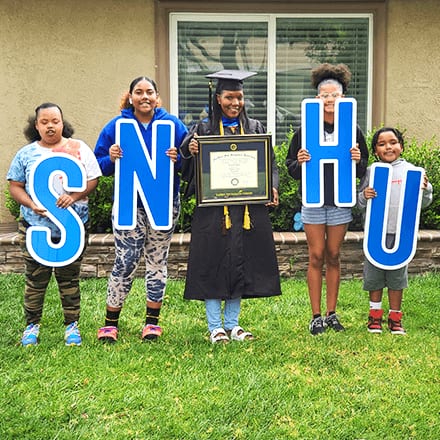 July 12, 2021
Latisha Aguilar '21 has always wanted to be a voice for special needs students and advocate for them. With the goal of becoming a middle school guidance counselor, she said finishing her psychology degree later in life allowed her more time to figure out what she wanted to do with her education.
July 01, 2021
Interested in starting a new job or advancing in your current field? An Associate of Arts (AA) degree can give you the broad-based education and in-demand career skills you need to reach your goals. Learn more about earning an AA degree and what you can do with one.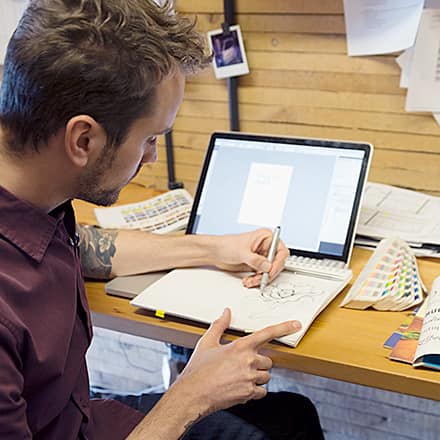 June 24, 2021
Learning how to create a graphic design portfolio is an important step toward preparing to find work as a graphic designer. Learn the best portfolio building tips from experienced graphic designers.