How This Health Services Company Retains Talent with Education Benefits
Since its founding in 1940, Grifols has been a leader of the plasma industry. Now, the global healthcare company is also a leader in training leaders and workers through their education benefits.
The Grifols Academy, the learning arm of the company, offers tuition assistance to employees who want to achieve college degrees. They also partner with Southern New Hampshire University's College for America program to offer their workers low-cost, competency-based degrees designed for working adults.
Grifols Academy makes it affordable for employees to enroll in the program with tuition reimbursement, as well as a program providing 20-30 scholarships twice a year. Since Grifols started the program, 70 employees have used the scholarships to get degrees (62 associate degrees and 8 bachelor's) through College for America.
This focus on education and training helps keep Grifols at the forefront of their industry, said Beth Eacret, vice president of Grifols Academy of Plasmapheresis and Safety. "We're always looking for new opportunities for our employees to become more educated."
Education benefits to grow the talent pipeline
A major impetus behind Grifols' education benefits programs is the need to create a pipeline of qualified people to promote from within. At Grifols, 73% of all promotions are internal, Eacret said. "Our goal is to be able to promote people from within and provide career opportunities so they will stay with Grifols, and also to provide the value of education so they get into the mindset of continuous improvement and learning."
More than 50% of those who have enrolled or graduated through the College for America program have been promoted so far, and the average tenure of employees in the program is 8 years.
One recent success story is Jasmine Zamora-Montero, who earned her associate and bachelor's degrees in healthcare management through College for America in under a year while working as a quality associate at Grifols. Since getting her bachelor's degree, she has received a promotion and is now working toward her master's.
SNHU's director of strategic partnerships, Kelly Houston, was part of the SNHU delegation that traveled to Zamora-Montero's place of work to deliver her diploma in person. "Grifols is just so supportive of their employees," she said. "You could see how well Jasmine was respected, and how much her coworkers all helped her. Those are the things I think about the most when I think about the partnership."
Education benefits to retain talent
Two keys to Grifols' success with educational benefits have been their hands-on approach to getting the word out about the program and their commitment to supporting students who have gained a college degree.
Twice a year, Eacret and her team run awareness campaigns across the organization, holding webinars to provide employees with more information on the College for America program, the scholarship application process and educational benefits in general.
But the best way to get the word out, said Eacret, is through student success stories and word of mouth. "When somebody hears the success someone else has had, it's a great motivator to feel like they could do it also," she said.
Grifols highlights student successes in the communications they send out and encourage leadership at individual locations to celebrate student successes.
They also make sure students know the career options available to them when they attain their college degree through a program like College for America, said Eacret. "It helps to encourage people to get their education for promotion."
The fact that Grifols has a strong career-path plan is a big benefit for employees considering getting their college degree, as well as a key part of the company's talent retention strategy, said Houston. "To see people grow without leaving the organization is really nice."
Working closely with your education partner
"Everything we've done with College for America has been part of a partnership," said Eacret. From providing Grifols with detailed reporting on student progress to helping Grifols understand what other organizations are doing and piloting new programs, SNHU's focus on working with Grifols' business needs has made the partnership a success.
On the other side of the coin, Grifols' commitment to employee development is one of the biggest draws for Houston when it comes to working with Grifols.
"With our workforce partnerships, we always strive to partner with a learning organization," she said. "Grifols certainly is one, because they support education so much."
Contact us to learn more about how SNHU works with employers to develop a talent retention strategy.
Explore more content like this article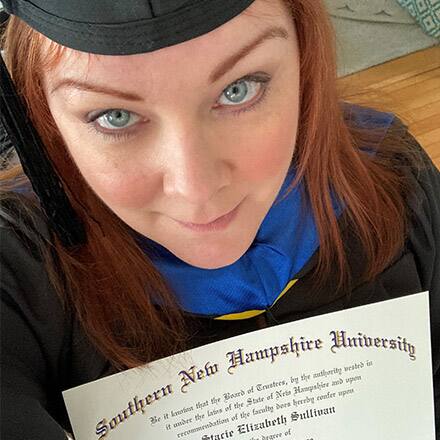 September 08, 2020
For years, Stacie Sullivan '19 felt stuck in her career, sensing her opportunities to advance were limited. After a series of challenging life events, Sullivan enrolled in the BS in Health Information Management program at SNHU.
July 01, 2020
Just a year after she decided to go back to school, Shereka Johnson-Bean '20 is preparing to submit the final project for her bachelor's degree.
June 12, 2020
Shannon Griffin's first job was as a crew member at a McDonald's restaurant. She's still working at McDonald's, but her role is a whole lot different thanks to her hard work and the degrees from SNHU.