AI & Healthcare: How to Prepare for the Impact on Your Workforce

Idea in brief:
A new report reveals the automation potential of healthcare jobs could reach as high as 54%. Here's how to prepare your workforce for AI's impact.
According to a January 2019 report from the Brookings Metropolitan Policy Program, artificial intelligence has the potential to eliminate millions of jobs by 2030. Yes, that's only a decade away.
The report cautions policymakers, industry and society in general to start paying better attention to the implications of AI. Its impact on the workforce is imminent and, in some cases, could be profound.
Breaking out U.S. occupations into categories of exposure, the Brookings report places a quarter of jobs at elevated risk, another 36% at medium and the rest at a low level of risk. While healthcare jobs fall into the medium- to low-exposure category, they're hardly immune to AI's forces. Here's why and how to start using workforce development programs to prepare.
Understand the upside of AI for the healthcare workforce
Of course, examples of AI benefits to the medical field already abound. Robots and other automated systems are helping doctors make diagnoses, recommend treatments and complete surgeries. AI can even predict heart attacks with nearly 8% greater accuracy, often helping to save lives, according to recent tests at the University of Nottingham in England.
Automation is transforming healthcare in other ways. Virtual nursing assistants give patients round-the-clock access to care. Machine learning helps detect false claims. Wearables help track and manage health and provide data-driven insights. Someday soon, AI may drive breakthrough discoveries in drugs that fight cancer and other acute diseases.
Applications like these could bring major savings to the U.S. healthcare industry. AI World 2018 put the annual estimate at $150 billion.
Imagine the efficiency gains and financial upside from these real-world examples of AI in healthcare:
Julie Shah, who heads up the Interactive Robotics Group at MIT, told MIT Technology Review she looks forward to the day when robots work interdependently with people. Her research includes collecting data at a Boston hospital on the decision-making habits of labor floor nurses. Why? To help robots "read" patient information on a whiteboard and alert nurses to patient needs.
In a similar vein, The Medical Futurist reports that the Miami Children's Hospital uses virtual technology for employee training on cardiopulmonary resuscitation, nasal gastric tube insertion and other clinical procedures. And they're helping new nurses make critical decisions in real-time using virtual patients and in-hospital simulations.
Use training and development to mitigate the risk
At hospitals across the country, AI-enabled insights are improving everything from the "last mile" of care delivery (Partners HealthCare), detection and treatment of infectious diseases (Massachusetts General Hospital) and medical imaging and radiology (Geisinger Health). And with every technological gain comes faster clinical adoption.
So what does all this mean for the future of your workforce? The Brookings report forecasts the automation potential of three medical occupations within the next decade:
8% for home health aides
29% for registered nurses
54% for medical assistants
The report also highlights current-task automation potential, predicting a 33% potential for healthcare practitioners and technical occupations and 49% for healthcare support jobs.
In an interview with The Medical Futurist, Richard Booth, an assistant professor at the Arthur Labatt Family School of Nursing in London, said he believes nurses need to embrace automation rather than fear it. To that end, The Royal College of Nursing has called for every UK nurse to be an e-nurse by 2020.
Retrain and retain clinical and nonclinical workers
One of the biggest concerns among healthcare executives is how to integrate automation in clinical operations while minimizing impact on staff. A recent article in MIT Technology Review offers this advice from Joseph Aoun, president of Northeastern University and author of "Robot Proof: Higher Education in the Age of Artificial Intelligence."
Keep learning: As AI transforms the workplace, Aoun believes education and training will be a crucial element in employee retention and job satisfaction.
Focus on strengths: Creativity, entrepreneurship, teamwork and the ability to appreciate issues from diverse perspectives are common skill sets. Play to them.
Inspire collaboration: We know that human nature can work against robotic integration. Staffers might detach from the robot and hoard work, decreasing overall efficiency. So it's important to help internal teams learn the nuances of working with robotic colleagues.
Meanwhile, the Brookings report shows that a little employee education can go a long way toward minimizing vulnerability. In the case of nonclinical healthcare workers, for instance, the right bachelor's degree or certificate program can enhance tech skills and safeguard against job loss. It can also lead to higher wages.
According to the report, "Near-future automation potential will be highest for roles that now pay the lowest wages. Likewise, the average automation potential of occupations requiring a bachelor's degree runs to just 24%, less than half the 55% task exposure faced by roles requiring less than a bachelor's degree."
Bottom line: The better-educated the earner, the lower the threat of automation. And the better for healthcare all around.
Contact the Workforce Partnerships team at Southern New Hampshire University to learn about our tailored learning solutions.
Betty Egan is a writer and marketing/communication professional. Connect with her on LinkedIn.
Explore more content like this article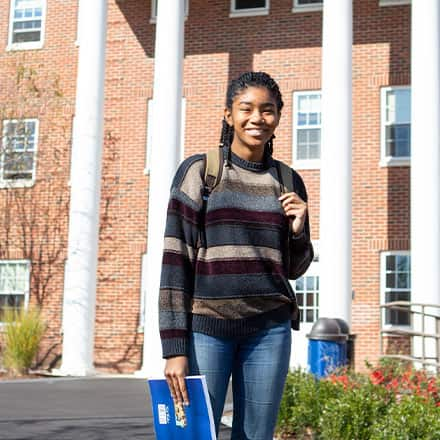 February 22, 2021
Universities often refer to their accreditation. So, what are the different types of accreditation and how do they differ? Here's what you need to know about accreditation and what "institutionally accredited" means.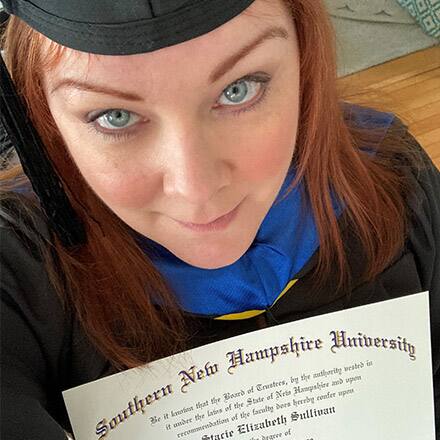 September 08, 2020
For years, Stacie Sullivan '19 felt stuck in her career, sensing her opportunities to advance were limited. After a series of challenging life events, Sullivan enrolled in the BS in Health Information Management program at SNHU.
July 01, 2020
Just a year after she decided to go back to school, Shereka Johnson-Bean '20 is preparing to submit the final project for her bachelor's degree.