The Evolving Role of Continuing Education Credits in the Workplace

Idea in brief: Requirements for continuing education credits for skilled workers are always in flux. We round up recent trends in online learning, customization and measuring ROI.
Advancements in technology, business model changes and other industry trends have long put pressure on workers. What a skilled professional learned in school — sometimes even what they learned last year — can quickly become outdated as new research, processes and expectations emerge. Typically, required continuing education credits has been the way many industries ensure their workers keep up.
In healthcare, for example, pharmacists are increasingly expected to provide preventive care services and engage in direct patient care along with their core responsibilities of preparing and dispensing pharmaceuticals. Like all medical professionals, pharmacists need to keep abreast of new treatments and emerging trends. To meet these critical needs, all U.S. boards of pharmacy require pharmacists to take continuing education credits in order to renew their licenses.
Many professions have similar requirements. From schoolteachers to interior designers and finance and law professionals, workers need continuing professional education to maintain their license to practice.
Meanwhile, the traditional continuing education industry is facing pressures of its own, notes the University Professional and Continuing Education Association (UPCEA). Online education has erased regional boundaries. Rising tuition costs increase expectations by students and families about the return on investment. And new technology is paving the way for new education providers.
Demographics are shifting also: Millennials and Generation Z are becoming the majority of the workforce, racial diversity is increasing and the wealth and income gaps between middle- and upper-income households are widening.
All of this is reshaping the continuing education industry, particularly those programs within higher education institutions that are facing increasing competition.
Showing the value of continuing education programs
The Aspen Institute think tank found that, though many employers and trade unions have called for additional continuing education opportunities for workers in the last few years, the percentage of workers receiving employer-sponsored training has been steadily decreasing. And as a share of Gross Domestic Product (GDP), government spending on training programs for workers is less than half of what it was 30 years ago.
The reason for this may be the decrease in job tenure, notes the Aspen Institute's report, making employers more reluctant to invest in their employees. However, this shifts the burden of maintaining — and paying for — continuing education to the employee.
Employers and learners are expecting more results for their investment in continuing education credits. This puts the onus on higher education programs to demonstrate the real-world value of the education they have on offer.
Providing continuing education where it serves best
Predictably, the rising costs of continuing education credits and shifting more of those costs to employees is creating barriers to access for low- and middle-income workers. The Aspen Institute report goes on to note that businesses disproportionately direct training investments toward the highest-paid workers, despite recent evidence that a focus on educating front-line workers can yield an impressive return on investment.
For example, as Haley Glover, strategy director at the Lumina Foundation, told Southern New Hampshire University (SNHU) recently, Lumina's research finds that investing in continuing education for front-line employees improve retention rates.
"We actually saw the opposite among the more highly educated people already who are potentially using that education benefit as a way to get a second, third, or fourth credential," Glover said. "So you are creating very poachable individuals at the higher levels of your program, whereas you are creating a very loyal individual at the lower levels of your organization."
Customizing continuing education through employer partnerships
One trend reported by education consultancy Entangled Solutions is that more employers are seeking out educational partners to create custom corporate training programs, rather than outsourcing their continuing education to industry-wide organizations. They might adapt off-the-shelf certificate programs to the company's needs, or they might partner with an education provider to fully customize programs for the employer's requirements.
In an interview with EvoLLLution, Michael Horn, the principal consultant for Entangled Solutions, suggests this is one important opportunity for continuing education programs to set themselves apart. "Working with external stakeholders — whether that's employers in your region, innovators, tech providers — who help you shape a distinct program […] is really going to be the hallmark that distinguishes a continuing education program," he said. "That will be the difference between a CE unit that doesn't just survive, but thrives."
Keeping up with the changing requirements of continuing education credits
The rate at which new technology and knowledge requirements are changing isn't slowing down, which means continuing education credits are going to be even more necessary to help knowledge workers stay at the top of their fields.
Workers will likely see the landscape of continuing education shift even more over the next few years as they seek out opportunities to build the skills they need to advance in their careers. It's up to higher education institutions and employers to keep up.
Contact the SNHU Workforce Partnerships Division to discuss your goals to develop your employees and strengthen your company.
Explore more content like this article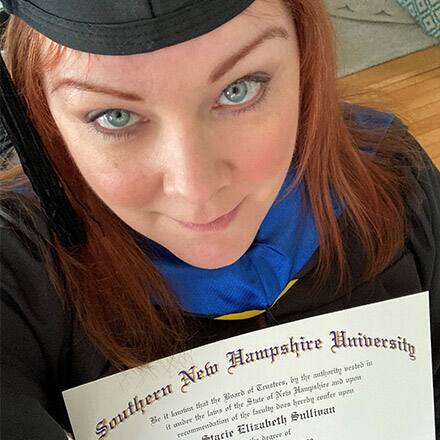 September 08, 2020
For years, Stacie Sullivan '19 felt stuck in her career, sensing her opportunities to advance were limited. After a series of challenging life events, Sullivan enrolled in the BS in Health Information Management program at SNHU.
July 01, 2020
Just a year after she decided to go back to school, Shereka Johnson-Bean '20 is preparing to submit the final project for her bachelor's degree.
June 12, 2020
Shannon Griffin's first job was as a crew member at a McDonald's restaurant. She's still working at McDonald's, but her role is a whole lot different thanks to her hard work and the degrees from SNHU.