Take Your IT Career to the Next Level with a Master's in Information Technology
A master's in information technology degree is a vital tool in today's competitive business environment. Organizations in every industry seek IT professionals who can think beyond traditional computer programming and basic technology expertise. Learn how to bridge the gaps between communications, IT and business management and increase your marketable skills with the Master of Science in Information Technology degree program at Southern New Hampshire University.
Throughout the program, you'll learn how to construct ethically sound procedures to ensure legal compliance and security in tech environments. You'll also collaborate with your peers across a variety of projects and learn from instructors with industry knowledge.
Concentrations
Looking for a specialized masters program to help you stand out in a competitive marketplace? Consider the following concentration:
Business Analytics
Integrate the three areas of business analytics – descriptive, predictive and prescriptive – into your curriculum. You'll develop the management science techniques that create solutions to business problems, as well as learn how to comb through data and gain insights into operations.
See Yourself Succeed with an MS IT
The master's in information technology degree at SNHU, which is taught during the day on our campus in Manchester, helps you master a specialized skill set and take a deep dive into the foundational understanding of technology, communication skills and contemporary issues in the field. It all adds up to the leverage you need to land a principal role in a broad range of industries.
As a private, nonprofit university, SNHU has one mission - to help you see yourself succeed. The benefits of earning your master's in IT at SNHU include:
Supportive community. Join the SNHU campus community of students who are closely connected with faculty and staff dedicated to your success.
Affordability. SNHU is one of the most affordable private, nonprofit universities in New Hampshire.
Accessible faculty. Learn from highly credentialed faculty who are experts in their fields and interact with you in the classroom, dining hall, fitness center and the stands.
Efficiency and flexibility. Complete your graduate degree on campus in 12-18 months, with 3-5 courses per 16-week term.
Minimal requirements. No GRE or GMAT required for admission.
Opportunity. Tap into our nationwide network of alumni and strong connections with employers for internship and career opportunities.
Campus experience. Enjoy more than 50 student clubs, champion Division II athletics and fun events on our 300-acre campus in Manchester, NH, named a "Best Place to Live" by Money magazine.
Hear From Our Faculty
Our MS in Information Technology combines skill-building experiences and faculty mentorship so that graduates are ready for a variety of careers in the IT field.
Admission Requirements
SNHU requires an undergraduate Grade Point Average (GPA) of 2.75 (or equivalent) for admission. Students with an undergraduate GPA below 2.75 may be eligible for provisional acceptance.
If you are an international student in need of a visa to study on campus, please see our international admission requirements.
Acceptance decisions are made on a rolling basis throughout the year for our three 16-week graduate terms. You can apply at any time and get a decision within two weeks of submitting all required materials. To apply, simply complete our application form.
Master's degree candidates must also submit a personal resume.
Career Outlook
With the growing demand for more business professionals with IT expertise, graduates of this program will be prepared for a variety of employment opportunities. You can pursue careers such as systems architect, systems software manager, systems analyst, business analyst, data processing manager, director of information technology or chief information officer. The U.S. Bureau of Labor Statistics projects that many IT careers will grow through 2030, including computer systems analyst (7%), software developer (22%), web developer (13%) and computer and information systems manager (11%).1
Curriculum
Curriculum in the master's in information technology program offers an in-depth look at the latest IT topics and applications. The skills you'll gain in this program will prepare you to step into a variety of leadership roles in the IT field.
List of Courses
Courses May Include
MS in Information Technology Campus
IT 510
Advanced Information Technology
This course focuses on the principles and practices underlying the analysis, design, implementation and management of information technology systems. Topics include information system development methodologies, systems planning, requirements analysis, systems implementation, software engineering, project management, and interface, database and process design.
IT 511
Object Oriented Application Development
This course provides a comprehensive introduction to the principles and practices of object- oriented software development and provides a foundation for developing quality software. Students develop skills in applying object- oriented concepts to solve software problems and implement solutions. The course also teaches the concepts and design of algorithms for problem solving and includes the topics of data structures as they are related to the algorithms that use them. The course provides the technical foundation necessary to handle the material covered in the subsequent IT courses.
IT 515
Innovations in Information Technology
In this course, students strengthen their understanding of leadership theory and ethical frameworks in the context of a technology enterprise. Students will apply this understanding to business cases that reflect the need for innovative technology solutions in today's workplace in order to transform the thinking of an organization when change is required or to develop ideas that enable new business strategies.
IT 520
Technical Communication
The course focuses on the essential oral and written technical communication skills needed for producing technical documentation and presentations in many different forms for varying business situations. The course enables students to understand the needs of stakeholders in order to develop different technical documents such as white papers, design specifications, project plans, test plans, user manuals, etc. The ability to communicate research findings using appropriate academic formatting will also be addressed.
IT 600
Operating Systems
This course focuses on computer architecture and the operating systems of digital computers. Students learn about the operational methods of hardware; the services provided by operating systems' software; acquisition, processing, storage and output data; and the interaction between computers. Topics include widely used operating systems such as DOS, Windows, and UNIX.
IT 625
Information Technology Project and Team Management
This course introduces the students to the principles and practices necessary to be an effective IT project manager. The course covers project scope, time, cost, quality and human resource management techniques as applied to the kinds of project management problems and issues unique to the IT environment. Students learn how to design an actual IT project structure and will obtain hands-on experience using project management software. Emphasis is on the techniques of project management, leadership, teamwork and project risk management as applied to the IT environment. Case work is an important part of this course.
IT 640
Telecommunications and Networking
Telecommunications is a business resource that must be well managed. This includes the technical aspects and the application of telecommunications technology to solve specific business problems and enhance the strategic position of a business enterprise. Topics include the importance of telecommunication in today's business environment, the analysis, design and implementation of telecommunications systems, the scope of the telecommunications industry and current trends; telecommunications hardware, the Open Systems Interconnection (OSI) network model, networking technologies and telecommunications software, protocols and standards.
IT 650
Principles of Database Design
This course is a study of the design, development and implementation of database management systems (DBMS) that emphasize relational DBMS architecture using SQL. Students will design and implement projects and complete case exercises as they are introduced to new developments in database design.
Total Credits: 36
Minimum Hardware Required Specifications
| Component Type | PC (Windows OS) | Apple (Mac OS) |
| --- | --- | --- |
| Operating System | Currently supported operating system from Microsoft. | Currently supported operating system from Apple. |
| Memory (RAM) | 8GB or higher | 8GB or higher |
| Hard Drive | 100GB or higher | 100GB or higher |
| Antivirus Software | Required for campus students. Strongly recommended for online students. | Required for campus students. Strongly recommended for online students. |
| SNHU Purchase Programs | | |
| Internet/ Bandwidth | 5 Mbps Download, 1 Mbps Upload and less than 100 ms Latency | 5 Mbps Download, 1 Mbps Upload and less than 100 ms Latency |
Notes:
Laptop or desktop?  Whichever you choose depends on your personal preference and work style, though laptops tend to offer more flexibility.
Note:  Chromebooks (Chrome OS) and iPads (iOS) do not meet the minimum requirements for coursework at SNHU. These offer limited functionality and do not work with some course technologies. They are not acceptable as the only device you use for coursework. While these devices are convenient and may be used for some course functions, they cannot be your primary device. SNHU does, however, have an affordable laptop option that it recommends: Dell Latitude 3301 with Windows 10.
Office 365 Pro Plus is available free of charge to all SNHU students and faculty. The Office suite will remain free while you are a student at SNHU. Upon graduation you may convert to a paid subscription if you wish. Terms subject to change at Microsoft's discretion. Review system requirements for Microsoft 365 plans for business, education and government.
Antivirus software: Check with your ISP as they may offer antivirus software free of charge to subscribers.
Graduate Tuition
Earning your degree is a smart choice to advance your career, and investing in an affordable program increases your ROI. We keep our costs low to remove barriers between you and your goals.
This program and its concentrations are accredited by the Accreditation Council for Business Schools and Programs (ACBSP). Student achievement data can be found on College Navigator.
Related Articles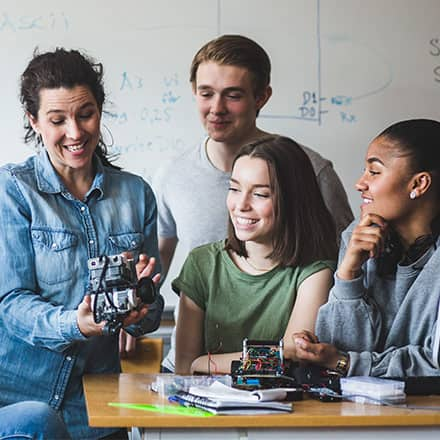 Let's start with a basic question: Exactly what does STEM mean? It's a term many are familiar with, but don't necessarily understand. STEM is a common abbreviation for four closely connected areas of study: science, technology, engineering and mathematics.
From Grace Hopper, an early pioneer in computer programming, to Katherine Johnson's contributions as a space scientist, women have been proving their value to the STEM fields for years and years. While there isn't one straight pathway into STEM, there are some general strategies that will help.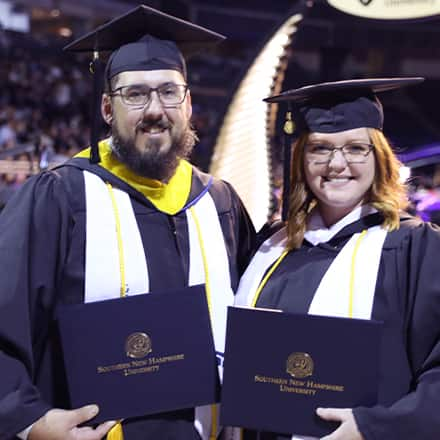 Michael and Taria Richards, both first-generation college graduates, earned their bachelor's degrees together from Southern New Hampshire University. Despite unconventional journeys, they've secured new jobs and are determined to set an example for their children.
References
1 Bureau of Labor Statistics, U.S. Department of Labor, Occupational Outlook Handbook, on the Internet, at:
https://www.bls.gov/ooh/computer-and-information-technology/home.htm (viewed June 6, 2022).
Cited projections may not reflect local and/or short-term economic or job conditions and do not guarantee actual job growth.