Choose a career that lets you make a difference in the lives of children. Learn how kids grow and develop from birth through adolescence. Get the hands-on experience you need to work with young people in a variety of settings, from schools to clinics to hospitals. Prepare yourself to enter a competitive graduate program in psychology or the social sciences. Introducing SNHU's Bachelor of Arts in Psychology with a concentration in Child and Adolescent Development.
By choosing the concentration in child and adolescent development, psychology majors gain an in-depth understanding on the unique physical, social, psychological and cognitive needs of young people. The program stresses experiential learning, so you'll have plenty of opportunities to gain real-world experience by doing internships, a practicum or research and volunteer projects. In fact, in many courses you can even choose to work in the field over writing a research paper. Your professors will work with you to find opportunities that best match your interests.
Internships & Outcomes
Before you graduate, you'll create an e-portfolio that highlights your experiences in the program, from what you learned in the classroom to how you applied it in the real world. You'll be able to use this to help get into a graduate program or show your value to an employer.
Curriculum
Courses for the program, which are offered on campus, on location and online, are relatively small. Expect about 15-20 students in the child and adolescent concentration classes and the upper-level psychology courses - more for the introductory psychology courses.
Most professors keep classes highly interactive by encouraging participation in class discussions and assigning group-based projects. And many professors invite students to participate in special research projects to gain even more professional experience.
Courses To Prepare You For Your Life & Career
SNHU's bachelor's in child and adolescent development program includes:
General education courses
Degree-specific courses
General Education Program
SNHU's required general education program, known as The Commons, aims to guide you toward success in not only your academic career, but your personal and professional life too.
Throughout the curriculum, you'll gain some of the most in-demand skills in today's workplace, including:
Research and information analysis
Diverse audience communication
Critical thinking and ethical problem solving
Leadership, emotional intelligence and collaboration
This expertise will prove practical, transferable and invaluable as you grow in your career and contribute positively to society.
Beyond foundational skill development, the general education program also provides the benefit of allowing you to explore a wide range of fields outside of your intended major.
List of Courses
Courses May Include
BA in Psychology Child and Adolescent Development
PSY 108
Introduction to Psychology
In this course, students will explore the complexities of the human mind by examining the science behind why we think, feel, and do. Students will experience the evolution of psychology through the early schools of thought, major branches, and core theories that guide contemporary perspectives. As students consider the broad influence of psychology on their perceptions, emotions, and everyday choices, they will acknowledge the idea that, in the human experience, "psychology is everywhere."
PSY 223
Research I: Statistics for Psychology
How do psychologists organize, summarize, and interpret information? Students in this course study applications of statistical methods in psychological research and practice. The emphasis of the course is on the conceptual understanding of statistics so that students can read and conduct psychological research; those skills will be applied to students' original projects in Research II: Scientific Investigations. Computation of tests will be conducted on the computer. Students will build upon statistical knowledge and develop an in-depth conceptual and practical understanding of hypothesis testing, tests of significance, standardization, correlation, and analysis of variance in a wide variety of psychological uses. Students will learn the theory of statistical decisions, practical application of statistical software, and how to analyze journal articles. This course typically should be completed during the first semester of the sophomore year.
PSY 224
Research II: Scientific Investigations
Students in this course will develop an understanding a variety of research methods, including experimental, survey, correlation and case-history techniques. They will become aware of the strengths and weaknesses of each method and understand when each method is best used. Writing intensive course.
PSY 321
Child Development
This course focuses on psychological development from infancy through late childhood. Research and theoretical perspectives will be used to help students understand contemporary issues and themes central to childhood development, including: biological, cognitive, and social-emotional characteristics of development and the interplay between them.
PSY 322
Adolescent Development
Adolescence is a fascinating time of life because of the many psychological and physical changes that occur, as well as the cultural and historical issues surrounding these changes. This course focuses on psychological development from pre-adolescence through adolescence and into emerging adulthood. Research and theoretical perspectives will be used to help students understand contemporary issues and themes central to adolescent development, including: puberty, cognition, morality, identity, relationships, sexuality, school, work, culture, and challenges faced by adolescents and emerging adults. Adolescence will be discussed both as a distinct stage of life, and as an integral component of development across the life span.
PSY 444
Senior Seminar in Psychology (Capstone)
This capstone course integrates previous classroom and practical experience with a focus on current issues in psychology. This course likely will include cross-cultural aspects of psychology, ethics, recent career trends in psychology and other topics dictated by current events in psychology. Coverage may change over time, but the basic focus on integrating the past and anticipating the future for psychology seniors will be the major concern. Writing Intensive Course.
Total Credits: 120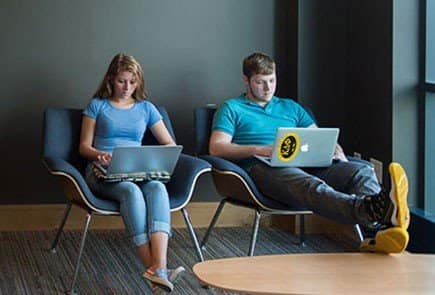 Campus Undergraduate Tuition
Our Manchester campus aims to keep tuition and related costs low for our students so that you can pursue your degree and your goals.