SNHU's Bachelor of Arts in Psychology with a concentration in Forensic Psychology challenges students to apply their research skills, psychological knowledge and critical thinking abilities to a variety of issues facing the legal system. This concentration helps prepare students for careers within the criminal justice field, in areas such as psychological assessment, investigative research and crime analytics. Students wishing to become forensic psychologists would need to continue on to graduate-level study in forensic psychology, and this concentration provides the ideal curriculum for this pursuit.
Curriculum
Students study subjects such as:
How psychologists serve as expert witnesses and advisors in courts
Motives and patterns of criminal behavior
Definitions for insanity
Treatment, rehabilitation and assessments used in corrections and in private practice
Eyewitness memory
Criminal profiling
Courses To Prepare You For Your Career
SNHU's bachelor's in forensic psychology program includes:
General education
Degree-specific courses
General Education Program
Our programs are designed to equip you with the skills and insights you need to move forward. In recent years, employers have stressed the need for graduates with higher order skills - the skills that go beyond technical knowledge - such as:
Writing
Communication
Analysis
Problem solving
All bachelor's students are required to take general education classes. Through foundation, exploration and integration courses, students learn to think critically, creatively and collaboratively, giving you the edge employers are looking for.
List of Courses
Courses May Include
Forensic Psychology
PSY 108
Introduction to Psychology
In this course, students will explore the complexities of the human mind by examining the science behind why we think, feel, and do. Students will experience the evolution of psychology through the early schools of thought, major branches, and core theories that guide contemporary perspectives. As students consider the broad influence of psychology on their perceptions, emotions, and everyday choices, they will acknowledge the idea that, in the human experience, "psychology is everywhere."
PSY 205
Forensic Psychology
Students will learn how psychology, as a science and a practice, applies to questions and issues relating to law and the legal system. Emphasis will be placed on witness testimony and the social psychology of the courtroom. Topics will include recovered memories, adolescent violence and murder, strategies for interviewing witnesses, expert testimony, and factors influencing the credibility of witnesses, victims and offenders.
PSY 223
Research I: Statistics for Psychology
How do psychologists organize, summarize, and interpret information? Students in this course study applications of statistical methods in psychological research and practice. The emphasis of the course is on the conceptual understanding of statistics so that students can read and conduct psychological research; those skills will be applied to students' original projects in Research II: Scientific Investigations. Computation of tests will be conducted on the computer. Students will build upon statistical knowledge and develop an in-depth conceptual and practical understanding of hypothesis testing, tests of significance, standardization, correlation, and analysis of variance in a wide variety of psychological uses. Students will learn the theory of statistical decisions, practical application of statistical software, and how to analyze journal articles. This course typically should be completed during the first semester of the sophomore year.
PSY 224
Research II: Scientific Investigations
Students in this course will develop an understanding a variety of research methods, including experimental, survey, correlation and case-history techniques. They will become aware of the strengths and weaknesses of each method and understand when each method is best used. Writing intensive course.
PSY 310
Criminal Psychology
This course will provide the student with insights about crime from a psychological perspective. Specifically, the course will focus on how a criminal offender is influenced by multiple systems within the psychosocial environment. This course examines and evaluates the role of psychological factors in understanding the motives behind antisocial acts. Throughout the course, students will acquire knowledge and practice in the application of psychological methods to understanding criminal behavior.
PSY 444
Senior Seminar in Psychology (Capstone)
This capstone course integrates previous classroom and practical experience with a focus on current issues in psychology. This course likely will include cross-cultural aspects of psychology, ethics, recent career trends in psychology and other topics dictated by current events in psychology. Coverage may change over time, but the basic focus on integrating the past and anticipating the future for psychology seniors will be the major concern. Writing Intensive Course.
Total Credits: 120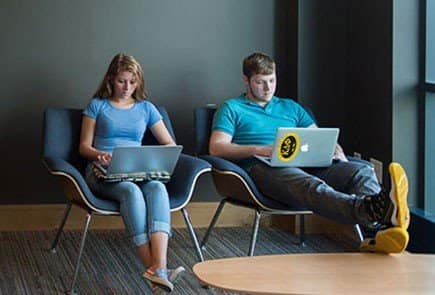 Campus Undergraduate Tuition
Our Manchester campus aims to keep tuition and related costs low for our students so that you can pursue your degree and your goals.