Develop Your Skill Set with a Computer Science Degree from SNHU
A Bachelor of Science in Computer Science from Southern New Hampshire University can help prepare you to enter a wide variety of fields. From the technology industry to the manufacturing industry, from management positions to technical jobs, a Computer Science degree can help you steer your career in the direction you want.
SNHU's campus program employs industry-standard software development with popular programming languages. You can further expand your toolbox with experience in full-stack development and cloud integration.
Armed with these skills, along with fluency in today's most widely used programming languages, you'll be proficient with software employers use – giving you a critical advantage that can help advance your career.
SNHU has modelled its computer science program in accordance with the international CDIO initiative, "an innovative educational framework for producing the next generation of computer scientists that stresses computer science fundamentals set in the context of Conceiving, Designing, Implementing, and Operating real-world systems and products." CDIO is a prominent educational philosophy and is intended to achieve a fine balance between project-based, hands-on learning and traditional, theory-based education. No matter your interest, the program will help you develop the necessary skills to begin your chosen career.
Concentration Options
The Computer Engineering concentration in Computer Science program focuses on the study of hardware as well as software for various industrial and service applications. It provides advanced topics in core computing such as operating systems and analysis of algorithms, and extends to the hardware aspects of computing field such as computer architecture, digital circuits, and embedded programming. Students are trained as computer engineers with broad knowledge and essential skills desired in both software and hardware design and development of computer systems.
Our bachelor's in computer science with a concentration in machine learning can provide you with an introduction to fundamental and advanced concepts, techniques and principles. Machine learning is a field of computer science that takes the approach of teaching computers to learn from data/experience and solve problems, instead of providing solutions. Various real-world applications and examples of machine learning will be discussed in the machine learning concentration. You will also be able to explore the different types of machine learning algorithms, apply them to real-world data and interpret and visualize the results.
See Yourself Succeed in Computer Science
The SNHU faculty in the computer science program are dedicated to your success. You will have opportunities to get hands-on experience through coursework and projects, as well as opportunities to seek internships and jobs in the industry. SNHU's location in Manchester, NH, is ideal for access to a wide range of regional software research and development companies.
As a private, nonprofit university, SNHU has one mission - to help you see yourself succeed. The benefits of majoring in computer science at SNHU include:
Supportive community. Join the SNHU campus community of students who are closely connected with faculty and staff dedicated to your success.
Affordability. It's our mission to make higher education more accessible. That's why, SNHU is one of the most affordable private, nonprofit universities in New Hampshire.
Accessible faculty. Learn from highly credentialed faculty members who are experts in their fields and interact with you in the classroom, dining hall, fitness center, and anywhere else you need them.
Opportunity. Tap into our nationwide network of alumni and strong connections with employers for internship and career opportunities.
Campus experience. Enjoy more than 50 student clubs, Division II athletics, and fun events on our 300-acre campus in Manchester, NH, named a "Best Place to Live" by Money magazine.
Internships & Outcomes
Graduates from the computer science program at Southern New Hampshire University will be well prepared to enter a wide variety of fields. You will learn to develop software with applications in the aviation and automotive industries, medical offices and hospitals, and the data communication, manufacturing, management, military, entertainment, consumer and industrial products, and education fields.
SNHU is dedicated to helping students find meaningful internships that offer them hands-on experience to give them a head start on their peers when they enter the job market. Both inside and outside the classroom, SNHU is developing the next generation of engineers.
Curriculum
The campus program offers hands-on project based classes that promote independent research skills, teamwork, communication skills and mentoring. Within the program, students can pursue a range of advanced topics in computing fields such as AI, machine learning, computer security, and robotics.
Upon completion of the Computer Science degree program at Southern New Hampshire University, graduates should:
Analyze a complex computing problem and to apply principles of computing and other relevant disciplines to identify solutions
Design, implement, and evaluate a computing-based solution to meet a given set of computing requirements in the context of the program's discipline
Communicate effectively in a variety of professional contexts
Recognize professional responsibilities and make informed judgments in computing practice based on legal and ethical principles
Function effectively as a member or leader of a team engaged in activities appropriate to the program's discipline
Apply computer science theory and software development fundamentals to produce computing-based solutions
Courses To Prepare You For Your Career
SNHU's bachelor's in computer science program includes:
General education
Degree-specific courses
General Education Program
Our programs are designed to equip you with the skills and insights you need to move forward. In recent years, employers have stressed the need for graduates with higher order skills - the skills that go beyond technical knowledge - such as:
Writing
Communication
Analysis
Problem solving
All bachelor's students are required to take general education classes. Through foundation, exploration and integration courses, students learn to think critically, creatively and collaboratively, giving you the edge employers are looking for.
List of Courses
Courses May Include
BS in Computer Science Campus
CS 230
Operating Platforms
Students will develop a deeper understanding of operating platforms and architectures through the analysis and evaluation of the characteristics, advantages, and weaknesses of each. Students will learn the value of utilizing software design templates as well as how to utilize them to solve problems.
CS 250
Software Development Lifecycle
Students will explore the stages of the Software Development Lifecycle (SDLC) through the lens of developers and testers to examine the characteristics, documentation, and purpose of each stage. Through applying SDLC stages within an agile development environment, students will learn the principles and best practices used to develop high quality software while also assessing the impact of communication, documentation, and ethics on the SDLC.
CS 320
Software Testing, Automation, and Quality Assurance
Students will apply software engineering testing strategies and practices as part of the software development lifecycle, including requirements analysis, verification and validation, and quality management. The creation of unit tests and analysis of various testing approaches will also be covered.
CS 330
Computational Graphics and Visualization
Students will create realistic, interactive three-dimensional objects through the use of application programming interface (API) libraries and best practices. Students will also develop fully formed graphic applications that meet project requirements.
CS 465
Full Stack Development I
Students will design and develop a full stack application through the utilization of programming language frameworks. In creating a full stack application, students will also be responsible for developing a database as well as the code that interfaces their application to the database. This course is the first course in a two-course sequence.
IT 145
Foundation in Application Development
Students will use programming as a problem-solving technique in business and engineering applications. In writing computer code in a logical, structured, and organized manner, students will learn how to incorporate the key concepts of object orientation into their programming. Additionally, students will learn to write, review, and document interactive applications and work with Software Development Kits and Integrated Development Environment tools.
Total Credits: 120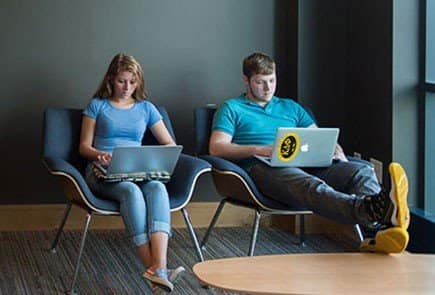 Campus Undergraduate Tuition
Our Manchester campus aims to keep tuition and related costs low for our students so that you can pursue your degree and your goals.
Related Articles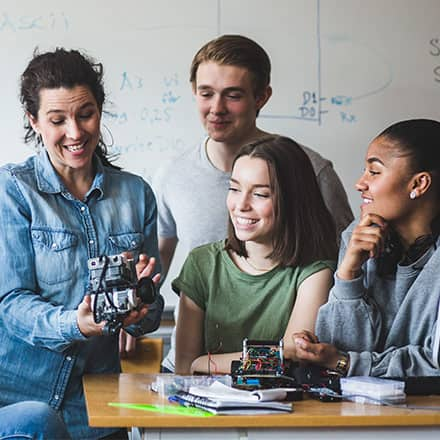 Let's start with a basic question: Exactly what does STEM mean? It's a term many are familiar with, but don't necessarily understand. STEM is a common abbreviation for four closely connected areas of study: science, technology, engineering and mathematics.
From Grace Hopper, an early pioneer in computer programming, to Katherine Johnson's contributions as a space scientist, women have been proving their value to the STEM fields for years and years. While there isn't one straight pathway into STEM, there are some general strategies that will help.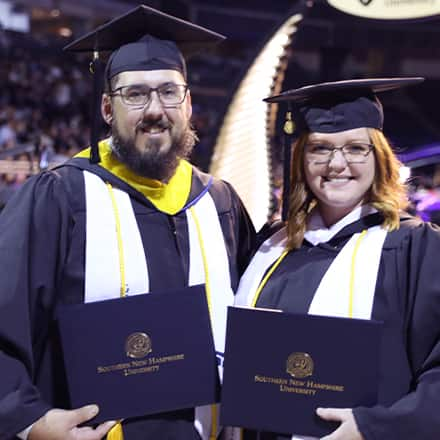 Michael and Taria Richards, both first-generation college graduates, earned their bachelor's degrees together from Southern New Hampshire University. Despite unconventional journeys, they've secured new jobs and are determined to set an example for their children.