Develop Your Skill Set with a Computer Science Degree from SNHU
A Bachelor of Science in Computer Science from Southern New Hampshire University will help prepare you to enter a wide variety of fields. From the technology industry to the manufacturing industry, from management positions to technical jobs, a Computer Science degree can help you steer your career in the direction you want.
At SNHU, you'll learn to apply the basic concepts and theories behind computer science to real-world situations through a combination of traditional computer science and mathematics courses and major, team-based software development projects. The program combines classroom learning with a project-based, hands-on approach which ensures that you will have firsthand opportunities to implement important computer science principles and face down challenges.
SNHU has modelled its computer science program in accordance with the international CDIO initiative, "an innovative educational framework for producing the next generation of computer scientists that stresses computer science fundamentals set in the context of Conceiving, Designing, Implementing, and Operating real-world systems and products." CDIO is a prominent educational philosophy and is intended to achieve a fine balance between project-based, hands-on learning and traditional, theory-based education. No matter your interest, the program will help you develop the necessary skills to begin your chosen career.
See Yourself Succeed in Computer Science
The SNHU faculty in the Computer Science program are dedicated to your success. You will have opportunities to get hands-on experience through coursework and projects, as well as opportunities to seek internships and jobs in the industry. SNHU's location in Manchester, NH is ideal for access to a wide range of regional software research and development companies.
As a private, nonprofit university, SNHU has one mission - to help you see yourself succeed. The benefits of majoring in Computer Science at SNHU include:
Supportive community. Join the SNHU campus community of fewer than 3,000 students, with faculty and staff dedicated to your success.
Affordability. It's our mission to make higher education more accessible. That's why, SNHU is one of the most affordable private, nonprofit universities in New Hampshire.
Accessible faculty. Learn from highly credentialed faculty members who are experts in their fields and interact with you in the classroom, dining hall, fitness center, and anywhere else you need them.
Opportunity. Tap into our nationwide network of alumni and strong connections with employers for internship and career opportunities.
Campus experience. Enjoy more than 50 student clubs, Division II athletics, and fun events on our 300-acre campus in Manchester, NH, named a "Best Place to Live" by Money magazine.
Concentration Options
Our bachelor's in computer science with a concentration in machine learning will provide you with an introduction to fundamental and advanced concepts, techniques and principles. Machine learning is a field of computer science that takes the approach of teaching computers to learn from data/experience and solve problems, instead of providing solutions. Various real-world applications and examples of machine learning will be discussed in the machine learning concentration. You will also be able to explore the different types of machine learning algorithms, apply them to real-world data and interpret and visualize the results.
Internships & Outcomes
Graduates from the Computer Science program at Southern New Hampshire University will be well prepared to enter a wide variety of fields. You will learn to develop software with applications in the aviation and automotive industries, medical offices and hospitals, and the data communication, manufacturing, management, military, entertainment, consumer and industrial products, and education fields.
SNHU is dedicated to helping students find meaningful internships that will offer then hands-on experience to give them a head start on their peers when they enter the job market. Both inside and outside the classroom, SNHU is developing the next generation of engineers.
Curriculum
Upon completion of the Computer Science degree program at Southern New Hampshire University, graduates should:
be able to apply knowledge of computing and mathematics appropriate to the discipline;
be able to analyze a problem and identify and define the computing requirements appropriate to its solution;
be able to design, implement, and evaluate a computer-based system, process, component, or program to meet desired needs;
be able to function effectively in a team environment to accomplish a common goal;
possess an understanding of professional, ethical, legal, security, and social issues and responsibilities;
be able to communicate effectively with a range of audiences;
be able to analyze the local and global impact of computing on individuals, organizations, and society;
recognize the need for and be able to engage in continuing professional development;
be able to use current techniques, skills, and tools necessary for computing practice;
be able to apply mathematical foundations, algorithmic principles, and computer science theory in the modeling and design of computer-based systems in a way that demonstrates comprehension of the tradeoffs involved in design choices;
be able to apply design and development principles in the construction of software systems of varying complexity;
possess real-world software engineering experience through a senior software engineering capstone project or internship.
Courses To Prepare You For Your Career
SNHU's bachelor's in computer science program includes:
General education
Degree-specific courses
General Education Program
Our programs are designed to equip you with the skills and insights you need to move forward. In recent years, employers have stressed the need for graduates with higher order skills - the skills that go beyond technical knowledge - such as:
Writing
Communication
Analysis
Problem solving
All bachelor's students are required to take general education classes. Through foundation, exploration and integration courses, students learn to think critically, creatively and collaboratively, giving you the edge employers are looking for.
List of Courses
Courses May Include
BS in Computer Science Campus
CS 114
Intro to Software Engineering
The software life cycle is introduced, shifting emphasis away from programming as the primary activity of the software engineer and towards requirements analysis, specification, documentation, testing, verification, and validation. In the required laboratory, students will develop a software simulation of a game using graphics which is required to run successfully.
CS 114L
Introduction to Software Engineering Lab
The software life cycle is introduced, shifting emphasis away from programming as the primary activity of the software engineer and towards requirements analysis, specification, documentation, testing, verification, and validation. In the required laboratory, students will develop a software simulation of a game using graphics which is required to run successfully.
CS 217
Object Oriented Programming
Students are individually responsible for the formal specification, design, implementation and proof of correctness of the abstract data type sets, bags, functions, sequences, stacks, queues, and strings. Special emphasis will be given to searching and sorting algorithms
CS 218
Data Structure and Algorithms
Students are individually responsible for the design, formal specification, implementation, and proof of correctness of the abstract data types, trees and graphs. Special emphasis will be given to graph algorithms.
CS 219
Computer Architecture I
Computer architecture and organization are covered including instruction set design, floating point and integer arithmetic operations, number representations, datapath design, pipelining, control flow, memory hierarchy, caches, virtual memory and input/output. Students are introduced to a variety of commercial architectures such as x86 and ARM.
CS 312
Analysis of Algorithms
Basic algorithmic analysis and strategies are explored along with fundamental computing algorithms. Connections between regular languages and finite automata, context-free languages and pushdown automata, and Turing machines and computation are established. The complexity classes P and NP will also be introduced.
CS 317
Computer Networks
This course provides an in-depth overview of the field of data communications and its impact on information systems. Various types of equipment will be examined along with protocols and architectures offered by major vendors. Distributed system issues as well as local area network solutions are discussed.
CS 361
Computer Software and Operating Systems
This course explores the major components of an operating system. Topics covered include processes, threads, mutual exclusion and synchronization, deadlock and starvation, memory management, virtual memory, scheduling on single and multiprocessors, I/O management and scheduling, and file systems.
IT 251
Introduction to Unix/Linux Operating System
This course provides an introduction to the structure and functioning of the UNIX operating system. It is designed to give students a solid foundation in the design and organization of the operating system and to teach the basic set of UNIX commands.
Total Credits: 120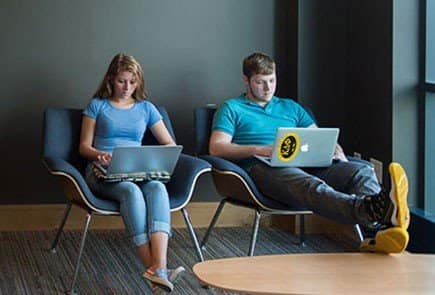 Campus Undergraduate Tuition
Our Manchester campus aims to keep tuition and related costs low for our students so that you can pursue your degree and your goals.