Bring the Virtual World to Life with a Major in Game Art & Interactive Design
Whether it's creating lifelike characters, imagining rich virtual game worlds or designing creatures from another planet, SNHU's Bachelor of Arts in Game Art and Interactive Design can get you on your way to working in the fast-paced, exciting world of video game art.
This BA program balances fundamental skill development with advanced training in the techniques used by industry professionals today. Students learn and apply principles used in video game art asset creation such as 3D modeling, lighting, shading, anatomy illustration, digital painting, 3D mesh topology, texturing and rigging. Courses mirror the standard workflow pipeline used in industry for the production of art assets for multiple video game platforms, including web, console, PC and mobile. You'll graduate with a vast toolkit of skills and a body of work for your portfolio.
Earn Your BS Game Art and Interactive Design for just $10K per year.
The Your BS Game Art and Interactive Design is one of SNHU's Experience More programs. In these programs, you'll be on a more structured, career-focused pathway to your degree. Designed to incorporate industry experience and prepare you for the workplace more rapidly, at least 36 of your credits will be earned through experiential learning—which may include studio work, lab work, project-based courses, internships, or industry certifications.
You'll also learn through a mix of face-to-face classroom and online formats. That means less seat time in traditional classroom settings, and more time engaging with faculty members as project leads, internship advisors, or coaches.
Inkwell Interactive Studio
Looking to level up your portfolio? SNHU's Inkwell Interactive Studio on campus can help you gain the experience you need to break into the industry. Modeled after a real-life work environment, Inkwell connects you with internal and external clients to fully design and implement projects – from virtual tours and games to medical simulators and more.
See Yourself Succeed with a Major in Game Art & Interactive Design
Creativity, critical thinking and technical skills all come together in this highly sought-after undergraduate program. You'll emerge with the skills you need to enter an industry that's both fast-paced and always changing.
As a private, nonprofit university, SNHU has one mission - to help you see yourself succeed. The benefits of majoring in game art and development at SNHU include:
Supportive community. Join the SNHU campus community of students who are closely connected with faculty and staff dedicated to your success
Affordability. It's our mission to make higher education more accessible. That's why, SNHU is one of the most affordable private, nonprofit universities in New Hampshire.
Innovative programs. Study abroad at little or no extra cost
Accessible faculty. Learn from highly credentialed faculty who are experts in their fields and interact with you in the classroom, dining hall, fitness center and the stands
Opportunity. Tap into our nationwide network of alumni and strong connections with employers for internship and career opportunities
Campus experience. Enjoy more than 50 student clubs, champion Division II athletics and fun events on our 300-acre campus in Manchester, N.H., named a "Best Place to Live" by Money magazine
Internships & Outcomes
In addition to exposing you to faculty with industry experience, SNHU's BS Game Art and Interactive Design helps you develop deep connections with other professionals. Students have opportunities to complete internships with game development companies, interact with industry professionals who regularly speak on campus and join a vibrant community of game developers in the game design club.
Most importantly, students in the program work on teams to develop publication-quality games as part of GameJams and other competitions held throughout the school year. So when you graduate, you have connections in the industry and a rich portfolio of work to show prospective employers.
The game design industry in the United States continues to grow, with industry revenues topping $30.4 billion in 2016 according to the Entertainment Software Association. The BS Game Art and Interactive Design program prepares you well for positions such as game artist, character artist, environment artist, technical artist and animator.
Curriculum
Coursework includes requirements from our undergraduate School of Arts and Sciences, such as Intro to Creative Writing, Intro to Drawing and World Mythology. Classes within this major include Creature Design, Intro to Digital Sculpting, 3-D Art and Design, and so much more.
Faculty push, inspire and encourage you to realize your full potential as a game artist. At Southern New Hampshire University, we keep classes small, allowing you to connect with faculty who are there to support you on your journey. Take Professor Ed Brillant, for example - a former art director at Seven45 Studios in Boston with more than 10 years of experience in the game art industry, having worked on games for companies such as Microsoft, Sony and Apple. Students are consistently connected with faculty members who really know what it takes to be successful in the industry.
Courses To Prepare You For Your Career
SNHU's bachelor's in game art and development program includes:
General education
Degree-specific courses
General Education Program
Our programs are designed to equip you with the skills and insights you need to move forward. In recent years, employers have stressed the need for graduates with higher order skills - the skills that go beyond technical knowledge - such as:
Writing
Communication
Analysis
Problem solving
All bachelor's students are required to take general education classes. Through foundation, exploration and integration courses, students learn to think critically, creatively and collaboratively, giving you the edge employers are looking for.
View Full Curriculum in the Catalog
Minimum Hardware Required Specifications
| Component Type | PC (Windows OS) | Apple (Mac OS) |
| --- | --- | --- |
| Operating System | Currently supported operating system from Microsoft. | Currently supported operating system from Apple. |
| Memory (RAM) | 8GB or higher | 8GB or higher |
| Hard Drive | 100GB or higher | 100GB or higher |
| Antivirus Software | Required for campus students. Strongly recommended for online students. | Required for campus students. Strongly recommended for online students. |
| SNHU Purchase Programs | | |
| Internet/ Bandwidth | 5 Mbps Download, 1 Mbps Upload and less than 100 ms Latency | 5 Mbps Download, 1 Mbps Upload and less than 100 ms Latency |
Notes:
Laptop or desktop?  Whichever you choose depends on your personal preference and work style, though laptops tend to offer more flexibility.
Note:  Chromebooks (Chrome OS) and iPads (iOS) do not meet the minimum requirements for coursework at SNHU. These offer limited functionality and do not work with some course technologies. They are not acceptable as the only device you use for coursework. While these devices are convenient and may be used for some course functions, they cannot be your primary device. SNHU does, however, have an affordable laptop option that it recommends: Dell Latitude 3301 with Windows 10.
Office 365 Pro Plus is available free of charge to all SNHU students and faculty. The Office suite will remain free while you are a student at SNHU. Upon graduation you may convert to a paid subscription if you wish. Terms subject to change at Microsoft's discretion. Review system requirements for Microsoft 365 plans for business, education and government.
Antivirus software: Check with your ISP as they may offer antivirus software free of charge to subscribers.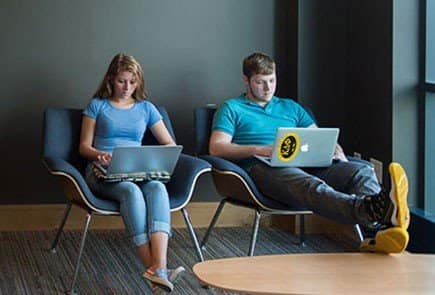 Our Manchester campus aims to keep tuition and related costs low for our students so that you can pursue your degree and your goals.