Go for a BS in Justice Studies with a Crime & Criminology Concentration
Go discover the inner workings and the broad scope of the American justice system through the Bachelor of Science in Justice Studies with a concentration in Crime and Criminology program.
Unlike programs that focus on only one aspect of the justice model, such as law enforcement, the SNHU program provides an overview of the justice system, criminal law, corrections systems, legal and social science research, and more.
Students tailor the program according to their career goals. All students take courses in policing and law enforcement, crime and criminology, and law and legal processes. In light of the professional nature of the justice system, students also are encouraged to explore courses in such aligned areas as business, psychology, sociology, information technology, and political science.
Career Opportunities
Graduates will find the job outlook in the justice studies industry is healthy. According to the Bureau of Labor Statistics, two areas with exceptional growth projections through 2024 include probation officers and correctional treatment specialists (with 4% estimated growth) and arbitrators, mediators, and conciliators (9%).
SNHU Justice Studies graduates have a wealth of career opportunities in:
Law
Business security
Police and law enforcement
Federal service agencies
Terrorism prevention
Court administration
Corrections
Dispute resolution
Victim advocacy
Military
Curriculum
Students may complete the program in the traditional four years. In addition, students may also pursue a four-plus-one program in which they earn both the Bachelor of Science and Master of Science degrees in five years. Our graduate program is delivered online allowing students to continue their studies while satisfying employment and family duties.
Why pursue a BS in Justice Studies at Southern New Hampshire University?
Faculty with specialized work experience
Internship opportunity that combines traditional research with local agency experience
Professionally oriented program
Career placement support
Courses To Prepare You For Your Life & Career
SNHU's bachelor's in crime and criminology program includes:
General education courses
Degree-specific courses
General Education Program
SNHU's required general education program, known as The Commons, aims to guide you toward success in not only your academic career, but your personal and professional life too.
Throughout the curriculum, you'll gain some of the most in-demand skills in today's workplace, including:
Research and information analysis
Diverse audience communication
Critical thinking and ethical problem solving
Leadership, emotional intelligence and collaboration
This expertise will prove practical, transferable and invaluable as you grow in your career and contribute positively to society.
Beyond foundational skill development, the general education program also provides the benefit of allowing you to explore a wide range of fields outside of your intended major.
List of Courses
Courses May Include
Crime and Criminology
JUS 211
Organized Crime
A complete examination of the dynamic referred to as 'organized crime' commencing with its historical underpinnings. Specific crimes, like racketeering, extortion, bribery, official corruption, graft, drugs, prostitution and other illicit trafficking will be analyzed. Investigative techniques and prosecutorial strategies that relate to the identification and elimination of organized crime are a major component of the course content.
JUS 215
The Victim and the Justice System
This course will examine issues surrounding the central character in a criminal act - the victim. Contents are designed to develop an understanding of what it means to be victimized, including the physical, psychological, and economic impact of crime upon victims, their families, and society in general. Special consideration will be given to specific victim populations (i.e. survivors of homicides, sexual assault, and family violence), secondary victimization by the criminal system, victim assistance programs, and future trends in this field. A full review of how the American justice system has responded to the needs of victims is part of the course content and includes a look at victim testimony at sentencing and parole and probation hearings, victim notification, Meghan's law, victim advisory and protection services, and other means in which the judicial system assures victim participation during the adjudicative phase.
JUS 309
White Collar Crime
This course considers crime committed by corporations as well as white collar criminals; how such crimes are defined, who commits or is victimized by it, which moral, ethical, legal and social contexts promote it and how society responds. Procedural and policy considerations in the investigation and enforcement of relevant statutes will also be covered, including the concept of legal privilege, the role of the grand jury and other pre-trial processes, evidentiary questions, litigation strategies, and potential sanctions and other punishments.
JUS 429
Terrorist Methods, Networks, and Financing
An in-depth study of terrorism is the course's chief aim. The course is a coherent approach to combatting terrorism, analyzing the terrorist cell, protective measures, and recognizing the terrorist next move. The course will provide the student the necessary bedrock principles to interpret, identify, and evaluate a terrorist event.
JUS 468
Crimes Against Children
This is a course that examines criminal activity targeted against children. The course will focus on the physical and sexual abuse, neglect, kidnapping, and sexual exploitation of children. Students will explore methods of identifying victims, investigating offenders, and court presentation of criminal cases. Special attention is focused on the dynamics of the relationship between victims and offenders and how that is a factor in the investigation and prosecution of criminal acts.
PSY 205
Forensic Psychology
Students will learn how psychology, as a science and a practice, applies to questions and issues relating to law and the legal system. Emphasis will be placed on witness testimony and the social psychology of the courtroom. Topics will include recovered memories, adolescent violence and murder, strategies for interviewing witnesses, expert testimony, and factors influencing the credibility of witnesses, victims and offenders.
PSY 215
Abnormal Psychology
In this course, students explore the major diagnoses from a biopsychosocial perspective. Students critically reflect on the basis of diagnoses, to appraise the benefits and costs of various assessment methods and understand the contributions of diverse treatment approaches. Ultimately, this course helps students understand the importance of reducing the stigma of disorders and diagnoses in a variety of contexts.
PSY 310
Criminal Psychology
This course will provide the student with insights about crime from a psychological perspective. Specifically, the course will focus on how a criminal offender is influenced by multiple systems within the psychosocial environment. This course examines and evaluates the role of psychological factors in understanding the motives behind antisocial acts. Throughout the course, students will acquire knowledge and practice in the application of psychological methods to understanding criminal behavior.
SOC 213
Sociology of Social Problems
Students in this course analyze contemporary social problems in America and other societies. Issues include economic limitations, class and poverty, race and ethnic relations, sexism, ageism, and environmental and population concerns.
SOC 324
Sociology of Crime and Violence
The course examines the nature, causes, and consequences of crime and violence to a society. Applying a legal and sociological perspective, the course examines: 1) the structure of the law and the criminal justice system; 2) the nature and causation of criminal behavior; and 3) the various types of crime and criminality.
SOC 326
Sociology of Deviant Behavior
This course is a sociological analysis of the nature, cause, and societal reactions to deviant behavior, including mental illness, suicide, drug and alcohol addiction and sexual deviation.
Total Credits: 120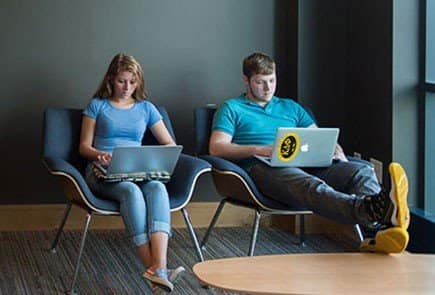 Campus Undergraduate Tuition
Our Manchester campus aims to keep tuition and related costs low for our students so that you can pursue your degree and your goals.