Go for a BS in Justice Studies with a concentration in Law & Legal Process
Prepare for a career in public service, public administration, court administration or law with SNHU's Bachelor of Science in Justice Studies with a concentration in Law & Legal Process.
With our concentration in Law & Legal Process, you can take an in-depth look at today's American criminal justice system. You can also enjoy working with our first-rate faculty members who are working professionals in the field.
This program provides a more interdisciplinary approach than typical criminal justice programs to offer you a well-rounded justice studies education and a wider scope of practice.
Our curriculum includes topics of criminal law, corrections, legal and social science research, and much more. Students may complete the program in the traditional four years. In addition, students may also pursue a four-plus-one program in which they earn both the Bachelor of Science (B.S.) and Master of Science (M.S.) degrees in five years.
Career Opportunities
Graduates will find the job outlook in the justice studies industry is healthy. According to the Bureau of Labor Statistics, two areas with exceptional growth projections through 2024 include probation officers and correctional treatment specialists (with 4% estimated growth) and arbitrators, mediators, and conciliators (9%).
SNHU Justice Studies graduates have a wealth of career opportunities in:
Law Business Security
Police and Law Enforcement
Federal Service Agencies
Terrorism Prevention
Court Administration
Corrections
Dispute Resolution
Victim Advocacy
Military
List of Courses
Courses May Include
Law and Legal Process
BUS 206
Business Law I
Students will examine the background, foundation, and ethical aspects of the United States' legal system as it applies to business organizations. Students will also learn the impact of torts, product liability, criminal law, contracts, sales, business organizations, and agency and cyber law in a business setting.
BUS 307
Business Law II
The study begun in Business Law I continues as the topics of commercial paper, real and personal property, creditors' rights and bankruptcy, agency, business organizations, estate planning and government regulation of business are explored.
JUS 325
Law, Justice and Family
A full-fledged review of the justice system's response to the establishment and maintenance of family in the American culture. How the family is defined, its heritage of rights and protections and the differentiated roles of parent and child are central considerations. Further review includes a look at family dissolution, divorce, custody and support disputes and the ongoing problems of visitation. The emerging problems of spousal and child abuse will be keenly analyzed and how the legal systems provide protection from these abuses will be closely scrutinized.
JUS 331
Juvenile Justice System
This course covers the juvenile justice system, with special emphasis on the way it procedurally differs from adult offender adjudication. The parts of the juvenile justice system, hearings, due process standards and constitutional mandates are fully reviewed. Status offenders and other youth classifications are considered, together with a historical summary of juvenile court philosophy. New trends in the procedural disposition of juveniles especially transfer to adult jurisdiction, types of punishment, suitability of the death penalty are discussed.
JUS 376
Criminal Procedure
A procedural law course which includes a review of the law of arrests, search, and seizure, the making of bail, adjudication, pre- and post-trial activities and the nature of plea bargaining. Substantial emphasis is given the constitutional protections afforded through the Bill of Rights, particularly the 1st, 4th, 5th, 6th, 8th, and 14th. The course deals extensively with case law applications of these principles and the role of judge and jurist in the crafting of criminal process standards.
JUS 395
The Death Penalty
An examination of death penalty policies in the American justice system from a legal, ethical and jurisprudential perspective. An analysis of case and statutory law, the principles of due process and appellate rights are included.
JUS 485
Forensic Law
An interdisciplinary course covering law, criminal justice, science, and technological issues in the evidentiary arena. Coverage in the course provides a broad-based assessment of expert witnesses, microanalysis, pathological evidence, admissibility and investigatory practice, ballistics, fingerprints, vascar/radar, and photographic techniques. Contrasted with criminalistics, subject matter of this course is primarily evidentiary. More particularly, the course will delve into the rules of evidence, which guide the admissibility of forensic evidence in a court of law. Examination includes threshold tests for reliability and admissibility, qualification of witnesses competent to testify, scientific rigor required for admission and case law determinations on the use and abuse of scientific evidence.
JUS 496
Administrative Law
Course exposes participants to administrative law theory and the practical aspects of administrative law practice, both within and outside the administrative agency. Coverage equips the student with the necessary skills to understand, apply, and research relevant statutory and regulatory provisions at the federal and state level, to read, interpret and draft proposed rules and regulations, to become familiar with the process known as the administrative law hearing, the concept of administrative discretion and corresponding remedies. Preliminary drafts of documents, briefs, and opinions relative to the appellate stage of an administrative law proceeding will also be covered.
Total Credits: 120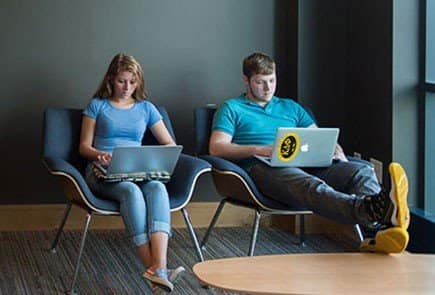 Campus Undergraduate Tuition
Our Manchester campus aims to keep tuition and related costs low for our students so that you can pursue your degree and your goals.