What is a Penmen? | What is a Quill?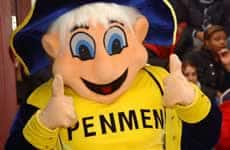 The Southern New Hampshire University "Penmen" was designed to evoke memories of the spirit of the hardy New England colonials.
Since the university was founded as New Hampshire College of Accounting and Commerce, the quill, or pen used by colonial accountants, became the "staff" of the character.
The original design was created in 1969 by Union Leader editorial cartoonist Bob Murphy. The brawny physique of the original Penmen, with its muscular legs, arms and torso, was designed to represent the rugged character of the original New England settlers. It featured the character holding a basketball in one hand and a quill in another.
The look of the Penmen logo was redesigned in 2001 to coincide with the change from New Hampshire College to Southern New Hampshire University.
The Penmen figure today is a classic revolutionary war character charging forward holding an American flag. The flagstaff is in the form of a pen, in reference to the original nickname.