What to Do with a Communications Degree
Regardless of your chosen field, solid communication skills are integral to career success-and mastering those vital skills can bring a broader range of opportunities than you might expect. If you're considering returning to school and wondering what to do with a communications degree, there are ample reasons to consider this far-reaching program.
Join a Thriving Group of Professionals
Whether you're interested in pursuing a bachelor's or master's of communication, you'll be well positioned to join a thriving group of professionals in diverse fields.
According to the U.S. Bureau of Labor Statistics, opportunities in communications continue to grow, with roles in public relations, advertising, promotions and marketing management experiencing a projected 12% growth, technical writing expected to increase by 15% and market research analysis slated to grow by 32%, all through 2022.*
In the ever-evolving field of communication, effective communication strategies have never been more important. Every industry values strong communicators, who can leverage technology to shape brand messages - and stay abreast of digital media. According to "The Human Factor," a 2015 Burning Glass Technologies report, "Clear communication, particularly writing, is at a premium in nearly every occupation."
If you're new to a field and hope to enter into a communications role or advance in your current profession, a bachelor's or master's of communication program can help you move forward in your career.
As you think about what to do with a communications degree, it may be helpful to see what others are doing with their degrees - even while working toward their programs' completion.
Seeing it Through
Andrea Daube jokes that she's on the "20-year plan" for college, having started her degree many years prior, fresh out of high school. Life got in the way of her academic goals, but Daube always had completion of her bachelor's as a serious personal goal.
Working as a marketing communication specialist for a large, global company, she doesn't have to guess what to do with a communications degree. Daube said, "I knew I would need at least a BA to advance my career."
Discovering Her True Passion
Like many people, Amy Jasper hadn't found her true passion until she started working in a new industry. For six years, Jasper had held an entry-level position at a large credit card company, and she hadn't felt particularly motivated to move beyond this role. When she switched jobs and began working in the cable television and communication field, she experienced a real a-ha moment, surprised by the passion she suddenly felt for her job.
That passion, along with the encouragement of her husband and friends, fueled Jasper to finally pursue a degree. "I chose a BA in Communication because it's the field I am passionate about, and I think it is an amazing opportunity for me to do what I love," she said. "I've started to set goals and make a long-term success timeline."
Jasper doesn't have to think about what to do with a communications degree; she already knows that she especially loves interacting with fellow students, learning about their personal success stories. She says that her instructors have been great, and she likes knowing that they're available for questions and always open for discussion.
"I'm so excited to be on the path to becoming more and accomplishing my dreams," said Jasper.
A Thirst for Something More
As a native Nigerian, who immigrated to Canada, Oyetunji Ishola has worked in the marketing-communication sector for many years but has "always had the thirst for something more, intellectually. As a busy family man, I could not afford to spend my time sitting in classrooms, yet I desire some quality in whatever I do."
An online program allowed Ishola to handle his coursework and the demands of his busy home life. "I've never looked back. It has been a great experience for me, learning online and keeping on with this journey in my life," he said.
A Second Chance
Andrea Drew started her academic journey directly from high school, pursuing a degree in the medical field at her father's encouragement. She knew she didn't want to become an R.N., so she opted for a degree program that would lead to her role as an ultrasound technician. While she was waiting to get into her clinical rotation, she decided to start working toward a communications degree. Once she finished her rotation and began full-time work at a hospital, Drew wasn't able to finish her bachelor's in communications.
Three years later, she was ready to return but realized her schedule wouldn't accommodate a classroom setting for completion. While working full-time as an ultrasound technologist, she said going to school online worked with her schedule.
With her BA, Drew decided to utilize her medical experience and knowledge and stay in the medical field, but work in the business aspect of the industry.
Setting an Example
Janay Gordon is earning her concentration in Public Relations. As the mom of two youngsters and eldest of four children, she worked full-time as a customer contact center representative in the banking industry. She said that she has to set an education example for her younger siblings, all of whom plan to attend a university when they graduate from high school.
As for her own goals, she plans to graduate summa cum laude and work at a public relations firm, "where I know I will succeed." She says that getting her college degree is not only a step towards her personal goals but also to building a better future for her family.
When you pursue a bachelor's in communication online, you're able, like Gordon, to tailor your degree to your interests with a specific concentration, such as public relations, new media or professional writing.
Combining Student and Professional Experience
Eileen McLaughlin, Ph.D., has had the distinct opportunity to both teach and earn her degree online. As a long-time academic in communication in higher education, McLaughlin had previously earned her bachelor's in communication, a master's in international studies and a Ph.D. in Mass Communication, before opting to earn her online MBA in Social Media Marketing.
With her vast experience in the communication field, she had an interest in building her knowledge and expertise in social media and began searching for an online social media-marketing master's program associated with a bricks-and-mortar school. While the online programs in this area of study were few and far between, those associated with a traditional university were even rarer. McLaughlin was especially interested in the online delivery of the degree, which was not only convenient but also fit her career. She said, "The way higher ed was going, I knew online teaching may be in my future."
Her own experience as an online student plays a vital role in how she now teaches her own students. "I see what I learned as a student, and that's the way I approach my own teaching," said McLaughlin. "I want people to know I'm there. I provide answers as quickly as possible. I respond to everyone's [discussion] threads."
She particularly likes the mix of students who take communication courses as part of their overall program of study. "The classes aren't exclusively communication students," said McLaughlin. "Communication students can see the strengths from other students, and the ways they can learn from each other." She notes the differences one might see in students in history, business or English programs, and the key strengths of each that are incorporated and shared in communication courses, all of which help those in the communication programs establish a broad foundation in all topics-and offers a wide view of what's possible in communication.
As for what fascinates her most about teaching in the communication program, McLaughlin said, "Communication allows for a lot of varying interests-social media, film, advertising, production, public relations."
Mastering Communication
Some online master's of communication programs offer concentrations, such as public relations, and new media and marketing.
Victoria Rae Funk '15 says there have always been a few things that she's been certain about in life, one being what she wanted to do and where she wanted to work. Communication has always been the field of study that captured her heart - and she hopes to employ the skills and education she's acquired through her MA in Communication with a concentration in New Media and Marketing at the Walt Disney Company eventually.
With an undergraduate degree in communications and sociology, Funk never expected to return to school. While she knew a master's degree would heighten her knowledge and experience, providing greater marketability, she was reluctant to return until she spoke with an admission counselor. She says that she was "so excited to actually go back to school that I was ready to start immediately."
Funk credits her instructors with helping her succeed in her program, and while "the work may be a lot to handle at different times...it is 100% worth it."
Broadening Knowledge
With an undergraduate degree in journalism, Gabbi Hall '15 wanted to pursue a master's degree that would give her a broader knowledge of advertising and marketing to advance her career aspirations. Her experience in an online master's in communication program allowed her to take a mix of classes, which was an interesting deviation from anything she had ever taken before.
Hall says her master's degree equipped her to articulate big creative ideas in a way that clients can appreciate and understand. "It also gave me better insight on how to dive deep into an idea using concepts like SWOT analysis to understand weaknesses and potential in a communication plan," she said. While the concept is fairly specific, she feels it's something that she carries with her as she makes all strategic decisions.
Immediate Application in Her Day Job
In the dozen years since Miki Hickel earned her undergraduate degree, she's worked as a graphic designer and always thought about returning to school. She wasn't sure what to study, however.
"The longer I worked as a designer for marketing departments, the more I felt like this was what I was meant to do," said Hickel. "I'm a designer and a storyteller."
When she learned about her online MA in Communication with a concentration in New Media and Marketing, it sounded like the perfect program to get her to where she wanted to be in her career.
"I'm currently working full-time as the creative director at a marketing company, and I can immediately apply what I learn in the program to my day job," said Hickel. "The ability to pursue this degree anywhere is an added bonus because my partner is in the military, and we move around every couple of years. It's nice to know that when he gets assigned a new duty station, I won't lose the progress I've made toward my MA."
* Job market data from the U.S. Bureau of Labor Statistics Occupational Handbook is intended to provide insight on occupational opportunities and is not to be construed as a guarantee of salary or job title. SNHU cannot guarantee employment.
Explore more content like this article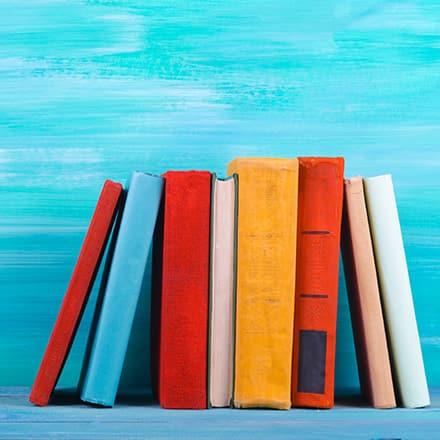 What Can You Do with an English Degree?
October 08, 2019
Many of the skills you can develop in an English degree program are sought by employers across a huge range of industries and fields. The key is being able to recognize and appreciate core skills, such as critical thinking and reading comprehension, and communicating their value to an employer.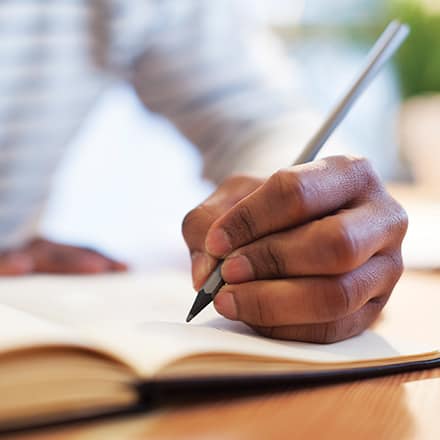 What is an MFA Degree? What You Need to Know
October 01, 2019
An MFA stands for Master of Fine Arts and is a graduate-level degree earned by students who study and practice visual arts, performing arts, design or creative writing.