What is Human Resources?
Human resources (HR) is an integral part of any organization, playing a key role in the strength and vitality of its workforce. While working in human resources can vary between organizations and positions, the overall goal of the field is the same: to support employee recruitment, retention, engagement and overall productivity.
What Do People in Human Resources Do?
At a basic level, working in human resources means serving as a link between an organization's leaders and its employees, said Deborah Gogliettino, a longtime HR professional and associate dean of business programs at Southern New Hampshire University (SNHU).
"Human resources has a foot in two boats – employee and organization – and is required to leverage skill and knowledge to meet the needs of both," Gogliettino said. "Human resources is not static. As the world of work changes, so does human resources."
According to the U.S. Bureau of Labor Statistics (BLS), HR managers and HR specialists coordinate the administrative functions of an organization. They work across all aspects of recruiting, hiring and maintaining a strong workforce.
An HR job description may include the following, according to the BLS:
Linking an organization's management with its employees
Planning and overseeing employee benefit programs
Serving as a consultant on HR and employment law issues
Overseeing an organization's recruitment and hiring processes
Handling staff issues, including mediating disputes or directing disciplinary actions
Whether it's working on getting the most out of your existing workforce or competing to attract the most talented, skilled workers to an organization, working in human resources has increasingly focused on developing and promoting a company's culture.
For many companies and organizations, this change means thinking of its workforce as more than just simply employees.
What is Working in HR Like?
Since organizations in all types of fields benefit from a human resources professional or team, there are many opportunities for you to create a career path based on your interests.
"A student's decision to be in one industry or another has to do with their passions," Gogliettino said. "I like mission-driven organizations. I like the multi-layers of complex issues you get in healthcare. But a student who's adept at HR can work in any industry."
The profession gets more interesting, particularly in larger organizations where HR professionals often specialize in a particular area, such as benefits or compliance.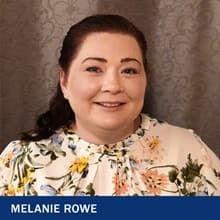 Melanie Rowe '18 '21MBA minored in sociology as an undergraduate but chose to focus on compliance as she completed her MBA in Human Resources Management because she likes "being involved in the action."
"Compliance lets me get involved in every department in the organization," she said. "I get to learn how everything functions, help fix things that aren't working and ensure that our process and programs are supporting the organization's sustainability."
Rowe said she likes that HR lets her specialize in one aspect of the business but also work at every organizational level. "HR interacts with every department at every level of employment," she said. "In other careers, you only really interact with people in your department, doing the same thing the same way every day. HR interacts with everyone and every day is a new challenge."
Rowe's future was far less focused when she decided to go back to school for a bachelor's in business administration with a concentration in human resources management. She said she "only knew I wanted to work with people and solve problems" and knew the program offered a combination of HR and leadership courses.
"This degree would give me the flexibility to pursue a management role or an HR role," she said. By earning a degree in human resources management, you can explore vital aspects of the human resources role.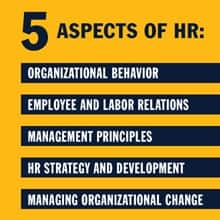 Whether you're interested in becoming a human resources manager and leading the employee recruitment and retention efforts of an organization or see yourself in the role of a human resources specialist focused on a specific aspect of employee engagement, working in HR requires strong problem solving and communication skills.
"You don't need to be headed to the HR department to benefit from this degree program," Rowe said. "A degree in business administration with a concentration in HR prepares you for a leadership role in any department. It teaches you how to manage an organization's most important resource – people."
If you plan to go on to earn your master's as Rowe did, the master's in human resource management builds on those people skills. SNHU's online program, for example, aligns with the Society for Human Resource Management's (SHRM) guiding principal and helps prepare HR professionals to be key contributors to the success of any forward-thinking, agile organization. In addition to soft skills like creative problem-solving, the program emphasizes data-driven decision-making skills.
Rowe attests to the value of this skill set. "Even though I don't have any experience in data analysis, I learned enough in my classes at SNHU to organize the data we collect and turn it into meaningful statistics that represent how the organization is performing," she said. "Now the data I provide helps executive leadership make informed strategic decisions."
What is Human Resources Management in Simple Terms?
At its core, the strategic partner model that defines human resources today is about developing the workforce and all that entails. The key element in workforce development? Knowing the business.
"Your job is to build the workforce," said Gogliettino. "And in order to understand how to build it, you have to understand the organization."
Given the growing complexity of the workplace, that's not as easy as it used to be. In addition to overseeing the HR department and serving as the connective tissue between employees and upper management, today's HR managers wear many hats. The functions of human resources management span everything from recruiting, staffing and talent development to compensation and benefits, labor relations, compliance and brand stewardship.
What is the Role of Human Resources Management?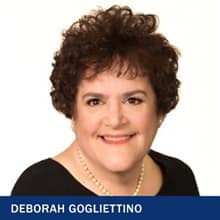 Every industry understands the importance of human resources management to business growth and getting a new business off the ground. "HR is complex no matter what industry you're in," said Gogliettino. "If you're in a global organization, you've got another added layer."
If that sounds appealing, you'll be happy to know the job market for HR managers looks appealing. BLS predicts a 6% growth through 2029 with a median wage for human resources managers of $121,220.
The role of HR in business growth and development underscores both the importance of human resources management to the organization and the critical need for HR management students to develop business acumen.
"We build programs now with the business acumen students need," said Gogliettino. "If you're only going into HR because you like people, don't bother. You should like to solve problems, build competencies, build career paths."
Successful human resources workers in today's evolving field must also commit to continuing education throughout their careers, said Gogliettino, to ensure they're updated on changing employment law and new HR technology.
Still, while the field may be changing, Gogliettino said, the basic job description of a human resources worker remains the same: supporting an organization's employees to boost engagement, productivity and employee retention.
"Employees bring their whole self to work, much like what a student brings to the classroom," Gogliettino said. "We don't know if the employee had a struggle getting the kids off to school or is worried about making the mortgage payment. HR professionals need to help the organization understand that in today's world, it's not just about the work, it's about the whole person."
Human Resources in the 21st Century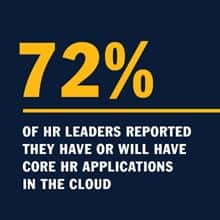 A business student with IT skills can get into HR systems or analysis within a couple of years and command a higher salary, according to Gogliettino.
As technology and software programs advance, many of the traditional roles of an HR professional – including recruiting new hires, conducting orientation of new staff members and even managing employee benefits – can now be performed digitally. In a 2020 PwC HR Technology survey of more than 600 HR leaders globally, 72% have or will have core HR applications in the cloud.
As technology takes on more of these traditional HR roles, working in human resources will expand to include more strategic and leadership functions, including advising leaders on changes in employment law and employee engagement, Gogliettino said.
Gogliettino said talent acquisition might take longer but has high demand, and she offers this perspective:
"In the '80s, everybody was pouring money into organizational development. Then budgets got tighter, and everybody pulled back and had to put more money into talent development.
"Back then, we recruited and grew. Now we find, manage and grow talent – talent development that's experiential and personalized. Corporate learning is going beyond one size fits all. Now we need to assess where someone is and give (that employee) an opportunity to take their own path."
Gogliettino attributes the growing complexity of talent development to the workplace demands of millennials. "It's an interesting talent pool that can go wherever they want to go," she said. "And they're not going to stay someplace that doesn't have a journey for them."
Change in employee wellness is another trend. "There's still a focus on work/life balance, but now there's a financial piece – teaching millennials how to manage future finances," Gogliettino said. "What does retirement look like? How do you get a mortgage? Save for your children's college education? It's not just about health and exercise anymore. Financial wellness is integrated with overall wellness."
Many companies, she said, now have financial partners to provide that financial piece of employee wellness.
"Human resources started out as 'transactional' and stayed in the transactional stage for a long time until workforce issues became more complex, new laws emerged and organizational leaders understood that getting the most out of a workforce was more than having employees show up with a lunch box," she said.
Learn more about the changing role of HR in today's workforce.
Betty Egan is a freelance copywriter with 25+ years of experience across a diverse spectrum of industry sectors, including higher education. She lives and works remotely from the mountains of northern New Hampshire. Connect with her on LinkedIn.
Explore more content like this article
November 24, 2021
How do you become an accountant? And what exactly does an accountant do? That's changed a lot over the years. The bean counters of the past now use cutting-edge technology and data to tell stories with numbers.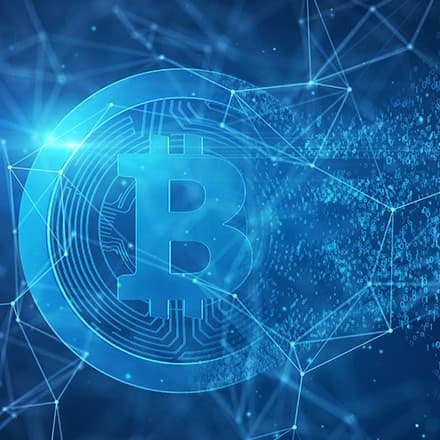 November 22, 2021
While initially thought to be a passing fad, cryptocurrency has stuck around and even evolved into a major player in the world of finance and investing. A finance degree can help you leverage your expertise into a lucrative career in this exciting and evolving field.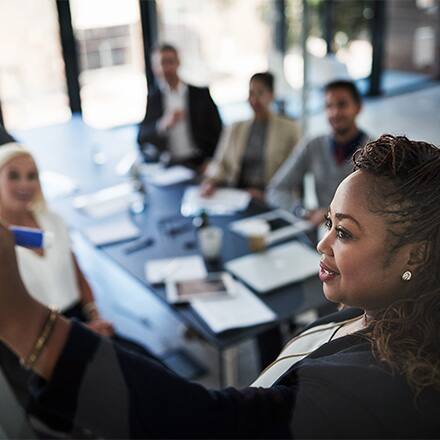 November 12, 2021
The online MBA/no GMAT format at SNHU allows applicants to begin their program faster, especially since there are five terms in which you can start each year.