Move Up with a Health Sciences Degree
You've already got a steady career in allied healthcare. Maybe you're an X-ray technician, a respiratory therapist or a lab clinician. You love your work and your associate degree prepared you well. What if you want to take your job to the next level? Why would you need to go back to school?
The answer is: You want to rise in your field and have an edge in the changing world of healthcare management. With a health sciences degree, you could move from technician to team leader, or clinician to manager. A degree can also increase your earning power. For instance, a 2010 salary survey from the American Society of Radiologic Technologists reports that technologists across all disciplines with a bachelor's degree earned an average of 11.5% more than those with only an associate degree.
Read on to learn how an online Bachelor of Science in Health Science can advance your career in one of the fastest-growing occupational fields.
A Changing Healthcare Landscape
According to the U.S. Bureau of Labor Statistics, the need for medical health services managers is anticipated to grow 17% by the year 2024. Thanks to longer life expectancies and more widely accessible health insurance, the healthcare field has expanded far beyond the relationship between a patient and a medical institution. An aging population means more preventative care, more long term care facilities, more diagnostic tests -- and a need for more highly skilled managers to maintain a strong and comprehensive healthcare system.
"There's a lot of emphasis on inter-professional collaboration," said Will Brooke-deBock, the associate dean for undergraduate healthcare administration at SNHU. To build on their core scientific competencies, students take courses in economics, quality management, and ethical and legal considerations of healthcare. Interprofessional courses are designed to meet the needs of health specialists across the spectrum, says Brooke-deBock, whether they are nurses or lab techs.
Quality, Not Quantity
In the 21st century, healthcare is more than diagnosing and treating illness. It may include insurance-paid healthy screenings, or holistic models of prevention. "In hospitals now, you often hear about patient safety, infection rates and compliance rates," said Brooke-deBock. Phrases such as "community accountability" and "health management" are not just buzzwords. In the right hands, they're critical components of careers that unlock a stronger healthcare system.
The process of earning a health sciences degree gives clinicians or technicians powerful management and strategic skills. By learning best practices for communication and collaboration, students strengthen their abilities to work with and lead teams. By understanding medical economics and policy, they master a broader perspective on issues facing their organizations as well as the healthcare industry. By keeping in mind the larger social and cultural contexts, degree-holders can influence long-term healthcare outcomes even as they influence the patient experience.
Influence the Patient Experience
Every day, medical personnel affect patients' lives on an immediate and personal level. With a health sciences degree, however, they also gain the mobility to improve the healthcare system from within. For instance, an X-ray technician could take her deep knowledge of the patient experience and use it at the management level to improve processes at her hospital. A respiratory therapist may become a supervisor or department manager turning the data he already understands into strategies to help a specific population.
The Online Health Sciences Degree at SNHU
As a health sciences student at SNHU, you've already succeeded in your field. You like what you're doing and are ready to branch into a bigger role - not just the niche you've mastered. You want to influence or improve how your organization operates, or maybe you've got your eye on a management or supervisory role. While a Bachelor of Science will give you access to the next level, how will you fit classes around the demands of your job and family?
The online health sciences degree program at SNHU is exclusively designed for health professionals who already have their associate degree. You may be able to transfer up to 90 credits for the hard work you've already done, and take only the classes you need to obtain your bachelor's degree. Since SNHU is a private, nonprofit university, our only focus is to help you succeed. With affordable tuition, dedicated instructors who have real-world experience, online classes available 24/7, a terrific nationwide network of alumni, and supportive advisers who specialize in health sciences, we're poised to accelerate your career around your busy schedule.
No matter where you live, you can take advantage of our online degree program. Are you ready for a position of leadership? SNHU will accelerate your path to success across a variety of clinical specializations. The skills and confidence you gain from a health sciences degree are the boost you need to make the leap.
*Job market data from the U.S. Bureau of Labor Statistics Occupational Outlook Handbook is intended to provide insight on occupational opportunities and is not to be construed as a guarantee of salary or job title. SNHU cannot guarantee employment.
Explore more content like this article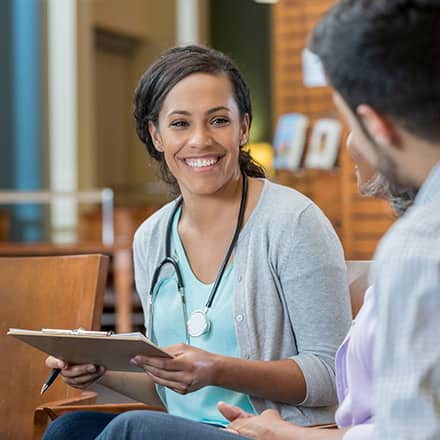 How Do I Become a Certified Health Education Specialist?
September 29, 2020
To become a Certified Health Education Specialist (CHES), you need to earn a bachelor's and/or master's degree in health education, public health or a related field and then pass the CHES certification exam administered by the National Commission for Health Education Credentialing.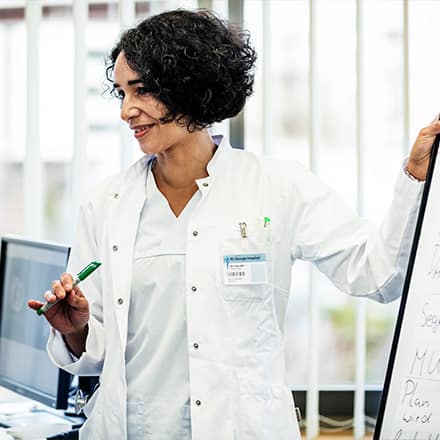 What is Epidemiology?
September 17, 2020
Epidemiologists are public health facilitators, who study concerns, trends and threats to the health of a specific population. Epidemiology is a vital research and development career critical to public health.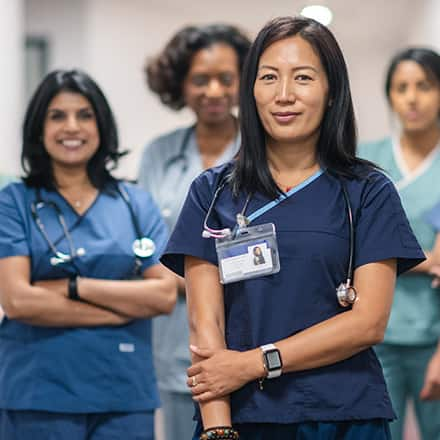 5 Leadership Styles in Nursing
September 08, 2020
Regardless of their title, nurses in all roles are expected to demonstrate leadership, and must challenge themselves and the profession to develop effective leadership styles. In order to accomplish this, 5 leadership styles can be noted and emulated among successful nurse leaders.