How to Become a Certified Nurse Educator
When you work in the nursing field, there are a number of options open to you after you've gained clinical experience in the workplace. From supervisory roles to professional development positions, there are many opportunities for nursing professionals who are ready to take their career to the next level. One such position that's currently in high demand is that of the nurse educator. Nurse educators are responsible for teaching the next generation of nurses to ensure that quality patient care is continued in the healthcare field. It's a role that allows you to combine a passion for nursing with your desire to share your knowledge and skills in a in a field you love.
If you're a nursing professional interested in taking the next step in your career, consider enrolling in the online Master of Science in Nursing in Nurse Educator program.
The Growth of Nursing
The demand for qualified nursing professionals is on the rise across the country. According to the U.S. Bureau of Labor Statistics (BLS), positions for registered nurses are expected to grow by 15% between 2016 and 2026, much faster than the average rate across other industries. Between 2016 and 2026, the BLS is predicting that 438,100 new positions for registered nurses will be created.
However, it isn't just nursing positions that are increasing. With the need for more than 1 million nurses, you'll see the need for nurse educators rising substantially to educate new nurses entering the field and to provide ongoing continuing education to nurses in this fast-moving environment. Healthcare organizations don't only want more nurses, they're looking for nurses with greater levels of education than ever before. The Institute of Medicine (IOM) issued a statement recommending that 80% of nurses working in the field should have at least a bachelor's degree by 2020. Nursing organizations, such as the American Association of Colleges of Nursing (AACN), have joined in supporting this move toward increased nursing education.
As more nurses work to advance their education, academic and clinical organizations are expanding to meet this growing need. As the demand for well-educated nurses increases, so does the need for a larger number of qualified educators in this field of healthcare. As Sherrie Palmieri, the chief nurse administrator and associate dean for program development at SNHU, stated: "If there are no educators, there are no students."
A Need for Educators
According to the AACN, the shortage of nurse educators is causing a serious problem in meeting the growing demand for nursing professionals in the healthcare field. In the organization's report on 2014-2015 Enrollment and Graduations in Baccalaureate and Graduate Programs in Nursing, it was revealed that 68,938 qualified applicants were turned away by nursing schools in 2014 for baccalaureate and graduate programs, due in part to a shortage of faculty. In fact, two-thirds of the schools that were surveyed reported that an insufficient number of faculty played a role in not accepting every qualified applicant.
This shortage can be seen in academic and clinical institutions across the country, as nursing schools are turning away students at a time when nurses are most needed. In the AACN's 2014 Special Survey on Vacant Faculty Positions, 714 nursing schools surveyed reported a total of 1,236 vacant faculty positions. The data found that the national nursing faculty vacancy rate was 6.9%, and 56.6% of the institutions reported that one of the top reasons for these openings was the difficulty in finding qualified applicants.
However, increased student demand and a lack of qualified faculty applicants are not the only reasons for the current problematic shortage of nurse educators. The AACN reported that the field is expected to be affected significantly by waves of retirement in the U.S. over the next decade. Because the average age of nursing faculty of all levels is currently over 50, and the average age of retirement is about 62 for nurse faculty members, many educators don't teach long before retiring, a problem that will be exacerbated as baby boomers reach their 60s and near retirement.
Between the increase in nursing students and the high number of nursing faculty nearing retirement, the time is right to embark on a fulfilling career as a nurse educator.
What is a Certified Nurse Educator?
Nurse educators play an invaluable role in preparing students to enter the healthcare field. It's their responsibility to ensure that students are equipped in a wide spectrum of nursing knowledge and skills so that they can translate their academic learning to the responsibilities of patient care in a clinical setting.
Daily responsibilities of certified nurse educators include lesson planning, curriculum building, writing and proctoring examinations, coaching students, preparing lectures and providing feedback on projects. Mentorship is an important part of the nurse educator role, so you'll have the privilege of advising and guiding students as they become nursing professionals, particularly in areas such as what specialty they should pursue.
When you become nurse educator, there are a number of options open as to where you teach. Many academic and clinical settings are currently in need of qualified faculty to help educate the next generation of nurses, such as colleges, hospitals and other healthcare facilities.
As a nurse educator, you may find yourself teaching in a variety of programs, such as two- or four-year certificate, associate degree or bachelor's degree programs. Nurse educators are also needed at master's and doctorate levels, depending on your educational credentials. Your path will likely be greatly influenced by your personal interests, as well as the availability of positions in your community. Wherever you end up teaching, you'll be playing an important role in ensuring high quality patient care in the U.S.
How to Become a Nurse Educator
If you're interested in becoming a certified nurse educator, your first step should be to examine your interests and passions to ensure that it's a good fit. Do you enjoy helping new nurses translate their academic knowledge to workplace expertise? Do colleagues turn to you for advice and insight? A career as a nurse educator is a great option if you're passionate about your field, and want to educate the next generation of nurses.
If you're currently working as a nurse, you're already well on your way to meeting the first two qualifications required to become a nurse educator: nursing licensure and clinical experience. While academic learning is an important part of gaining expertise in any field, it's important for educators to bring real-world experience to the classroom, particularly in nursing. It's important for students to be taught by those who are registered nurses and have encountered the challenges of working in healthcare first hand.
In addition to your RN licensure, you'll need to have academic credentials to pursue a career as a certified nurse educator. That process starts with a Bachelor of Science in Nursing (BSN), which is now the accepted minimum education requirement. In 2010, the Institute of Medicine (IOM) published a report: The Future of Nursing: Leading Change, Advancing Health, in which they made the recommendation that 80% of nurses should hold a BSN by 2020, causing working RNs across the country to return to school. If you're already working in the field, consider enrolling in an online RN to BSN degree, a program specifically designed for working professionals who want to further their nursing education.
While a BSN alone can help open doors in the workplace, you'll need to take a step further if you want to teach. Most teaching positions in the nursing field require at minimum that you also have a Master of Science in Nursing (MSN). This degree provides nurses with the knowledge and skills required for advance nursing practice, while simultaneously equipping you with the knowledge and skills that are necessary to be an effective educator. Many nurses may already be teaching informally, but to receive accreditation and take on a formal position, the MSN is a necessary step.
With an MSN in Nurse Educator in hand, you'll be qualified to teach in a number of settings, including community colleges, universities, hospital-based schools of nursing, community health agencies, long-term care facilities, technical colleges, hospitals and more. Within these organizations, you'll also be able to fill many roles, such as adjunct faculty member, lecturer, assistant professor, nursing instructor, clinical nurse educator and director of professional development. Depending on your career goals, you may even choose to go on and earn a doctorate degree. Earning your MSN before starting a Doctor of Nursing Practice (DNP) or Doctor of Philosophy (PhD) program is required.
Love working with patients? Your new career as a certified nurse educator doesn't mean that you need to give up your previous nursing duties altogether. Many educators teach part time while still dedicating many hours a week to patient care and clinical practice.
The Online MSN
When it comes to pursuing a career as a nurse educator, an online program can make the process easier than ever. The online MSN degree is designed for professionals working in the field who are looking to further their nursing education to open doors for career advancement.
To lead and train the next generation of nurses, you'll take courses on general advanced nursing topics, such as biostatistics, advanced pharmacology, global health and the use of evidence-based practices. You'll additionally complete coursework on topics more specific to nursing education, such as curriculum design and student assessments.
Benefits of an Online Nursing Degree
There are a number of advantages to earning your MSN degree online. When you pursue your degree, you'll find that remote learning gives you the flexibility to advance your nursing education while simultaneously advancing your professional career in the workplace. Nursing programs online give you the ability to schedule your learning during times that are most convenient for your week, whether that means participating in course discussions after your shift ends or completing assignments on your day off.
An SNHU online MSN program can also be a cost-efficient option for furthering your nursing education.
Your Certified Nurse Educator Career
With clinical experience and an MSN under your belt, you'll be well on your way to a successful career as a certified nurse educator.
In addition to the sense of satisfaction that comes from passing on your knowledge and expertise to the newest generation of nurses, a career as a nurse educator has very tangible advantages. According to the BLS, nursing instructors and teachers at junior colleges earned a median annual salary of $71,260 in 2017. Those who teach at colleges, universities and professional schools earn even more, averaging a reported median annual salary of $72,210 between state and private institutions in 2017. As these positions are in such high demand, you'll be poised to take advantage of industry needs.*
*Job market data from the U.S. Bureau of Labor Statistics Occupational Outlook Handbook is intended to provide insight on occupational opportunities and is not to be construed as a guarantee of salary or job title. SNHU cannot guarantee employment.
Marcy Vadurro is a marketing professional within nursing and health professions in higher education.
Explore more content like this article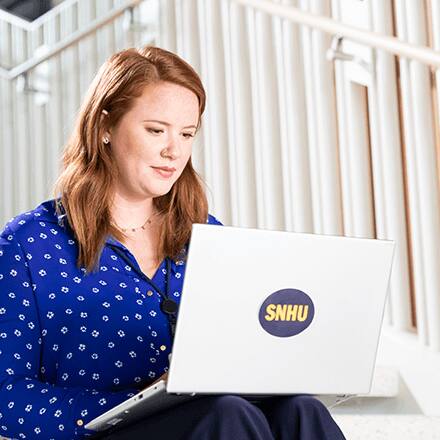 July 15, 2021
Like many high school graduates, Ali Lamoureux wasn't sure of her next steps. After kickstarting a career in healthcare, she eventually found her passion in hospital administration and came to realize that she would need a college degree to advance in the field.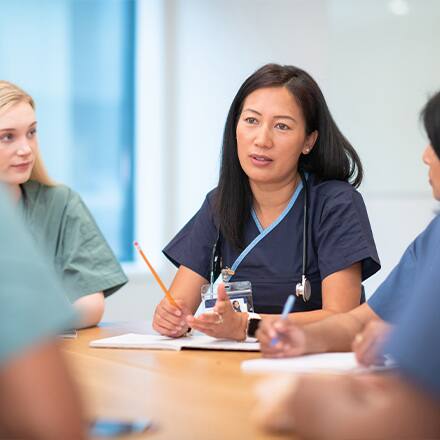 July 13, 2021
Leaders are found everywhere. You name the setting; we look toward leaders at the helm, and the nursing profession is no exception. Leaders in nursing are influencing healthcare organizations at all levels, and in every setting and discipline.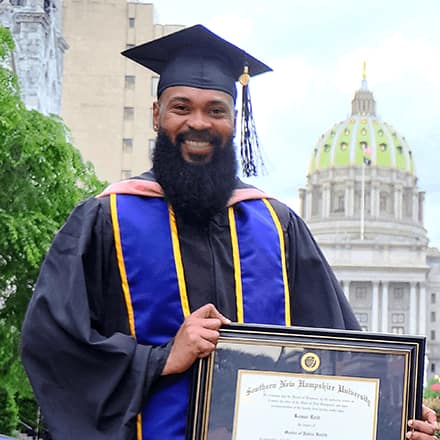 July 12, 2021
Kemar Reid didn't just earn two degrees by attending SNHU. He learned how to help others improve their lives and that, with some hard work and focus, he could achieve anything.