Can You Get a Nursing Degree Online?
You've thought about nursing but aren't able to commit to attending school in a face-to-face environment in a traditional setting. You've heard nursing degrees are available online but aren't sure how that would possibly work. Rest assured, it is possible but there are some things you must do before even considering whether an online degree might work best for you.
First, you must complete your licensure to become a Registered Nurse (RN). According to the American Nurses Association, "every state and the District of Columbia has a board of nursing with a mission of protecting the public from harm." Each state establishes the requirements to not only obtain licensing but to also maintain it going forward. The parameters include the basic education required as well as continuing education or competencies that must be maintained.
There are hospital-based nursing schools and associate degree nursing programs at community colleges that can prepare you for the National Council Licensure Examination (NCLEX)-RN, a necessary step in moving forward to bachelor's degree in nursing. As an RN hoping to advance in nursing, the flexibility of earning an online degree may prove the best way to work around a full-time work schedule and other responsibilities.
Whether you choose to earn an online bachelor's or master's degree in nursing, you can be well positioned to take advantage of diverse opportunities in the healthcare field. According to the Bureau of Labor Statistics (BLS), job openings in the field are growing at a faster than average rate. The BLS expects available positions to increase by 15% between 2014 and 2026, resulting in an additional 438,100 jobs.
Earning an Online Nursing Degree
There are two primary academic degree programs for nurses: the RN to Bachelor of Science in Nursing (BSN), followed by a Master of Science in Nursing (MSN) - or an accelerated RN to MSN track.
While it wasn't always common for a nurse to have a BSN degree, more nurses are earning them. A BSN is now critical for several reasons within the current healthcare environment including the increased complexity of care, the demand to elevate patient safety protocols, an aging population, advances in technology and a shift from acute care settings to community based care. The Institute of Medicine's recommendation to increase the percentage of RNs to 80% by 2020 had changed hiring practices, retention and advancement of RNs within the healthcare field. Whether you've only been a novice RN or are an established professional looking for opportunities for career advancement, a nursing degree is highly valued.
James Kinneer, vice president of people and organization development at the Indiana Regional Medical Center in Pennsylvania, told U.S. News and World Reports that most employers are open-minded of the online degrees and are generally more interested in a job candidate's skills than how they earned their degree. Employers will want degrees to come from an accredited program, according to the article.
As a nurse, you work long, and quite often, nontraditional hours. An online RN to BSN can accommodate your busy life as a working nurse. You play a vital role in today's complex healthcare environment, one that requires critical competencies, including evidence-based care, health promotion, disease prevention and the use of technology. Many online students work on their degrees while managing jobs, outside interests, family responsibilities and more. If you're ready to take your career to the next level, SNHU is ready to help you get there, every step of the way.
The Right Choice for the Right Person
Is an online nursing degree the right next step in your career? While an online program in the field can be beneficial for anyone, here are three types of people that will especially benefit from the flexibility of the online nursing degree.
The new nursing professional: Have you recently completed your associate degree or just begun your nursing career? Consider the benefits of continuing on to a bachelor's degree. A BSN is becoming increasingly important in the field of nursing. In the online RN to BSN program, you can expand your knowledge and skills en route to a degree that will help open doors to employment opportunities and career advancement.
The non-traditional student: Whether you're part of a military family or living in a rural area, going back to school full-time at a physical campus location may not be the best decision for your life. By enrolling in an online nursing degree programs, you'll be able to pursue your education at your own pace from the location of your choice. This is also an important advantage if you live and work in an area where you don't easily have access to a physical college. Living in a city without an accredited institution shouldn't limit your educational pursuits. Whatever your life looks like, an online nursing degree can be tailored to help you achieve your education without sacrificing your other commitments and plans.
The nursing leader: If you're an RN and want to take your career to the next level, an online nursing program can help you attain the higher degree that you need. Whether your career goal is to work as an advanced practice nurse, educate the next generation of nursing professionals or lead your coworkers in pursuing quality patient care, an MSN can help get you there. Whatever online program you choose, you'll be able to continue to fulfill your responsibilities at the workplace while simultaneously furthering your education during times that are most convenient for your schedule.
Pursue Leadership With a Higher Degree
If you already have a BSN, you may wish to advance further in your career with a master's degree. An MSN is a good choice for the experienced nurse who is interested in pursuing a career in leadership or administration within the field. You can enroll in an online master's in nursing program to open those doors. Some programs also offers an accelerated pathway, providing eligible students with the ability to earn a bachelor's and master's degrees in nursing without breaking continuity. Such programs could save you money and time - up to 20 weeks - by completing graduate level coursework within your undergraduate program.
According to the BLS, nursing positions that require a master's degree are expected to increase by 31% between 2014 and 2024. Within an online nursing program, you can prepare for one of these jobs by pursuing a general MSN, or choose a specialty areas, such as an MSN in Clinical Nurse Leader, MSN in Patient Safety and Quality or MSN in Nurse Educator.
An MSN in Clinical Nurse Leader program equips you with the leadership and critical thinking skills that you need to pursue a career as an advanced practice nurse. Top treatment centers are looking for highly qualified and educated nurses to assume leadership roles and take their facilities to the next level. An MSN in Clinical Nurse Leader sets you on the right path to step into one of those positions.
Due to recent healthcare reform, patient outcomes are more important than ever for the success of medical facilities. Consequently, the time is right to consider earning an MSN in Patient Safety and Quality. Patient safety and quality programs are designed to ensure that students graduate with the competencies laid forth by the IOM report, "The Future of Nursing: Leading Change, Advancing Health," and are prepared to meet the complex and changing needs of the 21st-century healthcare workforce.
If you're passionate about teaching the next generation of nurses, an MSN in Nurse Educator might be the right choice for you. The degree prepares you for a career as a clinical or academic nurse educator anywhere from a major university to a hospital environment.
Marcy Vadurro is a marketing professional within nursing and health professions in higher education.
Explore more content like this article
June 17, 2021
Both the nursing profession and some employers are calling on registered nurses (RNs) to obtain a Bachelor of Science in Nursing (BSN) to improve safety and help prepare for future healthcare challenges.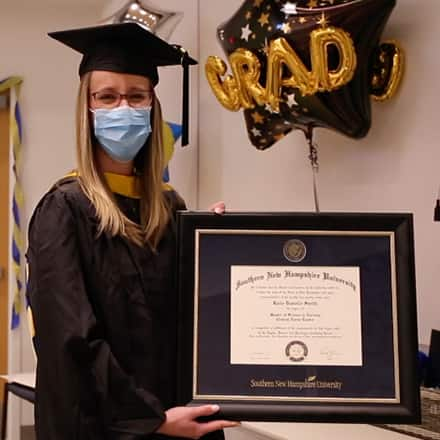 May 18, 2021
Just a couple of days after the SNHU community celebrated graduates with a virtual Commencement, the university coordinated a surprise diploma delivery for MSN graduate Katie Smith at Dartmouth-Hitchcock Medical Center in New Hampshire.
May 06, 2021
BSN student Daniele Fenn said she always had it in her heart to one day work in the medical field. During the COVID-19 pandemic, the RN earned national recognition for her work in navigating communication barriers between medical staff and patients.