Award-Winning, One-Man Play: "Forgive Me Father For I Have Sinned"
If Jose Roldan, Jr. hadn't accidentally missed an elective course that prevented him from completing his undergraduate degree, his life today would be very different.
Roldan was a 25-year-old senior at Lehman College in his native Bronx, N.Y. when he received word from the college that he had inadvertently missed an elective course and didn't have enough credits to graduate. He thought the course he chose to take over the summer, Solo Performance Workshop, would be a quick and easy four-weeks he could breeze through and be on his way. Instead, with the help of Prof. Dante Albertie, he wrote a one-man play that has received acclaim, allowed him to travel the country and the world and launched a nascent acting career.
Roldan, 38, now a student in Southern New Hampshire University's master's in creative writing program, recently performed his play at SNHU's Last Chapter Pub. The South Bronx native grew up as part of a traditional Puerto Rican family. He had more difficulties growing up than many and struggled both with his faith as a Catholic and his sexual identity as a gay teenager. That was made more difficult by the turbulent relationship he had with his "typical Latin father."
"I was consistently told at a young age that in order to be a real man or a true Latin man, that you couldn't be gay. That was out of the question," Roldan said. "You ask yourself, 'Did they know? Did they know what was going on with me at a young age' because they would tell me all the time."
"It made me feel like I had to hide more," he said.
When Roldan got the news from the college, he was dealing with the end of a four-year marriage and was slowly coming out of the closet to some friends and family. The format of the course, to write a one-person play, gave him an outlet for many of the issues he was confronting. "At the end of the four-week course I literally had birthed this one-man show," he said. "It was a way for me to express what I was feeling at the time. Writing the piece was cathartic to me."
Roldan's play, "Forgive Me Father For I Have Sinned," has described been described as a coming-of-age story, and was awarded the "Best Solo Production" at the 2014 Paul Michael's Network One Act Festival. It was also named "Outstanding Solo Performance" at the 2013 HOLA ( Hispanic Organization of Latin Actors) Awards. Last year it was named a "Top 10 Show to See in NYC" by Newyork.com and Time Out New York. But Roldan's first performance was at Lehman after Albertie convinced him to perform it at Lehman Stages, the college's semi-professional production company that links alumni and students to collaborate on performances across the city. He was, in effect, coming out of the closet to the entire college community. It ended, Roldan said, with a standing ovation he will never forget.
"The first show, I remember (it) was insane," he said. "That was a huge honor for me."
Since then, Roldan has performed the play somewhere around 200 times on stages across the country, many of them at colleges and universities. He's also seen the Caribbean and parts of Europe performing the show. He's performed on cruises marketed to the gay and lesbian community. "The show has literally launched my acting career as I'm now auditioning for TV and film," he said. The response to his performance, Roldan said, has been a bit surreal.
"It's humbling. I felt alone. I felt like there was no one to talk to, like there was no one to even relate to. Now to look back and think, 'Wow. That same story allowed me to see the world," he said. "For me, it's humbling and gives me hope for the future to say, 'You know what? No matter what life throws at you, if you can just hold on, you just hold on to it, there will be light at the end of the tunnel.' So it's given me motivation ... to keep going no matter what comes my way."
Albertie, who has stayed involved in the play as director, called Roldan a "special performer" with "a big heart and very charismatic."
"It's authentic, honest and really funny," Albertie said of the play. "While it deals with important issues, my favorite parts of the play have always been the parts that deal with the family. I think everyone can relate to some part of it."
Roldan's online master's program has a concentration in screenwriting. He wants to write a screen version of "Forgive Me Father for I Have Sinned," and hopes to start filming sometime in 2018.
Roldan said he had always wanted to earn his graduate degree but didn't see a way to do it given his full-time job, full-time performance schedule and as many actings gigs and auditions as he could get. Support from friends, family and his SNHU advisor and being able to take courses online have made all the difference. "That support just allowed me the strength to say, 'You know what? I can get this done. There are so many people who believe in me to do it, that I can get it done,'" Roldan said. "It wasn't easy, but it's possible. It's possible."
Joe Cote is a staff writer at Southern New Hampshire University. Follow him on Twitter @JoeCo2323.
Explore more content like this article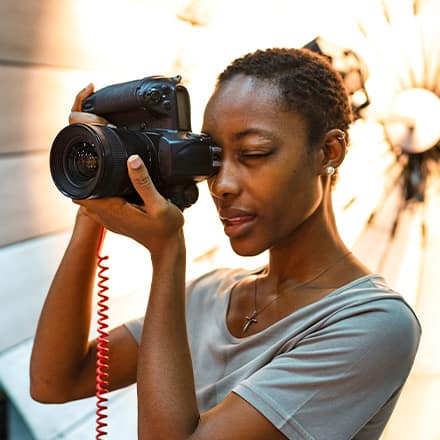 June 17, 2021
Photography is a wonderful medium for capturing reality, emotion, history and fantasy. Armed with the knowledge of camera technology, editing and equipment, and possibly paired with graphic design skills, you can make yourself marketable and your photography career nearly limitless.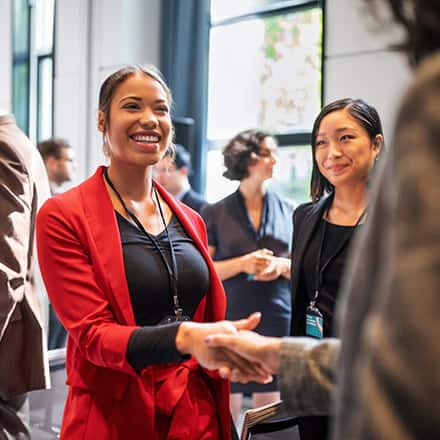 June 04, 2021
The day you receive your diploma from your university is a proud one, marking the culmination of your degree. But, your relationship with the university doesn't have to end there. Alumni are an integral part of a university community and are true advocates for student success.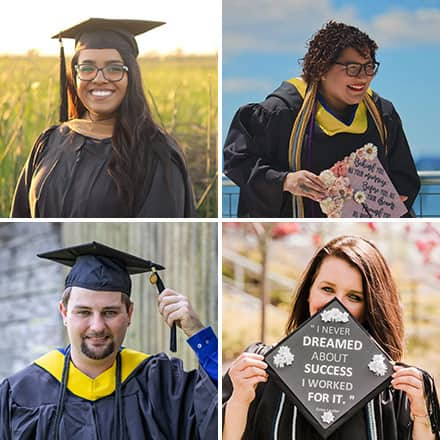 May 10, 2021
Determination has always been a key characteristic of SNHU graduates but never more so than within the 43,000 students who persisted throughout the pandemic in completing their degree programs.