SNHU Fields 75 for 26.2-Mile Tough Ruck
Simply put, the Tough Ruck is one of the hardest things Sean Gill has ever done.
Gill, manager of Southern New Hampshire University's Succeed Fitness and Wellness Center, was one of about 75 SNHU employees who strapped on 15- or 35-pound rucksacks and trekked 26.2 miles through the Minute Man National Historical Park in Concord, Mass., on April 15. "It was awesome. It was terrible and awesome at the same time," Gill, whose brother completed tours in Iraq and Afghanistan, said. "I think the best way I can describe it is it is the most demanding physical and mental challenge that I have ever faced. And I've heard that from a lot of other people, too."
The weight of the ruck represents the burden Gold Star families bear when their loved one dies in combat or the line of duty. Walkers' hang yellow, blue and red ribbons bearing the names of fallen soldiers and first-responders from their packs. Gold Star families meet ruckers at the finish line, often 8 or 9 hours after they start, to congratulate them and loop an official Boston Marathon medal around their necks. "The Ruck was a day for us to support those people and maybe relieve them of that burden, even if only for 8 or 9 hours," Gill said.
It was the thought of those families and the memory of the family members they've lost that motivated many ruckers through the toughest parts of the course. "To me, you owe that debt to those families and those soldiers," Joe Cappa, executive director of online business programs, said. "You owe that 26-mile debt to those soldiers and those families."
Gill said he kept imagining the experience of his brother and other soldiers on long marches under much more difficult circumstances. "That's where I had to continuously bring my mind back to: This is nothing," he said. "That's a really harsh reality for some people. It's really humbling. It's emotional."
Cappa finished first among the SNHU team, coming in at 6 hours 48 minutes, nearly two hours faster than his effort last year. "I'm hooked," he said. "It didn't start out that way, but there it is. It's my thing. I'll always participate. As long as I'm able to, I will be there and I will complete it."
Cappa was also a top fundraiser for the SNHU team. The 76 ruckers and nearly 50 volunteers smashed the initial goal of $10,000 raised and brought in just under $17,500, Gill said. Tough Ruck uses the money raised to support Gold Star families.
SNHU's involvement with the Tough Ruck began in 2016 and Gill picked up the organizing duties this year, coordinating the team efforts and training rucks. It's hard to overstate the importance of training ahead of the event - something Gill and Cappa can testify to personally.
Cappa said last year he was "caught up" in the emotion of the event and began the race much too fast with too little preparation. He finished, but by mile 18, he was wrecked. This year he trained much more intensely, went on more training walks and even a couple of half-marathons. He paid more attention to his nutrition and hydration the day of the event and got advice ahead of time from someone who trains marathon runners. This year he ran the final two miles. "There was one purpose, to get back and to do the ruck better than last year," he said. "In my head, I was really focused on what's the next task I have to do."
Gill had the opposite experience. He was better prepared last year because it was easier to find time to go on long training walks. With a 7-month-old now at home, the longest he had rucked before the event was 3 miles. Within an hour of starting he was feeling hotspots - a precursor to blisters - on his left foot. "But when you finish, the pain of it kind of goes away and you re-remember why you did it," he said.
Gina Cravedi, an account director on SNHU's marketing team, said even for the best-trained ruckers, there are always periods when it's difficult to continue. "I think physically no matter how good shape you're in, it's still 26.2 miles running through the woods with weight on your back," she said. "Overall, I think everyone was happy to finish, to be able to kind of complete that overall goal. I think everyone that completed it was happy to have had the experience."
Cravedi said she had a moment with the Gold Star mother who handed her the marathon medal at the finish line. "She said 'Thank you,' and I just grabbed her hand and said 'It was an honor to be able to do this,'" she said. "So that was really special to know that something I did, did have an impact on someone else who carries such an emotional burden. To be able to carry that for them for a day was really meaningful."
Cravedi said she isn't sure she'll ruck again, largely due to the time commitment training imposes. But Cappa and Gill said there is a core group of 20-30 people on the team who are devoted to going back again and again. Both men said they plan to begin planning training regimens in preparation for next year's event in about a month.
Cappa said anyone who can do the Tough Ruck, should take the plunge. "People who are thinking about it, try it once. Everyone should do it once - to cross that line, to be involved in it one day, to see what the feeling is like," he said. "You can't not be moved. You can't. (Gold Star families) are a huge reason the Ruck is the way it is. That's why the Ruck is different."
Joe Cote is a staff writer at Southern New Hampshire University. Follow him on Twitter @JoeCo2323.
Explore more content like this article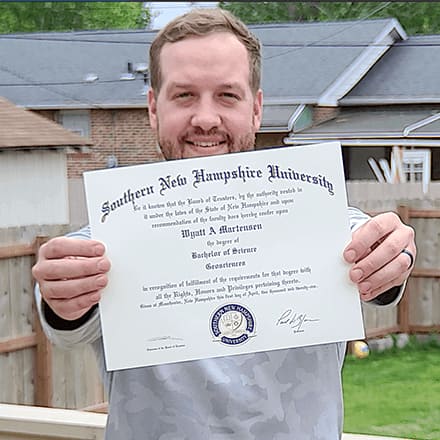 July 15, 2021
When your chief warrant officer asks you to do something with him, you're most likely going to do it. That's how Wyatt Martensen '21 tells the story of how he ended up returning to school to earn his bachelor's degree online.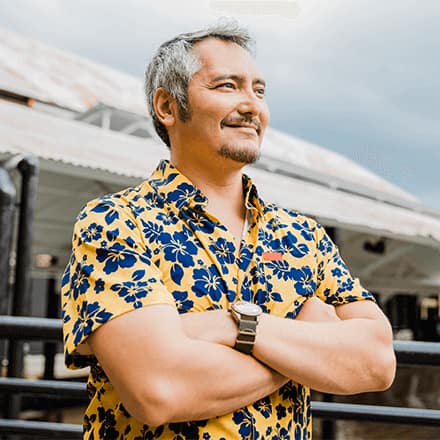 July 12, 2021
Armed with prior college credits but no degree, Derald Wise '14 '18G wanted to make meaningful connections as he finished his education. Like many military-affiliated students, he also knew he needed an online degree program that was flexible.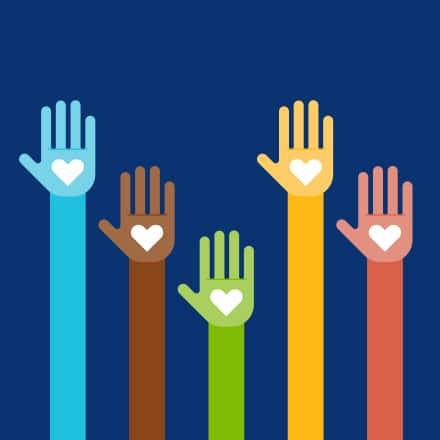 June 21, 2021
SNHU's 2021 Global Days of Service brought attention to a different societal issue each month: hunger, shelter, environmental justice and the pandemic's essential workers. Throughout the four-month-long event, Penmen from across the world shared their stories of service, community and strength.