Grit Personified: Homelessness No Barrier to College Degree
Ann Brumback accessed the internet at local libraries. At night, her only illumination was a flashlight or parking lot lights. The source of her next meal was often a mystery – sometimes it was from a dumpster.
"I would sleep in truck stops. I would clean up in bathrooms," she said. "I never told anyone that I was homeless. I kept it to myself because I was embarrassed."
Brumback tells her story now hoping to inspire other students who face stressful life circumstances during their time in school. Less than two years removed from living in her car, Brumback earned her bachelor's degree in criminal justice from Southern New Hampshire University in 2017.
Forging Ahead
After a 25-year-career working as an emergency medical technician on ambulance crews and at the University of Kansas Medical Center emergency room, Brumback shifted gears and took a job as a manager at a large furniture manufacturer in her home state of Iowa. She also became a certified rescue diver for Muscatine Search and Rescue. But in September 2014, just a month after starting online courses at Southern New Hampshire University, Brumback lost her job and then her home. She had gone back to school at the age of 46 but found herself suddenly living in her beige 2003 Toyota Avalon.
But Brumback took the long, if unexpected, view of her options. Instead of scrambling to find a new job or a place to stay, she focused on school. Using grants and other financial aid options to pay for courses, she spent a lot of time in libraries, using public computers, sometimes for only an hour at a time if other people were waiting. Once the libraries closed, she could sometimes find a park or other public spot where she could read or handwrite the papers she would type later at the library. When it got dark, it was on to a gas station or truck stop parking lot, or reading by flashlight, she said.
School became not just a way to begin rebuilding her life, Brumback said. It was also a goal that helped her endure a low point. "If I focused on school, then other stuff wasn't happening in real life," she said. "I didn't have to focus on the reality of what was happening to me personally. I had a sense of purpose."
Some points, though, were difficult, even bleak. Brumback remembers one elderly couple she said may have saved her life.
She was at a truck stop in Iowa in April 2014. She had enough money to get a bottle of water. Back in her car, she was miserable. "I was just tired," she said. "I was eaten alive by mosquitos. My skin was terrible. I looked like death. I didn't have the will to live."
The couple came out of the truck stop and walked to Brumback's car. They talked to her, encouraged her. They each gave her a hug, along with $25 so she could pay for a shower and something to eat. The gesture kept her going. "Little things like that would happen, and that would kind of be the boost," Brumback said.
Brumback said the support of people like Dr. Jeff Czarnec, associate dean of criminal justice and social sciences at SNHU, and Joe Davis, the instructor of one of her first courses, was vital to her success. "I had people that actually cared, not only about me, but my education," she said. "I truly felt like they would stop at nothing to make me successful. They were putting as much into me as I was putting into class. I'd never had that before."
A Brand New, Fresh Start
Brumback visited SNHU's Manchester, N.H. campus for Commencement and was given an Outstanding Academic Student Award. Davis, an adjunct instructor of Justice and Criminal Justice Studies, didn't know Brumback was homeless during her time in his class. But he remembered her as one of the few students in his 35 years of teaching who completed assignments well in advance of their due dates. "... She accepted the challenge to improve her situation in life through education," Davis said. "And she worked at every assignment as if it were going to be her last. A remarkable, motivated and intelligent person, we should all strive to meet Ann's goals."
Having now graduated with a BS in Criminal Justice, with a 4.0 GPA no less, Brumback wants to find a job working as a criminal researcher or evidence technician. "I love to figure things out and solve things," she said.
Brumback's father died in October 2015, and she moved in with her mother the following month after about a year living in the beige Toyota Avalon. She recently sold that car, and she and her mother are working to secure a home loan and plan to move to Greater Manchester, N.H. this summer. Her mother, Brumback said, fell in love with the area when they visited for Commencement in May. She's looking forward to a "brand new, fresh start," she said.
But she still sometimes thinks about the elderly couple who gave her a hug and some money, and how significant an impact they had during a dark moment in her life. She hopes telling her story can help encourage other people who may be feeling overwhelmed. "It takes one person to change your life," she said. "When I was homeless, I had this one couple hug me, and I went from being suicidal to giving myself drive. That's just kind of how I feel about things."
Joe Cote is a staff writer at Southern New Hampshire University. Follow him on Twitter @JoeCo2323.
Explore more content like this article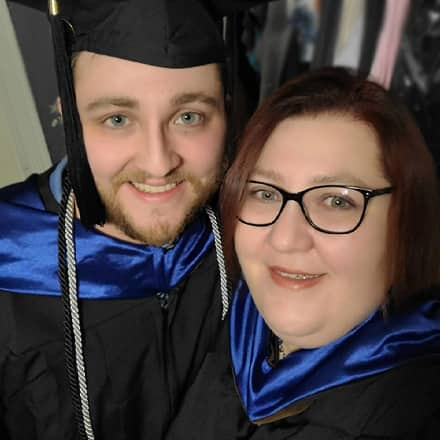 April 09, 2021
Tara and George Conrad – mother and son – began their degrees at the same time. Now they're celebrating their journey and accomplishments as graduates.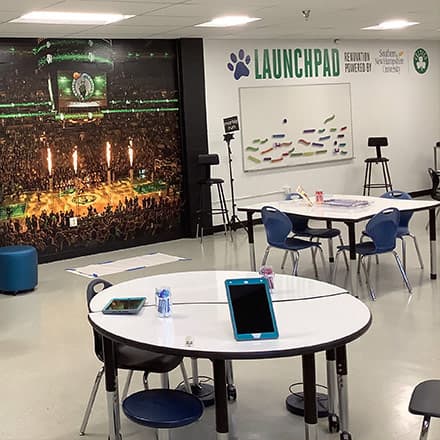 April 02, 2021
The Boston Celtics and Southern New Hampshire University recently unveiled their 14th tech lab, this time, the "Wildcat LaunchPad" at Webster Elementary School in Manchester, New Hampshire.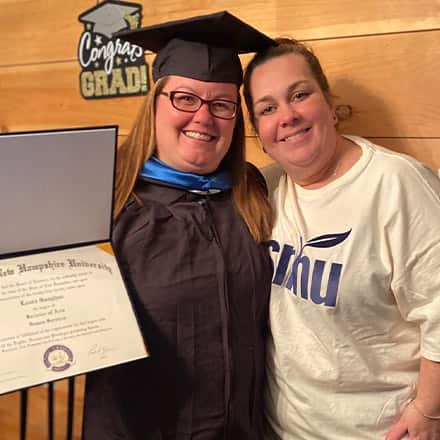 March 09, 2021
As a mom of seven, Laura Gaughan usually knows when her family is up to something. But on a windy March evening, nearly a year into the pandemic, she had no idea that a surprise graduation party was underway.