SNHU Grad Danielle Kaheaku Ready to Mentor Writers of the Future
'17 is a mother of two living on a small ranch that's home to horses, pygmy goats and a lot of dogs. She's also a full-time editor and ghostwriter who's published short stories and anthologies, written five novels, produced screenplays and has won multiple screen and literary awards. A member of several writers associations and networks, Kaheaku has used her talents across several writing mediums and genres. Now, she's working toward a new goal: branching out beyond her own writing projects to mentor a new generation of wordsmiths.
Growing as a Student
Kaheaku said she was nervous when she applied to Southern New Hampshire University (SNHU) with the intent to earn her master's in English and creative writing. "I chose to go back to school after a decade of working in entertainment because I want the opportunity to work with future generations of writers, editors and teachers in an instructional capacity," she said.

It had been years since she graduated with her bachelor's and Kaheaku said she wasn't sure what to expect when she returned to being a student. "I was pleasantly surprised with the online atmosphere," she said, "and I enjoyed being able to interact with peers from all walks of life and from all around the country."
As Kaheaku has her sights set on teaching, the course that was the most essential for her moving forward was English Instruction. "The course gave deeper insight into teaching a multitude of learning styles within a classroom and ways of altering lessons to incorporate a variety of teaching modalities. The information was extremely useful in helping me prepare my own course and lesson plans, and it's definitely knowledge I'll be using down the road," she said.

Kaheaku said although she has spent the past 12 years in academics and writing in the entertainment industry, participating in her first two discussion boards in instructor Gregory Salyer's Literary Theory course was a challenge. At first, Kaheaku said she wasn't getting what Salyer was saying, but then suddenly it all clicked. "I realized that some of the theories were methods I was already using in my writing but had never before put labels on to organize my writing process, and then everything fell into place," she said. Literary Theory, Kaheaku said, turned out to be her favorite and most memorable course of her master's degree in English program. "I have that textbook sitting face-out on a shelf in my office as a reminder to chill out and never give up."
Finding a Personal and Professional Balance
Kaheaku's professional life continues to keep her engaged with other writers. She worked on a book released in October 2017 titled "California Screamin,'" a work composed of short stories from various horror authors. "It's a horror anthology focused on California lore and mythology, revealing the darker side of the Golden State." She's currently putting the finishing touches on the third installment of a trilogy of screenplays, the first two of which earned screenwriting awards. Kaheaku said her co-writer is looking at film options for the project. In another project, she gets to work on something a little different; she has a contract with a video game company to work on character dialogue.
With varied interests in creative writing, Kaheaku has had to find a balance between her personal life and her many projects. "I'm not going to lie - it can be tough at times," she said. For creative writers, Kaheaku said it's important to learn when to stop and take a break. "If I sat and wrote every time a great idea popped into my head, I'd never see my kids," she said. "I've learned to make a note and set it aside so that I have material waiting for me the next morning."
Kaheaku also has some guidance on setting boundaries to be successful in making writing a career. "I think the biggest piece of advice I can give to aspiring writers is that you need to treat your writing like a job," she said. "Set yourself hours and deadlines and stick to them." Kaheaku said you can't always wait for your muse to strike - you just need to write. She also stressed it's important to stop and clock out when your set time is up. "It can get hard to get used to at first, but once you train your mind it's not as hard as it sounds," she said.
Mentoring Future Writers
As she continues to look for opportunities to help others perfect their writing skills, Kaheaku said her education at SNHU has given her a new set of tools to pass on to her mentees as well as a better awareness of "the nuances of thematic elements and devices in literature." Kaheaku said while she waits for the opportunity to become an instructor, she will continue doing what she loves - giving back to the writing community and working with aspiring authors.
By sharing her real-world experiences, Kaheaku said she hopes writers she works with will understand what the writing profession looks like outside of a classroom. She also said she wants to instill in these up-and-coming writers how to excel in their studies while they realistically plan for their future.
One of the organizations Kaheaku is actively involved with is the Horror Writers Association (HWA). "I really enjoy working with my mentees through the HWA," Kaheaku said, "and it's a great feeling when you can follow their new careers and see them take off after using the skills you've imparted."
You can follow Danielle Kaheaku on twitter @Kaheaku.
Ashley Wallis is an Army veteran and writer with a bachelor's in English language and literature from SNHU. She is currently living in the Denver area. Find her on Twitter @AshDWallis.
Explore more content like this article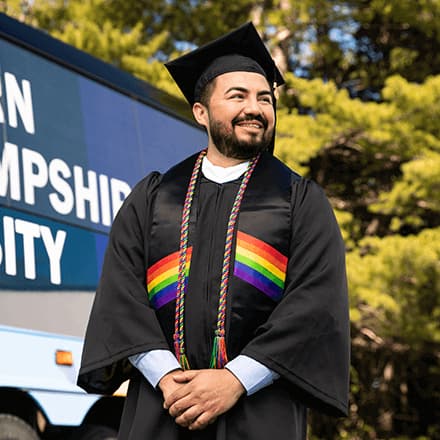 July 19, 2021
The moment Jesús Suárez '21 received his diploma in the mail was one he and his family will never forget. This was more than a degree—it was a cap to an incredible journey. While there was a series of hardships along the way, there was a persevering sense of love and accomplishment.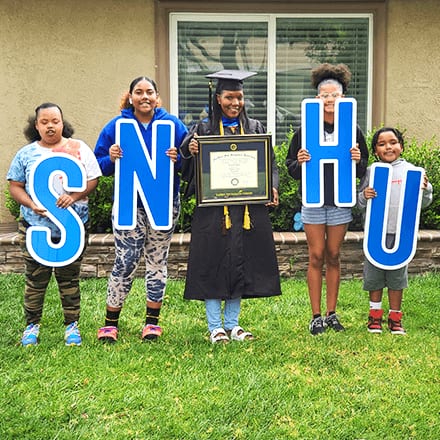 July 12, 2021
Latisha Aguilar '21 has always wanted to be a voice for special needs students and advocate for them. With the goal of becoming a middle school guidance counselor, she said finishing her psychology degree later in life allowed her more time to figure out what she wanted to do with her education.
July 01, 2021
Interested in starting a new job or advancing in your current field? An Associate of Arts (AA) degree can give you the broad-based education and in-demand career skills you need to reach your goals. Learn more about earning an AA degree and what you can do with one.