SNHU Grad's Goal: Harness the Power of Storytelling
With two master's degrees soon under her belt, it's difficult to imagine writer Yvonne Pierre was barely able to read when she graduated from an alternative high school in Gary, Ind. After surviving a childhood she described as troubled, Pierre rose above her circumstances to become a successful writer, producer and advocate.
Finding Her Voice
Her traumatic childhood, coupled with her experience as a mother of two boys, the youngest of which has Down syndrome, made Pierre's goal in life to harness the power of storytelling. Having already earned a master's in business, Pierre decided if she was going to put extensive time and effort into furthering her education, she should master a craft she was passionate about - writing. Prior to starting her master's in English and creative writing, Pierre had already written a book, a play and an award-winning short film. Despite her personal and professional successes, she said she wanted to be more qualified before tackling the next project she had in mind. "I didn't feel that I was the writer I wanted to be," Pierre said. At first, Pierre considered finding someone to ghostwrite the project with her. Instead, she stopped running from the challenge and asked herself what steps she needed to take to feel capable of writing the story herself. "This story was given to me because it was meant for me to write it," Pierre said.
To ensure she could be confident enough to tackle such a personal story as the one she wanted to tell Pierre decided to work toward her master's in English and creative writing. "I've always had this complex that my stories are not good enough," she said. Even with this insecurity, Pierre's dedication to storytelling continued to drive her; she said she wanted to tell stories that could "give hope and provide a different perspective on life."
As her master's courses began, Pierre said she got to know herself as a writer. "Even though I had written a few works before pursuing my degree," she said, "if you asked me who I was as a writer, I couldn't tell you." She now knows her passion lies in writing inspirational dramas that include elements of the supernatural.
A Challenging Road To Success
Pierre's path to graduation was almost halted in February of 2017. In the middle of the term, she suffered a major heart attack and was in the ICU for eight days. At just 44 years old, Pierre experienced not only the heart attack, but a rare and often fatal condition that caused the right side of her heart to stop beating for six days.
"I told them to tell my advisor that I didn't want to drop the class," she said. "I wanted to finish if they were willing to work with me." Although doctors advised Pierre to take a break from her courses, she found it "therapeutic to have something else to focus on and look forward to." She finished her course and praised her advisor and instructors for their support during her recovery. Southern New Hampshire University (SNHU) academic advisor Jamie Corbett said Pierre was a great person to work with because she was positive about what she could accomplish. "I've always been impressed with Yvonne," Corbett said. "She's given education a top priority and has stuck with it. I know that amazing things will continue to come her way."
Looking At The Bigger Picture
With her heart on the mend, Pierre began working on what her next step would be after she earned her master's in English and creative writing. The focus shifted from Pierre wanting to be confident enough in her writing abilities to finish her screenplay to finding a career where she could put her new degree to work. "The thought of looking for work on my own was overwhelming," Pierre said. She turned to SNHU Career to help put her achievements and skills into a resume and prepare her for interviews.
"My SNHU Career advisor exceeded my expectations. She was very thorough, motivating and informative. I literally looked forward to speaking with her during the process. Her energy and compassion for helping were beyond appreciated," Pierre said. Pierre's career advisor, Lindsey Levesque, was able to work to help Pierre strengthen her belief in herself and her abilities. In addition to being a career advisor, Levesque is a National Board Certified Health and Wellness Coach and said she understands a person's reasoning as they make a change in their lives. Pierre's motivation for deciding to earn her master's before starting a new project helped Levesque see how to help Pierre move forward.
"When working with Yvonne, her passion for producing shined through in everything that we did together. She would become so animated and was able to speak so openly, from a wide breadth of experience, about what she's done and where she wants to go," Levesque said. "From there, we focused on how to communicate this information to her intended audience - the future employer."
Levesque said she provided an alternative angle for approaching Pierre's job search. She made it more about presenting employers with a picture of Pierre's story and who she is to entice employers into wanting to learn more about her.
Due to Pierre's unique situation with her hospitalization, Levesque had to find new ways to make progress. She said due to the trust and goodwill that she and Pierre had established, she was able to speak frankly and adjust to meet Pierre's needs. "When her confidence waned in her abilities, I was able to return to the excitement and motivators that she first expressed so that we could invigorate her efforts and find a creative, playful way for her to connect with the work at hand again," Levesque said. Some ways they continued to work on her career options were to create vision boards and shoot a video introduction to potential employers.
Levesque had great praise for Pierre and said she was a joy to support as she worked toward her aspirations. "While I'm happy to have been a resource to Yvonne in her career goals, it is really I that am in awe of her," she said. "Her dedication, faith and perseverance through everything that life has thrown her way is truly admirable."
SNHU Career's assistance with her resume and helping build her confidence, allowed Pierre to take that first step with an internship at a film production company. As her career as a writer continues to grow, Pierre looks back at her experience and the obstacles she had to overcome in earning her degree with the understanding that "this path was necessary for helping me define myself and my purpose."
She said the knowledge gained from her English and creative writing master's degree program, especially her screenwriting courses, has been invaluable to her. "I'm not only stronger as a storyteller; I know who I am as a writer," she said. "I couldn't define that before I started."
Ashley Wallis is an Army veteran and writer with a bachelor's in English language and literature from SNHU. She is currently living in the Denver area. Find her on Twitter @AshDWallis.
Explore more content like this article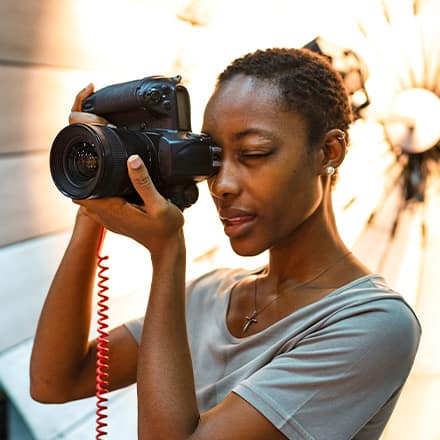 June 17, 2021
Photography is a wonderful medium for capturing reality, emotion, history and fantasy. Armed with the knowledge of camera technology, editing and equipment, and possibly paired with graphic design skills, you can make yourself marketable and your photography career nearly limitless.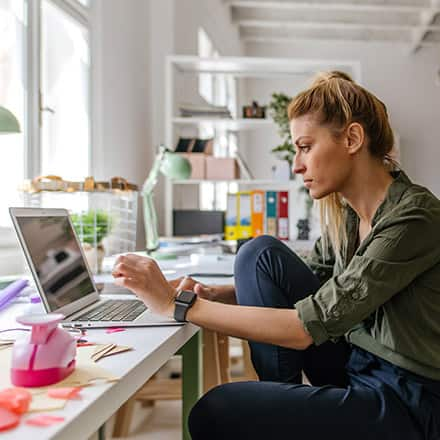 March 02, 2021
Graphic design is a great field to consider if you are interested in art, communications, and staying current with technology.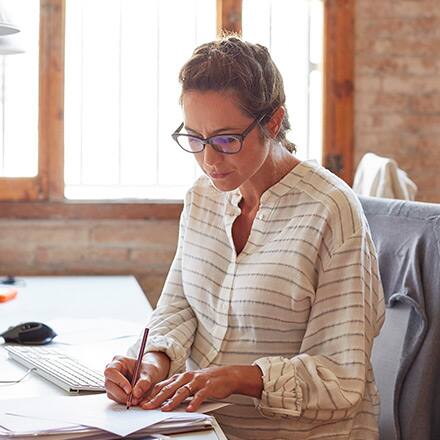 September 24, 2020
To become a copywriter you can consider earning a degree such as marketing, communications or creative writing and start building a portfolio of your work.