Reps Tap Military Experience to Help Service Members Earn Degrees
Chris McCollor was a young man attending a small Maine college in the mid-80s when he decided he'd run out of "money and interest" and would enlist in the military like he'd wanted to for a long time.

"I'd always wanted to be in the Air Force," he said.

After being stationed in California, McCollor began work on his associate degree, called the Community College of the Air Force degree, but found it was very difficult to earn a degree beyond that. He would take a class or two at colleges local to one base and be transferred to another base. Often his credits wouldn't transfer and he would have to complete the same courses over again.
It took six years, but McCollor earned his degree online from Southern New Hampshire University (SNHU) after retiring from the U.S. Air Force in 2014. Now, he his colleagues travel the country helping military service members earn their ever-more-important degrees online to prepare for their post-military careers.
Serving Students, Helping Service Members
McCollor, a retired Air Force command chief master sergeant, is one of four assistant directors of military initiatives at SNHU. Retired U.S. Army Command Sgt. Maj. Bob Stewart, another assistant director, said their job doesn't revolve around generating huge numbers of prospective students. Instead, they focus on connecting with military service members interested in earning their degree and supporting those efforts, offering their advice and helping service members navigate the college experience while juggling family life and the demands of their military service.
Having spent so much of their lives serving in the military helps them better serve military service members. "We've been faced with all the problems they've gone through. We've gone through many of them, through deployments, being away through anniversaries, holidays. We understand that," Stewart said. "When you speak the same language as the potential students and you've been through (it) and you've chewed the same dirt they've chewed, there's a certain kind of respect."

Stewart said he once spoke to a group of service members who were midway through the qualification school to become an Army Green Beret. Stewart went through the same school and said it's one of - if not the - toughest schools in the Army. Some candidates approached him about enrolling at SNHU. "I said, 'no, you cannot go to school right now," Stewart said.

He encouraged the service members to concentrate on the Green Beret qualification and once they were assigned to their next post, contact him again. A sergeant major overheard, Stewart said, and called him later with his thanks for not taking advantage of the younger soldiers.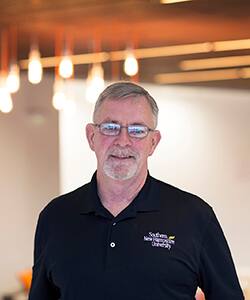 "Our credibility because of that has gone sky high in the special forces community," he said.

McCollor said the shared military experience and the fact that he earned his initial degree while on active duty makes it easy to talk to active-duty service members.

"Not only do I think that education is important, but I was you," he tells them. "I was active duty. I did my business online. I did deploy. I deployed six times. I get this. I'm not guessing."

Both men said seeing students walk across a stage to receive their degree is among the most rewarding parts of their job. Neither has been to the SNHU campus for a graduation, but have attended many at military bases around the country. They also have the opportunity to develop relationships with prospective students. Because they're not rushing to enroll as many students as possible, they sometimes have many discussions with service members thinking about going to college online over several months. McCollor said one recent graduate contacted him because she wanted to share his information with two of her colleagues interested in earning their degrees.

"That was really important to me because she trusted me," McCollor said. "That's huge."

Joe Cote is a staff writer at Southern New Hampshire University. Follow him on Twitter @JoeCo2323.