Black New England Conference Fosters Diversity, Equity and Inclusion
The Black Heritage Trail of New Hampshire's 13th annual Black New England Conference (BNEC) brought people together at Southern New Hampshire University (SNHU) to discuss the role media has historically played in black liberation movements.
Interested in the development of the Black Press over time, BNEC explored the various vehicles in which African Americans have learned and circulated news, from slave songs to publications and social media.
During the Awards Dinner welcome, Black Heritage Trail of New Hampshire Executive Director JerriAnne Boggis and Vice President Dennis Britton shared the lasting impact of these conversations.
"By fostering these dialogues on race, diversity and inclusion, and sharing these corrected narratives, we believe it is possible to decrease barriers of misunderstanding and decrease ... racial anxiety," Britton said.
Bringing in experts from institutions across New England, panelists shared stories and offered insight on representation in mainstream media and alternative media practices.
Believing SNHU and the Black Heritage Trail of New Hampshire share similar commitments to building inclusive communities, Jada Keye Hebra, the university's senior vice president and chief diversity and inclusion officer, said the decision to host BNEC was an easy one.
"What I love about this conference is that it is an academic conference. It lifts up scholarship that is too often overlooked," Hebra said. "... I think we need to be much more intentional in higher ed across the country about lifting up this kind of scholarship again and again and again, relentlessly."
People can learn a lot about community, hope and faith by studying black history, according to Hebra. "This work is really restorative," she said. "It's about re-storying. It's about telling stories that are unknown or just overlooked."
Including Students in the Narrative
Since a majority of the conference unfolded on SNHU's Manchester, New Hampshire, campus, 15 students had the opportunity to get involved, including two recommended by Michael Reaves, the assistant director of Diversity Programs at SNHU and a Special Events Management class led by hospitality professor Dr. Kimberly Monk '98MBA.
A Tribute to Late Literary Icon
Nurtured by her gospel-singing grandmother, communication degree student Ayana Howard started singing when she was two-years-old. When Reaves first heard her sing, he was blown away by Howard's vocals. He knew she'd be the perfect person to pay tribute to literary icon Toni Morrison at BNEC's Awards Dinner.
As a new transfer student at SNHU, Howard accepted this opportunity to get involved on campus and got to work preparing for the dinner. She knew she wanted to perform uplifting songs that reflected Morrison's efforts to empower women.
Inspired by Nina Simone's often controversial life as an African-American singer, Howard mesmerized as she belted out Simone's "Feeling Good," in a style reminiscent of the late singer. She also sang and danced her way through Jill Scott's "Golden."
The audience picked up on the emotion behind each song, and how meaningful it was for Howard to perform them at the conference. Upon her closing note, the audience was on their feet with a resounding ovation.
Howard looked at the conference not only as a way to share her passion for performing but also as an opportunity to learn more about how she can make a change. "I'm hoping that I get some insight and some inspiration on what I can do and the differences that I can make, and, hopefully, one day, I can be someone that they speak about here," she said.
Introducing a White House Correspondent
Jade Smith's decision to get involved with SNHU's Multicultural Student Union (MSU) when she was a sophomore was a pivotal moment for her. A year later, she'd be president of MSU, a co-leader of Sisters of the Yam and working for Reaves as a Diversity Agent of Change.
"Growing up in a predominantly white neighborhood, I was never really exposed to a cultural community as well as a diverse community," Smith said. Her involvement in these organizations and offices introduced her to the value of multicultural experiences, and now, Reaves said she's championing diversity on campus.
At the Awards Dinner, Smith introduced the evening's keynote speaker, White House Correspondent April Ryan. "As (a) black woman who aspires to work in mass media, I am inspired by how April Ryan has used her platform, such as her news blog Fabric of America, to share and celebrate the black experience in a way that mainstream media has refused to do," Smith said.
Delighted by this opportunity, Smith hoped the content of BNEC would help her learn more about herself, African American ancestry and the representation of African Americans in media today. " I want to embrace achievements and struggles within the black community," she said. "Therefore, It will be fascinating to hear the experiences of people who will be speaking at the conference. I definitely believe it is our time to rise up and speak up."
A Reporter Under Fire
Covering four administrations over the last 20 years, keynote April Ryan spoke about the challenges of being one of the only black reporters in the White House. She reminded guests of the longevity of black media in the face of adversity.
"The black media has been beating the drum for a long time, and I'm now beating the drum at the White House," she said.
In the wake of U.S. Representative Elijah Cummings' funeral, Ryan spoke about how Cummings championed her when she was ridiculed for asking difficult questions. Standing on the shoulders of black journalists before her, including Ida B. Wells and Ethel Payne, said she's going to continue to ask the difficult questions and encourages others to as well.
"Ask the questions that need to be asked," she said. "Challenge the systems that are in place that may not be right."
Looking Forward
On the 400th anniversary of 1619, the year the first African slaves were brought to the country, University President Dr. Paul LeBlanc called for unity as violence continues across the country today.
"It's in these times that we have to come together," he said. "We must tell the tales of the struggle."
Rebecca LeBoeuf '18 is a staff writer at Southern New Hampshire University. Connect with her on LinkedIn.
Explore more content like this article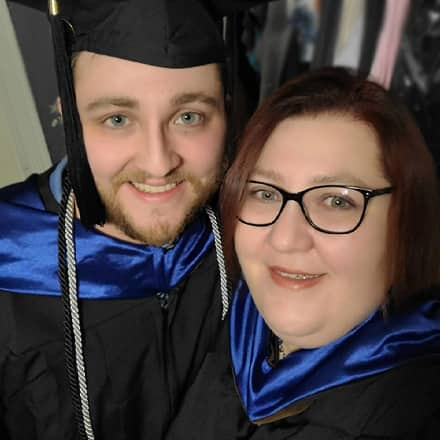 April 09, 2021
Tara and George Conrad – mother and son – began their degrees at the same time. Now they're celebrating their journey and accomplishments as graduates.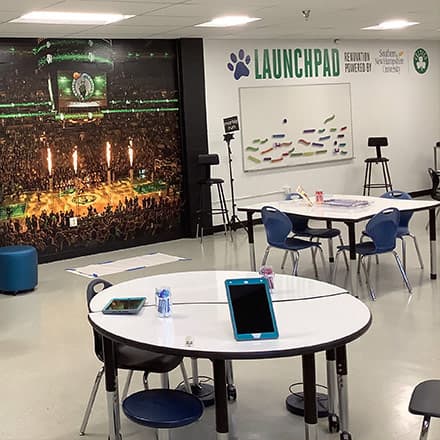 April 02, 2021
The Boston Celtics and Southern New Hampshire University recently unveiled their 14th tech lab, this time, the "Wildcat LaunchPad" at Webster Elementary School in Manchester, New Hampshire.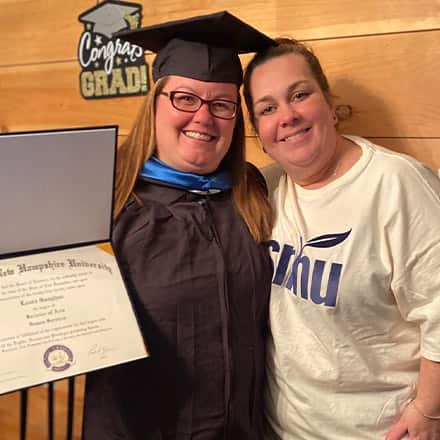 March 09, 2021
As a mom of seven, Laura Gaughan usually knows when her family is up to something. But on a windy March evening, nearly a year into the pandemic, she had no idea that a surprise graduation party was underway.