Anthem Employee Earns Associate Degree and the Promotion She Wanted
Yvette Williams had a concrete goal: She needed to provide for her family and, to do that, she wanted to join the management team at Anthem, Inc. But she also had real hurdles in her way. She already had existing student loans and was loathe to add to that debt. It was Anthem's partnership with Southern New Hampshire University (SNHU), and the flexibility of an online degree program unlocked Williams' path forward.
Williams recently earned her associate degree in business through SNHU's College for America program and was promoted to a business analyst role at Anthem. Now she's working on earning a bachelor's degree in management with a concentration in public administration and even has plans to pursue her master's degree to continue her educational journey.
"Earning my degree is important for me because it allowed me to earn a salary that will provide for my family," Williams said. "My degree program has provided me with an opportunity to advance my career."
The College for America program Williams enrolled in through Anthem's partnership with SNHU is entirely online and specifically designed to fit the hectic schedules of working learners. Called Personal Path, this project-based program has learners demonstrate mastery of specific skills by completing projects instead of taking weekly classes and scheduled tests. This unique program also gives learners the freedom to advance quickly through subjects already they know—to complete their degrees soon and for less money.
"Online courses have allowed me to balance motherhood and my career," Williams said. "I have been able to focus on school because the internet makes it readily available to me anywhere … With CfA, I am provided with all of the necessary resources in order to master my work."
Along with using on-the-job knowledge to complete projects, the program also gives learners new skills they can immediately apply in the workplace. Williams said she relied on the knowledge she gained during her studies to successfully write a budget for a project at work.
Anthem also made it easier for Williams to achieve her educational goals without exacerbating her student loan debt. Thanks to Anthem's partnership with SNHU, Anthem associates can receive up to $5,000 in tuition reimbursement annually.
Williams encouraged her co-workers to take advantage of the partnership, as well as the academic support provided by SNHU advisors.
"It is well worth it," she said. "Why not take advantage? SNHU is a great school that provides support to students. My advisor … always provides me with the support and encouragement needed. She has been my biggest cheerleader during the journey."
Explore more content like this article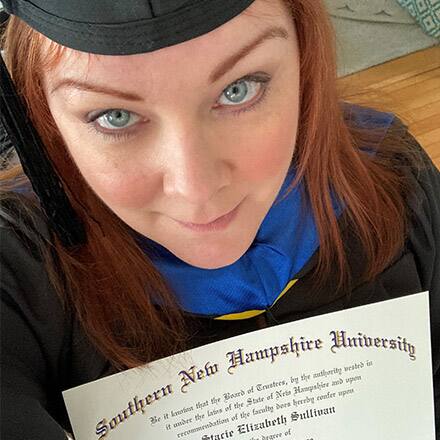 September 08, 2020
For years, Stacie Sullivan '19 felt stuck in her career, sensing her opportunities to advance were limited. After a series of challenging life events, Sullivan enrolled in the BS in Health Information Management program at SNHU.
July 01, 2020
Just a year after she decided to go back to school, Shereka Johnson-Bean '20 is preparing to submit the final project for her bachelor's degree.
June 12, 2020
Shannon Griffin's first job was as a crew member at a McDonald's restaurant. She's still working at McDonald's, but her role is a whole lot different thanks to her hard work and the degrees from SNHU.