5 FAQs About Measuring the ROI of Training and Development
A look at five of the most frequently asked questions about measuring the ROI of training and development.
It's not easy to evaluate learning and development (L&D) programs and to calculate their return on investment (ROI). As a result, these essential stages of a healthy L&D program often fall through the cracks.
For example, according to a 2016 survey of 119 talent development leaders by the Association for Talent Development, only 36% reported their training evaluation assessment determined if the learning initiative pushed the organization toward a business goal.
Not evaluating programs or measuring ROI is risky, since in 2018, U.S. companies spent $87.6 billion on training initiatives, according to a survey from Training magazine's Training Industry Report.
For all the money spent, company leaders want to know if they're getting a solid return on investment for the training. Luckily, a growing number of studies highlight the positive ROI of learning and development.
The potential ROI from training is substantial, but it's up to learning and development leaders to make the case to the C-Suite. Below are some of the common questions you will have to consider to develop strong ROI measures.
What are the benefits of training and development?
Training and development efforts benefit organizations in several ways:
Improves employee performance. Training addresses skills gaps that hinder company productivity.
Reduces turnover. Employees see the company is invested in their future and are therefore more engaged. This leads to less turnover.
Fosters consistency. Learning programs ensure all employees follow the same practices and protocols throughout the organization.
Increases innovation. Skilled employees gain confidence to develop new products and services.
Enhances company reputation. Job seekers seek out companies that offer training. A Gallup poll revealed nearly 60% of millennials said career development opportunities were a deciding factor in applying for a job.
What is the ROI of training and development?
A handful of solid ROI studies are emerging that make a persuasive case for the value of L&D. Calculations of the ROI of training and development range between 4% and 353%.
Accenture's Return on Learning: Training for High Performance at Accenture calculated the company reaped a 353% return on its learning investment.
The Lumina Foundation has done several studies on the ROI of training:
Cigna realized a 129% ROI from its educational reimbursement program between 2012 and 2014.
Discover booked a 114% ROI on its tuition reimbursement efforts.
Advocate Health Care education assistance program helped the company achieve a 4.3% ROI ($1.3 million in net savings from lower talent management costs).
A large communication technology company's tuition assistance program saw a 39% ROI, or $54.2 million in savings.
Other studies don't drill down to a definite dollar number but do identify valuable outputs. For example, a Walmart Foundation study of SNHU's College for America program showed that:
48% of employers indicated College for America students had higher retention rates than other employees.
43% reported that College for America students were less likely to be absent.
43% reported College for America students were more likely to be promoted.
What is a formula for calculating ROI of training and development?
In the finance industry, the basic formula for calculating ROI is:
ROI = net profit/total investment * 100
By translating that to a training and development context, a basic ROI formula would be:
ROI = net monetary benefits of training/total costs of training * 100
The last input in this formula is relatively simple if your organization tracks the costs of training. (See the next section below.)
The challenge is the other input of the formula. Since a training program doesn't produce direct income, to find the net benefits, you will instead look for cost savings or indirect impacts on the company's income.
To do that, you need to identify proxies for profit or monetary benefits. It's a problem of converting data to monetary values. Converting data to monetary values boils down to assigning a value to a particular outcome.
For example, what is the value to your business of retaining an employee? If you can answer that by comparing a pre-training retention benchmark against results after training, you are on track to identifying the "profit" side of the ROI formula.
Because the data may be "soft" — such as employee engagement — no single point, when converted to a dollar value, will be proof that a program has a monetary benefit. However, several of these data points tracked consistently can add up to a persuasive case for the ROI of your L&D program.
How do organizations calculate internal training costs?
Training costs refers to expenses related to a training program such as:
course materials (whether online or in printed manuals)
software expenses
instructor salary (if not using internal experts)
rental fees (if training occurs at another location)
lost productivity and revenues when employees are in training
travel and accommodations (if necessary)
post-training assessment expenses
administrative overhead
The training cost per employee is simply the total training costs divided by the number of participating employees.
How can we measure the effectiveness of training and development?
To measure the effectiveness of training, organizations can follow the four levels of the Kirkpatrick Model — reaction, learning, transfer and evaluation.
1. Reaction
The first stage evaluates how the participants interact with the learning program. Did they like the courses? Did they feel it was worthwhile? Many L&D professionals obtain these insights through post-program comments and interviews.
2. Learning
At this level, participants demonstrate they acquired the skills and knowledge imparted by the training. Exams and interviews with learners document the degree to which they absorbed the information presented in the course.
3. Transfer
After training, learners must apply those skills and knowledge in the workplace. Observations and interviews provide a view into whether learners have transferred the knowledge to their daily tasks. In addition, organizations can compare the learners against a control group to analyze the success of the training.
4. Evaluation
The final stage gauges the success of the learning program relative to organizational goals. Did it achieve the intended results? Those evaluation metrics can include sales revenues, product quality, service quality and productivity.
Today's online learning management systems often provide individual data on the reaction and learning stages of this model. L&D professionals can view engagement and interaction in real time to evaluate reaction. They can see the results of online practice activities and exams to evaluate if learners are acquiring skills and knowledge.
Contact the Workforce Partnerships team at Southern New Hampshire University to learn about our tailored learning solutions.
Explore more content like this article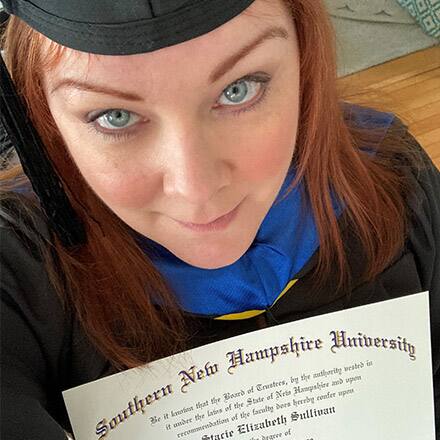 September 08, 2020
For years, Stacie Sullivan '19 felt stuck in her career, sensing her opportunities to advance were limited. After a series of challenging life events, Sullivan enrolled in the BS in Health Information Management program at SNHU.
July 01, 2020
Just a year after she decided to go back to school, Shereka Johnson-Bean '20 is preparing to submit the final project for her bachelor's degree.
June 12, 2020
Shannon Griffin's first job was as a crew member at a McDonald's restaurant. She's still working at McDonald's, but her role is a whole lot different thanks to her hard work and the degrees from SNHU.