Partner Profile: Getting Frontline Workers in the Talent Pipeline at Boston Children's Hospital

Idea in brief:
Boston Children's Hospital is filling its talent pipeline by connecting employees with a degree program designed for working adults.
As one of the largest pediatric medical centers in the United States, Boston Children's Hospital relies on a workforce of about 16,000 employees. About a third of them are frontline workers contributing to everything from patient care to keeping the facilities operations running smoothly.
Helping frontline workers develop essential skills for their roles has long been a priority of the hospital's workforce development team, said Kristin Driscoll, workforce development manager at Boston Children's.
Now, Driscoll and her team are expanding opportunities for those employees to prepare for more complex roles by getting a college degree.
"We are trying to build a pipeline of people who have their associate or bachelor's degree," said Driscoll. She explained that, for example, many support services staff want to grow into roles in customer service, administration, executive assistance and program coordination.
And in a talent crunch, Boston Children's needs to fill those roles with internal hires. An effective degree path for frontline employees is essential to the hospital's workforce development goals.
Flexibility on the degree path
Doing this isn't as simple as providing tuition assistance, however. Driscoll and her team heard time and again about the barriers to education hospital employees face. Time constraints, family obligations and finances — even with tuition assistance — kept employees from enrolling in or completing college degree programs.
That's one reason Boston Children's decided to partner with Southern New Hampshire University (SNHU), particularly the university's competency-based program, College for America.
Ricardo Grant, SNHU's director of strategic partnerships, noted that College for America is designed particularly with frontline workers in mind.
It allows busy working adults to make progress on a flexibly paced schedule.
It centers on workplace-relevant projects to develop skills students can use right away.
It allows students to demonstrate knowledge they have gained at work and to move through the program more quickly.
It supports students with a dedicated advisor to ensure steady progress.
"The online competency-based format removes a lot of barriers that first-generation and working adult students encounter," Grant said.
"We wanted to have a flexible program that people at all of our locations could use and that offered people an affordable pathway to a degree," said Driscoll. "I'm thrilled we've been able to do that."
Lots of engagement
When the partnership with SNHU was unveiled, the initial email awareness campaign had high open rates, Driscoll said. Then the webinars and information sessions her office held along with the SNHU team attracted 15 to 30 employees each. That reinforced for her the pent-up demand for higher education opportunities.
"That kind of attendance at one of our information sessions is pretty phenomenal," said Grant. "It's been that way since we started."
In the first year, 90 employees at Boston Children's have enrolled at SNHU. Most are in the AA in Healthcare Management and AA in General Studies. A few enrolled in the BA degrees in Management and Healthcare Management.
One key to Boston Children's early enrollment success has been their communication strategy. Along with email and information sessions, Driscoll's team also holds social events for current students. This gives those employees an opportunity to connect with one another in person and spreads the word about the initial success of the program.
Offering individualized support
Another key aspect of the program is how much support Boston Children's offers to boost participation.
For example, they opted for the hospital to be billed directly by the university for tuition. That means employees don't have to pay tuition up front and apply for reimbursement, which can bring down participation rates.
Though SNHU's online degree programs have academic coaches who work directly with students, Driscoll wanted Boston Children's employees to have an additional layer of support.
"Our organization's culture is very high touch," she said. "People love to connect, and it can be intimidating when you're doing an online program where everything is over the phone or email."
So the hospital provides a career and education coach to work with employees who want to grow within Boston Children's. The coach runs job search workshops and answers questions about the educational programs at the hospital.
Completing a life goal
Driscoll has been hearing from employees happy that the competencies College for America is designed around apply directly to their work. "Folks love that what they're learning applies the next day, and that all their vast work experiences have a place in their classwork," she said.
As the partnership between Boston Children's Hospital and SNHU reaches its one-year mark, Driscoll looks forward to celebrating the first graduates.
When talking with students, Driscoll is already seeing the program inspire students to work toward personal goals.
One employee shared how his mother once bought a picture frame with 3 openings to feature each of her 3 children's college graduations. "He really struggled with the fact that his opening in the frame was empty," said Driscoll.
"He said, 'This program is my ticket to getting in that frame.' It's incredible we can have an impact like that."
Contact the Workforce Partnerships team at Southern New Hampshire University to learn about our tailored learning solutions.
Explore more content like this article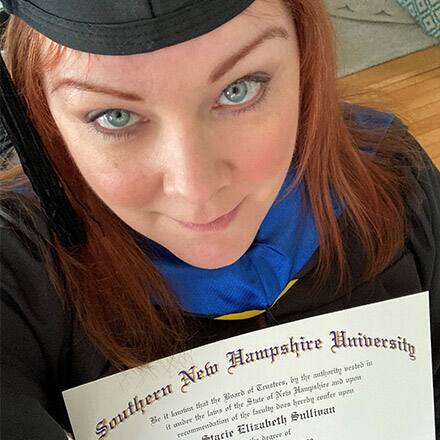 September 08, 2020
For years, Stacie Sullivan '19 felt stuck in her career, sensing her opportunities to advance were limited. After a series of challenging life events, Sullivan enrolled in the BS in Health Information Management program at SNHU.
July 01, 2020
Just a year after she decided to go back to school, Shereka Johnson-Bean '20 is preparing to submit the final project for her bachelor's degree.
June 12, 2020
Shannon Griffin's first job was as a crew member at a McDonald's restaurant. She's still working at McDonald's, but her role is a whole lot different thanks to her hard work and the degrees from SNHU.