Jumpstart Your Career as a Business Administration Major at SNHU
Get the business training you'll need to enter the job market with confidence. Learn about human resources, economics, management and other key elements to business success. Do it all as a business administration major in SNHU's associate of science program. One of the most affordable business administration degrees in New England, the Associate of Science in Business Administration provides an excellent grounding in business fundamentals and a valuable first step toward a bachelor's degree in business.
See Yourself Succeed in Business
SNHU's AS in Business Administration introduces you to core business disciplines such as marketing, accounting, business law and information technology.
Founded in 1932, Southern New Hampshire University is located on 300 acres along the banks of the Merrimack River in Manchester.
As a private, nonprofit university, SNHU has one mission - to help you see yourself succeed. The benefits of earning your associate degree in business administration at SNHU include:
Supportive community. Join the SNHU campus community of students who are closely connected with faculty and staff dedicated to your success
Affordability. It's our mission to make higher education more accessible. That's why, SNHU is one of the most affordable private, nonprofit universities in New Hampshire.
Innovative programs. Study abroad at little or no extra cost
Accessible faculty. Learn from highly credentialed faculty who have industry experience and are experts in their fields and interact with you in the classroom, dining hall, fitness center and the stands
Opportunity. Tap into our nationwide network of alumni and strong connections with employers for internship and career opportunities
Campus experience. Enjoy more than 50 student clubs, champion Division II athletics and fun events on our 300-acre campus in Manchester, NH
Internships & Outcomes
As a business administration major in SNHU's associate degree program, you'll receive a solid foundation in business principles and practices to prepare you for entry-level positions.
An associate degree can make a big difference in your life. According to the U.S. Bureau of Labor Statistics, as of 2020, workers with an associate degree had median weekly earnings of $938, compared to $781 with a high school diploma.
Curriculum
SNHU's Associate in Business Administration is a 60-credit-hour program, with 13 courses covering a range of subjects from financial accounting to human resource management, including two organizational leadership electives and one general education course.
SNHU provides cloud-based virtual environments in some courses to give you access to the technology you need for your degree – and your career. Learn more about our virtual environments.
List of Courses
Courses May Include
AS in Business Administration
ACC 201
Financial Accounting
Students will learn the steps of the accounting cycle and how to prepare financial statements in accordance with industry established rules and regulations. Students will develop skills needed to analyze financial accounting information, communicate this information to stakeholders, and understand the accounting procedures that produce this information.
ACC 202
Managerial Accounting
Students will explore the financial impact of short-term and long-term business decisions. By learning how accounting and other productivity information can be used to assess and improve performance of an organization, managers will be provided the essential information they need to execute growth strategies and select opportunities that create business value.
BUS 206
Business Law I
Students will examine the background, foundation, and ethical aspects of the United States' legal system as it applies to business organizations. Students will also learn the impact of torts, product liability, criminal law, contracts, sales, business organizations, and agency and cyber law in a business setting.
ECO 201
Microeconomics
This course examines the role of economic systems in allocating scarce resources to satisfy the needs and wants of individual members of a society. After a brief exposure to alternative economic systems, the focus becomes the nature and performance of American capitalism. Primary emphasis is placed upon the development of models that explain the behavior of consumers, producers and resource suppliers in various market structures.
ECO 202
Macroeconomics
This course explores the manner in which the overall levels of output, income, employment and prices are determined in a capitalist economy. The focus is on the forces that act to shape these factors and determine their fluctuations. The role of government fiscal and monetary policy in influencing the level of economic activity is also a major area of study. The impact of international transactions on the domestic economy also is discussed.
ENG 120
College Composition I
ENG-120 is a college-level writing course that introduces students to various forms of academic discourse. Students are required to prepare essays in a variety of rhetorical modes, including exposition, description and argumentation. In addition to out-of-class writing assignments, students will be required to compose in-class essays in response to readings and other prompts. ENG 120 introduces students to process-writing techniques, library research and MLA documentation procedures. The primary focus of ENG 120 is to help students acquire the writing skills they need to succeed in an academic environment. Enrollment is kept intentionally small, typically 15 students per section, to assure maximum benefit.
ENG 200
Sophomore Seminar
This is a theme-based seminar that builds on the skills learned in SNHU-101 and ENG-120, focusing on information literacy (the ability to locate and evaluate information) as well as written and oral communication skills. The theme of the course will vary according to the instructor, but in all sections, students will conduct extensive research on the topic and communicate their knowledge in a variety of oral presentations and writing assignments that will culminate in a research paper. To be taken during the student's sophomore year.
IT 100
Introduction to Information Technology
This is the fundamental computer fluency course. It is designed to promote a working knowledge and understanding of computer information technology concepts, skills and capabilities that support academic and professionally related goals and requirements. Students learn about the application and science of information technology. Concepts to master include the fundamentals of computer information technologies along with issues that affect people today such as : Internet and other network technologies, web publishing, digital media, hardware, software, file and database management, information security, viruses, and spyware, social impact, as well as algorithmic thinking and the limits of computation. Students develop capabilities such a managing complexity, assessing the quality of information, collaborating and communicating using IT, anticipating technological change and thinking abstractly and critically about IT. Students develop computer-related skills in support of their college studies and career goals. This is accomplished, in part, by the mastery of word processing, spreadsheet, presentation, and database software.
MAT 240
Applied Statistics
This is a fundamental course in the application of statistics. In this course, students will learn to apply statistical techniques to a variety of applications in business and the social sciences. Students will learn how to solve statistical problems by hand and through the use of computer software. Topics include probability distribution functions, sampling distributions, estimation, hypothesis testing and linear regression.
MKT 113
Introduction to Marketing
This course examines the organization's functions for creating, communicating, and delivering value to customers. These functions, designed to meet customers' needs and organizational goals, include marketing research, environmental monitoring, target market selection, product selection, promotion, distribution and pricing.
OL 125
Human Relations in Administration
The human relations skills that managers need to develop interaction skills that contribute directly to effective human resource management and the development of higher productivity are studied. Skill areas include leadership, motivation, communications, group dynamics, organizational development, management by objectives, and stress and time management. Students learn techniques for becoming more effective managers, subordinates, peers and persons. Students are introduced to the international aspects of human relations.
OL 211
Human Resource Management
This course examines the fundamentals of policies and administration. Major tasks of procedures and developing, maintaining and utilizing an effective team are studied. Students are introduced to international human resource management.
OL 215
Principles of Management
This course is designed to examine the fundamentals and principles of management in order to develop an understanding of management in any formal organization. Special attention is paid to planning and decision-making. International management is also covered. Writing Intensive Course.
Total Credits: 60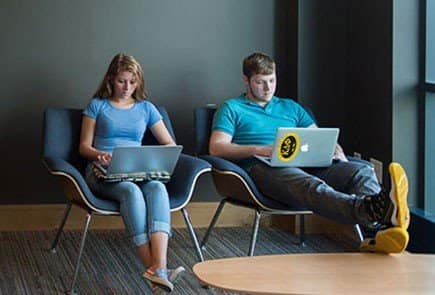 Campus Undergraduate Tuition
Our Manchester campus aims to keep tuition and related costs low for our students so that you can pursue your degree and your goals.
This program and its concentrations are accredited by the Accreditation Council for Business Schools and Programs (ACBSP). Student achievement data can be found on College Navigator.