PhD in International Business
Bring a Global Perspective to Your Business or Academic Career with an International Business PhD
Whether your focus is on pursuing an executive level career in applied business or a teaching career in higher education, earning a PhD in International Business from Southern New Hampshire University is a great way to take the next step toward your goal. Grow your expertise as you develop extensive theoretical knowledge and expand your independent thinking capabilities in this research-oriented program. You'll participate in international business seminars complemented by methodology courses that will help give you a hands-on, interactive education that goes beyond the classroom.
SNHU's PhD in International Business is a cohort program, giving you the opportunity to progress and build community with a group of your peers. The program may be completed in one of two formats:
On campus. A campus-based, full-time student residency option where students can earn their PhD in as few as four years while working alongside our School of Business faculty on our vibrant Manchester, NH campus.
Executive Low residency. A low-residency hybrid of online and campus-based experiences, designed for working business professionals who wish to earn their PhD in as few as four years.
Please note: These programs only have a fall intake term.
As part of the PhD in International Business, you will have the opportunity to focus your doctoral work on a specialized area of personal and professional interest. SNHU professors take an interest in the success of all those enrolled in the program. An emphasis is on one-on-one interactions to facilitate the development of scholars and scholarship.
See Yourself Succeed with a PhD in International Business
SNHU's PhD in International Business strives to meet the needs of all students while accommodating those with demanding schedules and careers. The program is tailored to those who wish to develop their scholarly knowledge in pursuit of future professional and academic goals. Graduates of this program are in a position to influence the ideas and actions of others through positional or non-positional leadership opportunities. Academics, executives, community leaders, leaders within nonprofit and government organizations, and local entrepreneurs are welcome to apply for program admission.
Cohort Model
The cohort learning environment offers a collaborative experience for individuals with diverse career experiences and backgrounds. Cohort members become a source of support and encouragement to one another. Each individual's dissertation will be based on their interests.
As a private, nonprofit university, SNHU has one mission - to help you see yourself succeed. The benefits of majoring in international business at SNHU include:
Supportive community. Join the SNHU community of learners who are closely connected with faculty and staff dedicated to your success.
Affordability. SNHU is one of the most affordable private, nonprofit universities in the Northeast.
Accessible faculty. Learn from highly credentialed faculty members who are experts in their fields.
Should you earn a PhD in International Business or a DBA?
The answer depends on your interests and your career goals. Both degrees represent the highest level of academic achievement, and both degrees are highly respected in both the academic and business worlds. Additionally, both the PhD and DBA are advanced research degrees that involve conducting original research, analyzing data, and producing important findings.
But there are differences. The DBA is considered a professional doctorate, and the PhD is an academic doctorate.
PhD research is focused on developing theories, addressing a gap between theories, or addressing a gap in the general body of knowledge. The PhD may be more appropriate if you are focused on a faculty career in higher education or a career as a researcher in a research center.
In contrast, DBAs focus on real-world organizational and business problems and involve original and secondary research to explore, examine, and address those problems. The DBA is primarily for those focused on a career in business and consulting. However, many DBAs do teach in colleges and universities.
It's important to note that students in either program can study real-world problems. PhD students might use a different set of methodologies or look at the problem from a broader scope in contrast to DBA students who may focus their research on a particular industry or company with a narrower lens. However, any topic of interest in the international business field including but not limited to, multinational companies or managers engaged in international business is likely to be a viable research area for a SNHU PhD student.
Many of SNHU PhD graduates are enjoying careers in both business and academia. Make sure you give serious consideration to which degree best suits your needs and career aspirations. SNHU does not currently offer a DBA.
Curriculum
A significant part of the educational experience includes advanced research courses, doctoral colloquiums, and the completion of a dissertation. Through these experiences, learners, professors, and thought leaders gather to discuss their topics related to the field, focus on research, and provide a supportive learning environment.
List of Courses
Courses May Include
PhD in International Business
INT 800
Foreign Direct Investment
This course is an examination of direct investments made by a company or entity based in one country, into a company or entity based in another country. Entities making direct investments typically have a significant degree of influence and control over the company into which the investment is made. Key topics covered in the course include, but are not limited to: the foundations of FDI; the impact of location on FDI; FDI and Technology; FDI under Uncertainty; Risk and Profitability of the multinational corporation; and Political Risk Analysis. This is a research and writing intensive course.
INT 810
Privatization, Economic Reform and Globalization in Emerging Markets
This seminar has been designed to introduce the students to the theoretical and applied literature on economic reform and globalization nexus in the emerging markets context. Another purpose of the course is to enhance student's appreciation of research process and help development of a research agenda in subjects related to macro and micro integration of emerging markets to the global economic system. More specifically the course focuses on transition from centrally planned or government dominated economic systems to market economy and its micro and macro implications. A particular emphasis is placed on the international expansion of emerging market companies. Students are expected to acquire and demonstrate advanced knowledge on issues surrounding economic reform, privatization, economic integration and internationalization/globalization and to be able to conduct original research.
INT 820
Seminar in Multinational Finance
This course is devoted to the study of advanced topics and current research being employed in the field of multinational finance. The course provides an opportunity for students to explore their area of interest in this field.
INT 830
Theories of Globalization
This doctoral seminar presents globalization as the central issue that influences the practice of international business and internationalization processes of the FIRM and vice versa. Keeping the firm at the core, the course takes up globalization from various points of view, such as world economy and finance, geo-strategic and geo-political concerns, regionalism, institutions, global and corporate governance etc., which reflect opportunities and prosperity as well as big challenges facing international business theory, practice and research. The course enhances students' cognitive, heuristic, analytical and philosophical thinking process. It also creates the prospect for students to better their research, teaching, and communicative skills (writing and presentation skills).
INT 840
Seminar in Multinational Marketing
This seminar will include extensive reading in the international Marketing/Business literature. Major seminar topics will include (but will not be limited to): countertrade, tariff and non-tariff barriers, cultural differences among market segments and global vs. multinational marketing strategies. The case method will be utilized. Class discussions will center around the literature via assigned journal articles. Class preparation and presentation will be individual and group. International market access will include the Internet.
INT 850
Seminar in Global Business Strategy
This seminar is designed to allow doctoral students to explore the complex problems of international business strategy from multiple levels of analysis using both contemporary and historical materials. The course will include a literature review, area studies and specialized case analysis as appropriate to illustrate specific problems characteristic of the discipline. Various theoretical methods will be compared and contrasted in order to evaluate their ability to solve problems of particular interest and intractability as defined by the major authors and practitioners in the field.
INT 880
Advanced Quantitative Methods/ International Business I
This is an advanced course in building binary and continuous response regression models using cross-sectional, time series and panel data with applications to business. It includes selection of variables and form, testing hypotheses, diagnosing problems, and implementing remedial measures using EViews and other software. The course requires the students to apply the regression techniques to a research problem in international business.
INT 881
Advanced Quantitative Methods/ International Business II
This is an advanced course in multivariate analysis methods with applications to business. It includes ANOVA, ANCOVA, MANOVA, Principal Component Analysis, Discriminant Analysis, Cluster Analysis, and System Dynamics using SPSS, VENSIM and other software. The course requires the students to apply one or more multivariate analysis techniques to a research problem in international business.
INT 889
Comprehensive Exam
The Comprehensive Exam provides a transition for students to prepare for their doctoral comprehensive exam and to help monitor timely progress toward completion of the comprehensive exam and progression toward dissertation work. Students take the comprehensive exam during the term they enroll in Comprehensive Exam INT 889. Students are permitted to take INT889 no more than two consecutive terms.
Total Credits: 46
Graduate Tuition
Earning your degree is a smart choice to advance your career, and investing in an affordable program increases your ROI. We keep our costs low to remove barriers between you and your goals.
This program and its concentrations are accredited by the Accreditation Council for Business Schools and Programs (ACBSP). Student achievement data can be found on College Navigator.
Related Articles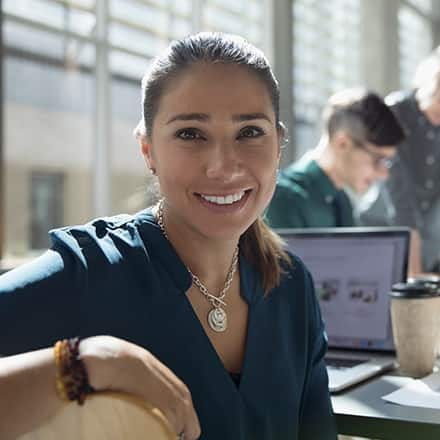 While many accounting degree holders find work as certified accountants and analysts, similar professions are also available across many industries. The analytical and critical thinking skills gained in an accounting program can help prepare you for more careers than you might think.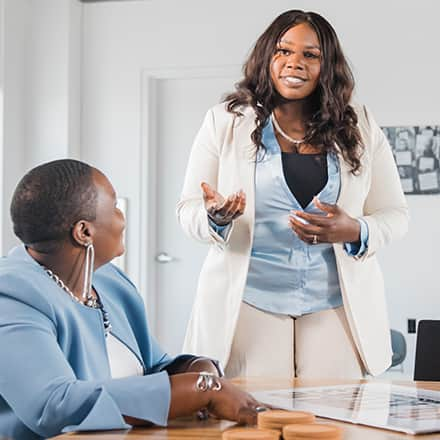 If you have worked for a bad leader, you likely already have the answer to why good leadership matters. Good leadership can make the difference between enjoying your job and tolerating your job. Here are 10 qualities of a good leader that can benefit teams and organizations.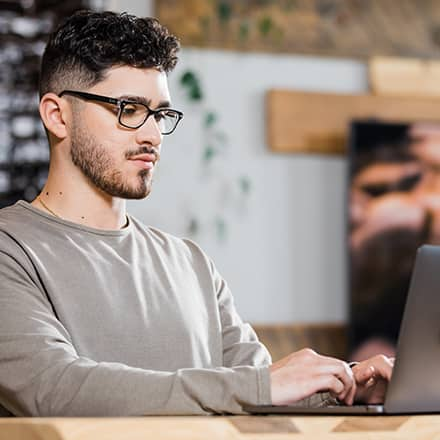 The fundamentals of digital marketing, or internet-based marketing efforts, refer to the guiding principles that can help lead your strategy and result in successful marketing campaigns. Digital marketing is all about sharing content with the aim of engaging and influencing potential customers.