Tell Your Story with a Creative Writing Major from SNHU
Unleash your creativity with Southern New Hampshire University's Bachelor of Arts in Creative Writing and English.
This undergraduate creative writing major prepares you for a career in creative writing, publishing, journalism, communications, the law and many other professions, as well as graduate programs such as the University's low-residency Master of Fine Arts in Fiction and Nonfiction Writing.
Creative writing courses begin during freshman year, unlike many other undergraduate writing programs. Undergraduate students can choose between a traditional four-year program and an accelerated three-year plan. Three-year plan graduates who enroll in the Master of Fine Arts program can earn their bachelor's and master's degrees in five years.
See Yourself Succeed as a Creative Writing Major
Learn from faculty members who are critically acclaimed writers and who understand the industry. Spend classroom and one-on-one time with publishers, agents and editors, and participate in workshops, readings, book-signings and networking events with bestselling authors and poets.
As a private, nonprofit university, SNHU has one mission - to help you see yourself succeed. The benefits of earning your creative writing major at SNHU include:
Supportive community. Join the SNHU college campus community of fewer than 3,000 students, with faculty and staff dedicated to your success.
Affordability. It's our mission to make higher education more accessible. That's why, SNHU is one of the most affordable private, nonprofit universities in New Hampshire.
Innovative programs. Study abroad at little or no extra cost.
Accessible faculty. Learn from highly credentialed faculty who are experts in their fields and interact with you in the classroom, dining hall, fitness center and the stands.
Opportunity. Tap into our nationwide network of alumni and strong connections with employers for internship and career opportunities.
Campus experience. Enjoy more than 50 student clubs, champion Division II athletics and fun events on our 300-acre campus in Manchester, NH, named a "Best Place to Live" by Money magazine.
Internships & Outcomes
According to the Bureau of Labor Statistics, employment of writers and authors is projected to grow 2% through 2024. Salaried writing and editing positions are to increase slightly. Specific job titles include:
Writer/Author
Literary Agent
Publisher
Manuscript Reader
Editor
Get a leg up before you graduate. Publishing opportunities include the student literary journal, The Manatee; the University's national journal, Assignment; high-profile magazines and literary contests. Join the Creative Writing Club and the New Hampshire Writers' Project - the only statewide literary organization for writers of all levels and genres, which is housed on our Manchester campus.
Curriculum
Four creative writing workshops are at the heart of this BA program. Choose three genre workshops followed by an advanced workshop in which you'll write a senior thesis in a genre of your choice, such as fiction, poetry, nonfiction or scriptwriting.
Courses To Prepare You For Your Career
SNHU's bachelor's in creative writing and english program includes:
General education
Degree-specific courses
General Education Program
Our programs are designed to equip you with the skills and insights you need to move forward. In recent years, employers have stressed the need for graduates with higher order skills - the skills that go beyond technical knowledge - such as:
Writing
Communication
Analysis
Problem solving
All bachelor's students are required to take general education classes. Through foundation, exploration and integration courses, students learn to think critically, creatively and collaboratively, giving you the edge employers are looking for.
List of Courses
Courses May Include
BA in Creative Writing and English Campus
ENG 226
Introduction to Creative Writing
An introductory creative writing course designed to acquaint students with the craft of creative writing and the skills that will be required in subsequent creative writing workshops. Students will explore such craft issues as point of view, voice, characterization, dialogue, setting, conflict, rhythm, imagery, poetic structure, and dramatic scene development. Students will be expected to submit a number of writing exercises, including stories and poems. Student will also be expected to read and comment on their peers' writing with thoughtful and constructive criticism, as well as read and discuss published work.
ENG 340
Context of Writing: Writers/Publishing
ENG 340 is a survey course in contemporary literature designed for students interested in creative writing. Students will study contemporary American literature from a writer's perspective with a special focus on prose style, structure, scene development, and other elements of the craft of writing. Students will also be introduced to the workings of the American publishing industry, including the roles of literary agent and editor.
ENG 350
The English Language
This course is an introduction to the following topics in English linguistics: history of English, etymology, vocabulary (morphology), phonology, dictionaries, syntax, semantics, dialects, discourse analysis, and child language acquisition. The course is designed for students who want to learn about the English language as preparation for teaching, or for becoming better writers, or for studying literature. Students will have the opportunity to research, write about, and present on a linguistic topic of individual interest such as the language of advertising or propaganda.
ENG 431
Advanced Creative Writing
This course is designed to support a sequence of writing workshops in the creative writing and English major, to provide students serious about their writing an opportunity to study a particular genre (fiction, poetry, scriptwriting or nonfiction) beyond the 300-level workshops. The course also prepares the student for his or her senior thesis in creative writing. In addition to extensive reading within the chosen genre, workshops require participation in class discussions, student presentations and analyses of other students' work. Select class periods will be devoted to individual tutorials with the instructor.
HUM 201
Humanities: Ancient to Renaissance
This course provides a survey overview of the western humanities from the ancient world through the Renaissance. It will offer students an introduction to the vocabulary, themes, and shifts in the arts, music, literature, history, and ideas, focusing on the achievements of ancient Egypt, Greece and Rome, the medieval period and the Renaissance.
HUM 202
Humanities: Renaissance to the Present
This course provides a survey overview of the western humanities from the Renaissance to the present. It will offer students an introduction to the vocabulary, themes, and shifts in the arts, music, literature, history, and ideas, focusing on the achievements of the Renaissance, Baroque, the Enlightenment, Romanticism, Realism, Impressionism, Modernism, post-war artistic movements, and contemporary developments in the humanities.
LIT 300
Literary Theory
This course is an introduction to the major schools of contemporary critical theory, and an examination of principal exponents of these theories. The student will become familiar with the most important features of psychoanalytic criticism, Marxism and feminism and examine the meaning of structuralism and post-structuralism. In addition, the course affords an opportunity to practice applying the theories to specific literary texts.
LIT 319
Shakespeare
Students in LIT 319 study selected Shakespearian comedies, tragedies and chronicle plays. The course also provides the students with a general overview of the Elizabethan era and the world in which Shakespeare lived and worked.
Total Credits: 120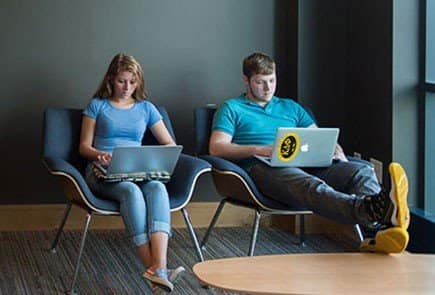 Campus Undergraduate Tuition
Our Manchester campus aims to keep tuition and related costs low for our students so that you can pursue your degree and your goals.