Enhance Your Understanding of the Education Field with a BA in Education from SNHU
The Bachelor of Arts in Education program at Southern New Hampshire University is designed to introduce you to the field of education by providing an introduction to teaching strategies and theories. Please be aware that although this is an undergraduate education major, the BA in Education program does not lead to teaching certification in the state of New Hampshire.
If you wish to earn a degree in education but do not wish to teach in a public school, this program can provide the opportunity to explore different career paths.
See Yourself Succeed with a Bachelor of Arts in Education
The BA in Education program is designed to provide an undergraduate education major for students who are not seeking teaching certification. A carefully crafted plan of study allow you to design a program geared toward accomplishing your career goals in the areas of educational services or related fields that do not require certification.
As a private, nonprofit university, SNHU has one mission - to help you see yourself succeed. The benefits of enrolling in the bachelor's in education program at SNHU include:
Convenience. Pursue your graduate degree or certificate where you work, and complete international field studies around your teaching schedule.
Supportive community. We have a deep understanding of how adults learn best, and we know all of our students personally. Our cohort model allows you to learn with colleagues.
Relevance. All course material and assignments apply directly to your classroom practice. An action research project serves as the capstone in place of a traditional thesis.
Affordability. It's our mission to make higher education more accessible. That's why, SNHU is one of the most affordable private, nonprofit universities in New Hampshire.
Constructivist classrooms. Our instructors design the classroom experience so that it begins with your experiences and builds toward exceptional practice in a collaborative manner.
Impact. The action research project enables you to use your classroom as a laboratory of educational innovation.
Careers & Outcomes
The BA in Education program can provide you with the generalized education background necessary to begin a successful career in education-related fields that do not require certification; however, if you ultimately wish to become a teacher, it is recommended that you select a program specializing in the field you wish to enter.
Graduates from this program may choose to pursue careers with nonprofit organizations, youth organizations, private and charter schools, or training and development for businesses.
Curriculum
Acceptance into the major requires approval by the certification officer. Upon acceptance, you may select courses from related disciplines to complete the 45 credit hours for the BA in Education program. You will design a plan of study with an academic advisor from the School of Education.
Courses To Prepare You For Your Career
SNHU's bachelor's in early childhood education program includes:
General education
Degree-specific courses
General Education Program
Our programs are designed to equip you with the skills and insights you need to move forward. In recent years, employers have stressed the need for graduates with higher order skills - the skills that go beyond technical knowledge - such as:
Writing
Communication
Analysis
Problem solving
All bachelor's students are required to take general education classes. Through foundation, exploration and integration courses, students learn to think critically, creatively and collaboratively, giving you the edge employers are looking for.
List of Courses
Courses May Include
BA in Education Campus
EDU 102
Foundations of Education
This course give students an overview of American education including history, philosophy and current issues. It will introduce students to strategies for creating a learning environment that support student learning.
EDU 102L
Foundations of Education Lab
This course will introduce students to classroom structures that support differentiated instruction and other research-based approaches for effective teaching. Topics include lesson planning and reflection, state standards and grade level expectations, small group and whole group instruction, and assessment tools strategies.
EDU 208
Assessment, Accountability and Teaching in the Classroom
This basic course for classroom teachers explores various techniques necessary for designing and implementing authentic measures to assess successful student learning.
DEV 106
Learner Development
This course surveys and focuses on child growth and development from birth through the life cycle. Theories pertinent to individual stages are provided and the sociological, cultural and psychological aspects of human growth and development are included. An overview of all developmental stages will be covered.
Total Credits: 121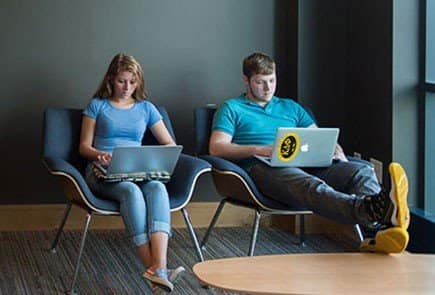 Campus Undergraduate Tuition
Our Manchester campus aims to keep tuition and related costs low for our students so that you can pursue your degree and your goals.