Learn about the living world as a Biology major
A Biology degree can provide the educational foundation for a wide range of professional fields, including science and healthcare. The Bachelor of Science in Biology program at Southern New Hampshire University combines hands-on laboratory and field work with coursework investigating the diversity and biology of plants, animals, and microbes - developing both practical skills and theoretical learning to help lay the groundwork for a successful career.
The overall goal of the Biology program at SNHU is to foster awareness, appreciation, and understanding of biology as a diverse and dynamic field, and to prepare students to enter a wide range of career paths, certification programs, or graduate programs that utilize their unique skills and knowledge.
See Yourself Succeed as a Biology Major
The Biology program at SNHU may serve as the backbone for many health-related programs, and the University is proud to offer a program that prepares students to pursue a wide range of pathways following graduation. Many graduates may choose to pursue additional educational opportunities and certificate programs, intending to enter fields such as health and teaching that will require additional qualifications; however, others may seek more immediate employment opportunities.
As a private, nonprofit university, SNHU has one mission - to help you see yourself succeed. The benefits of majoring in environmental science at SNHU include:
Supportive community. Join the SNHU campus community of students who are closely connected with faculty and staff dedicated to your success
Affordability. It's our mission to make higher education more accessible. That's why, SNHU is one of the most affordable private, nonprofit universities in New Hampshire.
Accessible faculty. Learn from highly credentialed faculty who are experts in their fields and interact with you in the classroom, dining hall, fitness center, and more
Opportunity. Tap into our nationwide network of alumni and strong connections with employers for internship and career opportunities
Campus experience. Enjoy more than 50 student clubs, champion Division II athletics and fun events on our 300-acre campus in Manchester, N.H.
Careers & Outcomes
The Biology program will teach you to think critically about the living world and our role within it. You will have a thorough understanding of both practical and theoretical biology, as well as additional topics selected by you through your elective courses.
Although additional licensing, certification or education is required for entry into many health-related fields - such as nursing, physical therapy, and teaching - the Biology program at SNHU is an excellent starting point, and provides students with strong foundational knowledge required to pursue a variety of biology-related careers. Whether your ultimate goal is to launch your career immediately, seek additional certifications, or enter graduate school, the Biology program at SNHU will prepare you to face your next challenge.
Curriculum
We've designed the Biology course of study to reflect the many different career options available to Biology majors. We pride ourselves on offering students the ability to tailor their education to their interests and career goals. Below, you can see some of the many course options available to you through the Biology program.
Courses To Prepare You For Your Career
SNHU's bachelor's in biology program includes:
General education
Degree-specific courses
General Education Program
Our programs are designed to equip you with the skills and insights you need to move forward. In recent years, employers have stressed the need for graduates with higher order skills - the skills that go beyond technical knowledge - such as:
Writing
Communication
Analysis
Problem solving
All bachelor's students are required to take general education classes. Through foundation, exploration and integration courses, students learn to think critically, creatively and collaboratively, giving you the edge employers are looking for.
Full Course Catalog
View Full Curriculum in the Catalog
BS in Biology
List of Courses
Courses May Include
BS in Biology Campus
BIO 120
General Biology I
General biology course that includes mammalian cell structure and function, cellular reproduction and physiology, and Mendelian genetics. Laboratory exercises (BIO 120L) to follow lecture topics.
BIO 120L
General Biology I Lab
Laboratory course to follow topics presented in BIO 120.
BIO 121
General Biology II
This course builds on information presented in BIO 120. Topics include: principles and history of evolutionary theory, taxonomy, and systematic examination of the five Kingdoms of organisms: Bacteria, Protista, Fungi, Plantae, and Animalia.
BIO 121L
General Biology II Lab
Laboratory course to follow topics presented in BIO 121. This course gives students hands-on experience with laboratory techniques, and in-depth investigation and comparison of organisms. Students will observe the structure and function of cells, tissues, and organs. They will also examine evolutionary connections between the five Kingdoms of organisms.
BIO 200
Bioethics
This course is a survey course in bioethics. Real case studies and readings will be used to familiarize students with current issues. Topics include abortion, life and death issues such as brain death and assisted suicide, experimentation with humans and animals, and public health issues. Students will present case studies for discussion, participate in debates, and learn to justify their own ethical positions related to these issues. This course is useful for anyone who intends to work in health care, laboratory settings, teaching, or biotechnology. Students will have a greater awareness for these important issues, and they will learn how to how to discuss these sometimes sensitive topics with others.
BIO 210
Introduction to Anatomy and Physiology
Discussion/comparison of the principles of mammalian form and function. Includes molecular and cellular mechanisms of major processes (such as muscle contraction, neural transmission, and signal transduction) and examines the structure and function of the 11 organ systems of the human body. Laboratory exercises (BIO-210L) to follow lecture topics.
BIO 210L
Anatomy and Physiology Lab
Anatomy and Physiology Lab is a counterpart to BIO-210, in which students will examine tissues, bones, muscles and the major organ systems. The laboratory is hands-on and will include use of microscopes, visual representation in models, videos and online dissection.
BIO 270
Genetics
This course covers the basic principles of eukaryotic cell genetics. Emphasis is placed on the molecular basis of heredity, DNA and chromosomal structure, patterns of Mendelian and non-Mendelian inheritance, gene expression, and biotechnological applications.
BIO 280L
The Microbial World Lab
Laboratory exercises to follow topics presented in BIO 280. Students will focus on developing skills in the laboratory, including microscopy, staining and isolation of bacterial species, identification of microbes, and use of chemical and physical agents to control microbial growth.
BIO 280
The Microbial World
This course exposes students to the fundamentals of microbiology. It opens with a survey of the microbial world and a discussion of the interactions between microbes and host. Students will evaluate microbial diseases of humans, and the environmental and economic impact of microorganisms. The course provides a background in basic and applied microbiology with an emphasis on the role microorganisms play in human health.
CHM 120
General Chemistry I
First semester of a one-year sequence covering the basic principles of chemistry. Topics include atomic and molecular theory and structure, the chemical and physical behavior of gases, liquids, solids, and solutions; chemical bonding; chemical equations and thermochemistry.
CHM 120L
General Chemistry I Lab
This course will introduce laboratory techniques that will be used to gain fundamental knowledge of chemical systems associated with the subject matter of CHM 120 - College Chemistry I
CHM 121
General Chemistry II
Second semester of a one-year sequence covering the basic principles of chemistry. Topics include chemical equilibria; acid-base chemistry; electrochemistry; kinetics and nuclear chemistry.
CHM 121L
General Chemistry II Lab
This course will introduce laboratory techniques that will be used to gain fundamental knowledge of chemical systems around the subject matter of CHM 121 - College Chemistry II.
CHM 309
Biological Chemistry
This course is designed to provide students with a broad introduction to biochemistry and the major concepts of the chemical processes of living organisms. The major themes of the course include: the chemistry of water, foundations of biological and organic chemistry, the structure and function of the three major classes of biomolecules (proteins, carbohydrates and lipids), and enzyme kinetics.
PHY 101
Principles of Physics
Principles of Physics is an algebra based course that explores the major topics in physics, such as motion and forces, gravity and projectiles, energy and work, thermodynamics, vibrations and waves, electricity and magnetism, solids and fluids, light and optics, and atomic and nuclear physics.
Total Credits: 120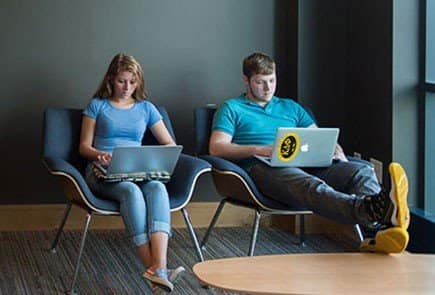 Campus Undergraduate Tuition
Our Manchester campus aims to keep tuition and related costs low for our students so that you can pursue your degree and your goals.
Related Articles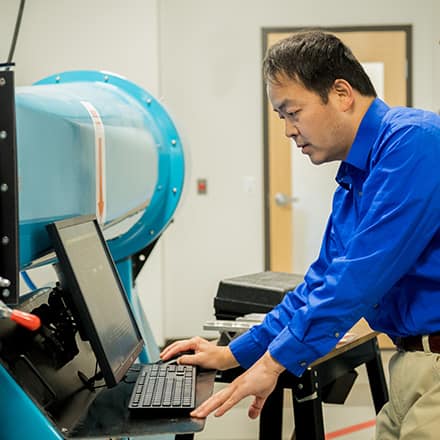 If you've ever dreamed of designing the next generation supersonic airplane or watching the biggest jet engine soar, you may have considered a career in aeronautical engineering. Here are some fundamental questions to help you decide if the field is right for you.
Engineering is a rewarding profession with dozens of subtypes, allowing you to truly customize your career. The foundation of all types of engineering is the use of math, science and art to solve problems, while building, improving or modifying structures or systems.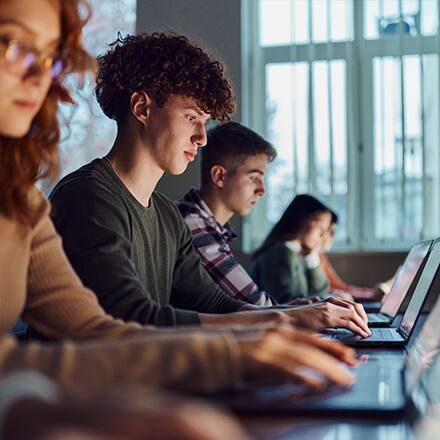 In early April, SNHU offered STEM students an experiential learning opportunity to help advance their skills and connect with the SNHU community. SNHU, AWS and Red River Charitable Foundation hosted an AWS Jam session for the inaugural Red River Charitable Foundation Cloud Cup.