Choose your own venture with a BS in Entrepreneurship
The Bachelor of Science in Entrepreneurship is a program designed for students who would like to become future entrepreneurs and/or intrapreneurs. The program will be delivered in a cohort, using the team-based experiential academic model (t.e.a.m.), an evolving entrepreneurial philosophy and way of learning supported by just-in-time coaching. Part of the student learning focuses on the development, launch, and operation of the team's business venture(s). Throughout their learning journey, students will have the support of coaches, subject matter experts, mentors, entrepreneurs, access to an international network, and the Experiential Learning Lab (Munchiez Food Truck, Pizza 32, the Connections Sales Immersion Lab, and more). The learning environment requires self-accountability, shared responsibility, and trust as core elements of the team.
The student journey focuses on building towards a continuous growth mindset, starting with each learner reflecting on who they are and what they want to achieve/accomplish. Students also learn how to work as a part of a team/business and a leader within that team/business. Part of the program is dedicated to exploring these relationships in a holistic way and focusing on how the team and business relate to the community and the world as a whole.
Earn Your BS in Entrepreneurship for just $10K per year
The BS in Entrepreneurship is one of SNHU's Experience More programs. In these programs, you'll be on a more structured, career-focused pathway to your degree. Designed to incorporate industry experience and prepare you for the workplace more rapidly, at least 36 of your credits will be earned through experiential learning—which may include studio work, lab work, project-based courses, internships, or industry certifications.
You'll also learn through a mix of face-to-face classroom and online formats. That means less seat time in traditional classroom settings, and more time engaging with faculty members as project leads, internship advisors, or coaches.
List of Courses
Courses May Include
BS in Entrepreneurship
BUS 307
Business Law II
The study begun in Business Law I continues as the topics of commercial paper, real and personal property, creditors' rights and bankruptcy, agency, business organizations, estate planning and government regulation of business are explored.
MKT 225
Digital Marketing
This course is an introduction to business functions using Digital Marketing Technology such as the Internet, customer databases and information systems such as CRM and Demand Generation Systems. Topics focus on earned, paid, and owned media and the intersection on the three. There will be an emphasis on development of a digital marketing strategy and the impact on the business. Also, we will review the different types of channels.
OL 215
Principles of Management
This course is designed to examine the fundamentals and principles of management in order to develop an understanding of management in any formal organization. Special attention is paid to planning and decision-making. International management is also covered. Writing Intensive Course.
OL 320
Entrepreneurship
This course focuses on the factors that contribute to the personal success of entrepreneurs and affect successful entrepreneurship. Entrepreneurship is also studied. Case studies, contemporary readings and simulations are used. International considerations are included.
OL 321
Business Plan Preparation
Students will prepare, either individually or in teams, a comprehensive business plan for a new venture. Junior standing or permission of instructor.
OL 322
Managing Organizational Change
This course focuses on the effective management of human resources during the process of change. It emphasizes change management as a tool for survival, growth, increased productivity and conflict management in the complex and volatile business environment of today and the future. Change in an international environment also is discussed. Team intensive course.
Total Credits: 120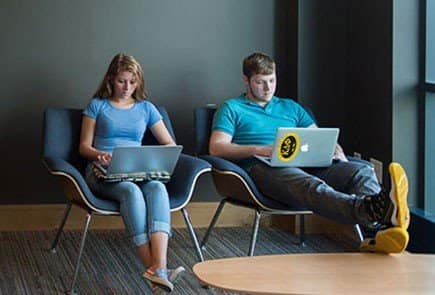 Campus Undergraduate Tuition
Our Manchester campus aims to keep tuition and related costs low for our students so that you can pursue your degree and your goals.