Choose your own venture with a BS in Entrepreneurship
The Bachelor of Science in Entrepreneurship is a program designed for students who would like to become future entrepreneurs and/or intrapreneurs. The program will be delivered in a cohort, using the team-based experiential academic model (t.e.a.m.), an evolving entrepreneurial philosophy and way of learning supported by just-in-time coaching. Part of the student learning focuses on the development, launch, and operation of the team's business venture(s). Throughout their learning journey, students will have the support of coaches, subject matter experts, mentors, entrepreneurs, access to an international network, and the Experiential Learning Lab (Munchiez Food Truck, Pizza 32, the Connections Sales Immersion Lab, and more). The learning environment requires self-accountability, shared responsibility, and trust as core elements of the team.
The student journey focuses on building towards a continuous growth mindset, starting with each learner reflecting on who they are and what they want to achieve/accomplish. Students also learn how to work as a part of a team/business and a leader within that team/business. Part of the program is dedicated to exploring these relationships in a holistic way and focusing on how the team and business relate to the community and the world as a whole.
Earn Your BS in Entrepreneurship for just $10K per year
The BS in Entrepreneurship is one of SNHU's Experience More programs. In these programs, you'll be on a more structured, career-focused pathway to your degree. Designed to incorporate industry experience and prepare you for the workplace more rapidly, at least 36 of your credits will be earned through experiential learning—which may include studio work, lab work, project-based courses, internships, or industry certifications.
You'll also learn through a mix of face-to-face classroom and online formats. That means less seat time in traditional classroom settings, and more time engaging with faculty members as project leads, internship advisors, or coaches.
View Full Curriculum in the Catalog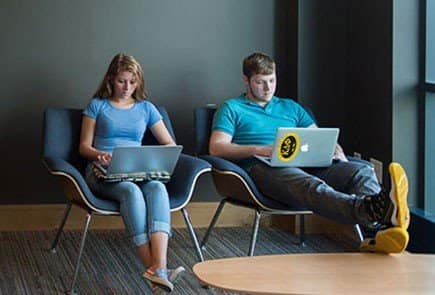 Our Manchester campus aims to keep tuition and related costs low for our students so that you can pursue your degree and your goals.