Solve Business Problems as an IT Major at SNHU
We've become a technology-dependent society. And for those looking to enter a tech field, that means one thing: opportunity. Lots of it.
When you enroll in the Bachelor of Science in Information Technologies program at Southern New Hampshire University (SNHU), you join a growing community within the School of Engineering, Technology and Aeronautics. You'll surround yourself with like-minded peers ready to innovate and collaborate. Because when you're able to solve today's business problems, you can create tomorrow's most effective IT systems.
See Yourself Succeed in an IT Career
Learn to make the decisions that can change the course of business as an IT major at SNHU. With so many hands-on projects built into the program, you'll soon build an impressive skill set in IT systems, data-manipulation methods and computational-thinking strategies. As a bonus, Manchester is home to many tech companies, giving you nearby access to real-world opportunities.
As a private, nonprofit university, SNHU has one mission - to help you see yourself succeed. The benefits of majoring in IT at SNHU include:
Supportive community. Join the SNHU campus community of fewer than 3,000 students, with faculty and staff dedicated to your success.
Affordability. It's our mission to make higher education more accessible. That's why, SNHU is one of the most affordable private, nonprofit universities in New Hampshire.
Accessible faculty. Learn from highly credentialed faculty members who have industry experience, are experts in their fields and interact with you in the classroom, dining hall, fitness center and the stands.
Opportunity. Tap into our nationwide network of alumni and strong connections with employers for internship and career opportunities.
Campus experience. Enjoy more than 50 student clubs, Division II athletics and fun events on our 300-acre campus in Manchester, N.H., named a "Best Place to Live" by Money magazine.
Internships & Outcomes
As an IT major at SNHU, you'll have plenty of opportunity in the industry upon graduation. According to the U.S. Bureau of Labor Statistics, job growth will increase 13% through 2026, with the addition of over half a million positions.*
With your degree, you can prepare for a number of IT positions, such as:
Database administrator
Information security specialist
Information technology manager
Network administrator
Systems analyst
Web developer
Within computer and IT occupations, the May 2017 median annual salary was $84,580.*
Curriculum
SNHU's curriculum for IT majors is designed to stay on top of ever-changing technology trends, so you're well prepared for entry-level jobs when you enter the field. Throughout your information technology program, you'll develop both the technical and business expertise that can help you succeed in internships, your first job – and beyond.
Courses To Prepare You For Your Career
SNHU's bachelor's in information technologies program includes:
General education
Degree-specific courses
General Education Program
Our programs are designed to equip you with the skills and insights you need to move forward. In recent years, employers have stressed the need for graduates with higher order skills - the skills that go beyond technical knowledge - such as:
Writing
Communication
Analysis
Problem solving
All bachelor's students are required to take general education classes. Through foundation, exploration and integration courses, students learn to think critically, creatively and collaboratively, giving you the edge employers are looking for.
List of Courses
Courses May Include
BS in Information Technologies Campus
CS 110
Fundamentals of Programming
This course introduces non-programming majors to the fundamental concepts of programming. The course assumes no prior programming experience. Students study the basics of programming including an introduction to variables, data types, looping, conditional logic, methods, and built-in collections. Students gain valuable problem solving skills and programming experience by writing simple computer applications using Python programming language.
IT 145
Foundation in Application Development
Students will use programming as a problem-solving technique in business and engineering applications. In writing computer code in a logical, structured, and organized manner, students will learn how to incorporate the key concepts of object orientation into their programming. Additionally, students will learn to write, review, and document interactive applications and work with Software Development Kits and Integrated Development Environment tools.
IT 340
Network and Telecommunication Management
This course provides an in-depth knowledge of data communications and networking theory, concepts and requirements relative to telecommunications and networking technologies, structures, hardware and software. Emphasis is on the concepts of communications theory and practices, terminology, and the analysis and design of networking applications. Management of telecommunications networks, cost-benefit analysis and evaluation of connectivity options are covered. Students can design, build and maintain a local area network (LAN).
IT 412
Cyberlaw and Ethics
This course stresses the social and professional context of IT and computing related to ethical codes of conduct. Students will examine the historical, social, professional, ethical, and legal aspects of computing in the 21st century.
QSO 340
Project Management
As modern organizations have become more complex, they have also become more project-driven. This course uses a basic project management framework in which the project life-cycle is broken into organizing, planning, monitoring and controlling the project. You will learn the methodologies and tools necessary at each stage for managing the projects effectively in terms of time, cost, quality, risk and resources.
Total Credits: 120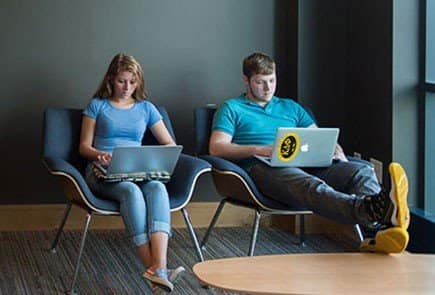 Campus Undergraduate Tuition
Our Manchester campus aims to keep tuition and related costs low for our students so that you can pursue your degree and your goals.
*Bureau of Labor Statistics, U.S. Department of Labor, Occupational Outlook Handbook, on the Internet, at https://www.bls.gov/ooh/computer-and-information-technology/home.htm (viewed online October 15, 2018). Cited projections may not reflect local and/or short-term economic or job conditions and do not guarantee actual job growth.