Explore the Universe When You Major in Physics
Investigate the physical world when you earn a Bachelor of Science in Physics from Southern New Hampshire University. This program allows you to immerse yourself in traditional classroom settings to learn about theory, while giving you access to state-of-the-art laboratories to gain the hands-on experience needed for the application of your studies.
As a student in the SNHU program, you'll learn the fundamentals of physics – as well as get exposure to engineering design and laboratory instrumentation. In addition, you'll participate in original research and design projects – an ideal way to build up your resume as an entry-level job candidate.
The SNHU physics degree can position you for either an immediate career or further study in graduate school.
See Yourself Succeed as a Physics Major
SNHU encourages project-based learning – especially as a STEM major. By working on these real-world projects, you can build up your skill set to match the qualifications that organizations are looking for in their employees – or create an impressive graduate school application that gets noticed.
As a private, nonprofit university, SNHU has one mission – to help you see yourself succeed. The benefits of majoring in physics at SNHU include:
Supportive community. Join the SNHU campus community of students who are closely connected with faculty and staff dedicated to your success.
Affordability. It's our mission to make higher education more accessible. That's why, SNHU is one of the most affordable private, nonprofit universities in New Hampshire.
Accessible faculty. Learn from highly credentialed faculty members who are experts in their fields and interact with you in the classroom, dining hall, fitness center and anywhere else you need them.
Opportunity. Tap into our nationwide network of alumni and strong connections with employers for internship and career opportunities.
Campus experience. Enjoy more than 50 student clubs, champion Division II athletics and fun events on our 300-acre campus in Manchester, N.H.
Careers & Outcomes
When you earn your bachelor's degree in physics, you have an exciting number of career options available to you. While many alumni choose to move on to a master's or PhD programs upon graduating, there are still plenty of roles well suited for those with a bachelor's degree.
Four of these professional areas include:
Computer hardware and software: From web developers to systems analysts, there are quite a few jobs in this high-growth field.
Education: High school and middle school science departments would benefit from your physics expertise.
Engineering: Design, laser, manufacturing, mechanical, optical and systems are just a small handful of the types of engineering roles in which your physics degree could be useful.
Research and technical: From universities to the private sector, research is always needed to make advances in the field.
Whatever you choose to do after earning your bachelor's, SNHU's physics major can help you achieve those goals.
Curriculum
The bachelor's in physics program at SNHU offers you a well-rounded education. With coursework split between the School of Arts and Sciences and the School of Engineering, Technology and Aeronautics (SETA), you can gain both the hard and soft skills that are in demand by employers.
Options for Senior Projects include:
Physics (BS) – Aeronautical Engineering: Explore the physics of flight, collaborate on projects which involve the conception, design and implementation of real-world flight systems.
Physics (BS) – Biophysics: Explore the physics of complex biological systems on all scales, from the physics of biological environments and their impact on living organisms, down to the physics of cells. You may also do projects on the physics of medical technology.
Physics (BS) – Electrical Engineering: Explore the physics of vision systems, electronic sensors and controls, signal processing.
Physics (BS) – Environmental science: Explore the physics of the earth environment by integrating physics with biology, chemistry, and information science.
Physics (BS) – Mechanical Engineering: Explore the physics of Advanced Materials, Optics, Robotics and Control Systems, Thermal-fluid systems, Power, Energy, Propulsion systems, and more.
Physics (BS) – Space Science: Explore the physics of our solar system. Investigate phenomena in the Planetary – Sun – Solar Wind environment such as solar magnetic storms, planetary magnetospheres, cometary processes and asteroids.
By successfully completing the physics program at SNHU, skills you'll develop include:
Computer programming, modeling and simulations
Communication and collaboration
Critical thinking and inventiveness
Mechanical aptitude
Mathematics and analytics
Research and investigation
Beyond the core requirements in your major, you'll have the opportunity to choose 3 elective courses that allow you to build specialty areas in your program. Current elective courses include Principles of Photonics, Biophysics, Optics, Space Physics, and Plasma Physics.
Courses To Prepare You For Your Life & Career
SNHU's bachelor's in physics program includes:
General education courses
Degree-specific courses
General Education Program
SNHU's required general education program, known as The Commons, aims to guide you toward success in not only your academic career, but your personal and professional life too.
Throughout the curriculum, you'll gain some of the most in-demand skills in today's workplace, including:
Research and information analysis
Diverse audience communication
Critical thinking and ethical problem solving
Leadership, emotional intelligence and collaboration
This expertise will prove practical, transferable and invaluable as you grow in your career and contribute positively to society.
Beyond foundational skill development, the general education program also provides the benefit of allowing you to explore a wide range of fields outside of your intended major.
Full Course Catalog
View Full Curriculum in the Catalog
BS in Physics
List of Courses
Courses May Include
BS in Physics Campus
CS 113
Introduction to Programming
A modern programming language is used to introduce conditional and iterative control structures, subprograms and parameter passing, arrays and records, dynamic memory allocation and linked lists, and recursion. In the required laboratory, students will write programs which exercise these language features.
EE 220
Electromagnetics
This course covers both static and dynamic electric and magnetic fields, electromagnetic wave propagation, steady-state and transient analysis of transmission lines, and design applications. Numerical methods and software are used to analyze problems.
EG 209
Thermodynamics I
This course provides the student with a working knowledge of thermodynamic concepts and the problem solving ability to set up and apply the appropriate laws in the thermodynamic analysis of engineering systems. Energy, heat, and work are defined and used in the First Law of Thermodynamics. Other thermodynamic properties and equations of state are introduced with emphasis on tabular and graphical forms for simple compressible systems and on the ideal gas. Phases and phase transitions are discussed and energy analysis of both open and closed systems is examined. The Second Law of Thermodynamics and the property entropy are introduced, and their macro and microscopic implications are discussed. Emphasis is placed on the consequences of irreversibility and the limitation this places on the behavior of engineering systems.
PHY 315
Classical Mechanics I
This course introduces the student to the dynamics of particles and rigid bodies at an intermediate level and is the first course in a two semester sequence in mechanics. Students use Newtonian mechanics and conservation of energy and momentum as the foundation for analyzing physical systems. Oscillations in physical systems and angular momentum are also explored.
PHY 330
Quantum Mechanics I
This course gives the student an introduction to quantum mechanics, the study of matter and energy on very small scales. Students learn about the origins of quantum theory and its experimental basis. We cover wave mechanics, the harmonic oscillator, the one dimensional Schrodinger equation, Schrodinger equation in three dimensions, one electron atoms, angular momentum, and spin.
Total Credits: 121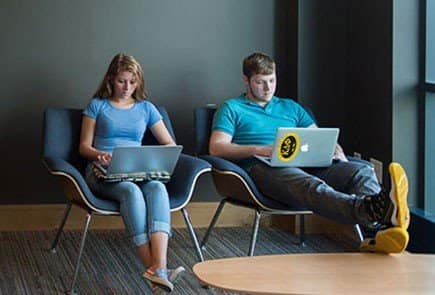 Campus Undergraduate Tuition
Our Manchester campus aims to keep tuition and related costs low for our students so that you can pursue your degree and your goals.
Related Articles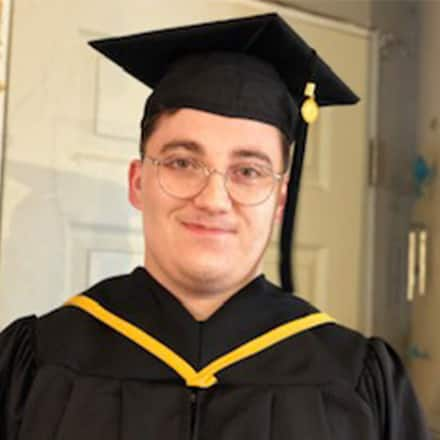 Jacob Kane-Conrad '21 was following a well-worn path to his college degree, but he also did it his own way.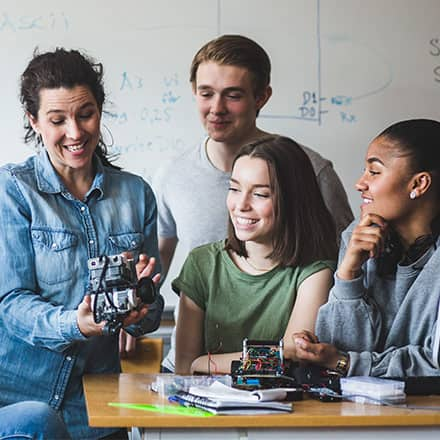 Let's start with a basic question: Exactly what does STEM mean? It's a term many are familiar with, but don't necessarily understand. STEM is a common abbreviation for four closely connected areas of study: science, technology, engineering and mathematics.
From Grace Hopper, an early pioneer in computer programming, to Katherine Johnson's contributions as a space scientist, women have been proving their value to the STEM fields for years and years. While there isn't one straight pathway into STEM, there are some general strategies that will help.