Earn a CIS Degree Online
$320/credit (120 credits)
Learn how to serve as intermediary between IT and business units
Develop information systems that support organizational goals
Transfer up to 90 credits
Get hands-on experience with a variety of business intelligence applications
No application fee or SAT/ACT scores required
Online Information Systems Degree Program Overview
Use technology to drive crucial business strategies with the online Bachelor of Science (BS) in Computer Information Systems program at Southern New Hampshire University.
A CIS degree will help you gain the knowledge and skills you need to bridge the gap between IT and business. You'll take an active role in helping support your organization's strategic goals through technology.
If you've completed your associate degree in business or an AS in IT, this program is especially well-suited for you. With 18 free electives, you'll have the power to finish your program faster – saving you time and money along the way.
Learn how to:
Use business intelligence applications to analyze the data models
Analyze existing business information systems and identify new ones
Develop communication strategies
Apply learned concepts to develop and implement systems that support an organization's goals
Career Outlook
Lightning-fast access to information is no longer a "nice to have" – it's essential for any business to thrive.
For this reason, the U.S. Bureau of Labor Statistics projects that demand for computer and information systems managers will grow 11% through 2030 – much faster than the national average for all occupations.1 What's more, the BLS reports that typical entry-level education for these roles is a bachelor's.1
Therein lies the need for an educated workforce to step out into the field.
"With job growth on the rise, a bachelor's degree in computer information systems will help graduates as they seek employment and meet workforce needs," said Ann Marie Moynihan, associate dean at SNHU.
Graduates of the computer information systems degree program may pursue a number of different careers, including but not limited to those in:
Computer systems analysis and design
Computer and information systems management
Information technology
Project management
Data analysis
If it's a more business-focused career you seek, you may also be interested in studying management information systems (MIS) through our online bachelor's in business administration, which offers an MIS degree concentration.
At SNHU, we know how important networking and experience can be in helping you get your foot in the door. That's why we offer CIS students opportunities to participate in national events and competitions each year. Like the National Cyber League (NCL) spring and summer competitions. Join a team to face practical cybersecurity challenges, such as pen testing vulnerable websites or recovering from ransomware attacks. Our students have made several top 10 placements. Additionally, the first-ever all-women team to compete was comprised of SNHU students.
Start Your Journey Toward an Online Computer Information Systems Degree
Why SNHU for Your Online CIS Degree
Flexible
With no set class meeting times, you can learn on your schedule and access online course materials 24/7.
Affordable
Take advantage of some of the lowest online tuition rates in the nation, plus financial aid for those who qualify. We also make it easy to transfer to SNHU by accepting up to 90 credits from your previous institution.
Respected
Founded in 1932, Southern New Hampshire University is a private, nonprofit institution with over 100,000 graduates across the country. SNHU is accredited by the New England Commission of Higher Education (NECHE), a regional accreditor, which advocates for institutional improvement and public assurance of quality.
Recently, SNHU has been nationally recognized for leading the way toward more innovative, affordable and achievable education:
"Most Innovative" regional university honors from U.S. News & World Report each year since 2015
A $1 million grant from Google.org to explore soft skills assessments for high-need youth
Recognition as a 2017 Digital Learning Innovator by the Online Learning Consortium
Network
At Southern New Hampshire University, you'll have access to a powerful network of more than 200,000 students, alumni and staff that can help support you long after graduation. Our instructors offer relevant, real-world expertise to help you understand and navigate the field. Plus, with our growing, nationwide alumni network, you'll have the potential to tap into a number of internship and career opportunities.
96.5% of students would recommend SNHU.2 Discover why SNHU may be right for you.
Part of our mission to expand access to quality higher education means removing the barriers that may stand between you and your degree. That's why you can apply at any time and get a decision within days of submitting all required materials.
Acceptance decisions are made on a rolling basis throughout the year for our 6 (8-week) undergraduate terms.
Simply contact an admission counselor, who can help you explore financial options, answer all your questions and walk you through the application process. Start by:
Test scores are not required as part of your application.
Courses & Curriculum
"The Bachelor of Science in Computer Information Systems prepares graduates to implement effective solutions in support of organizational needs," said Ann Marie Moynihan, associate dean at SNHU.
The curriculum helps accomplish this goal by exploring key tech concepts like systems thinking, scripting, database environments, application development and object-oriented analysis and design. You'll think about these ideas in a business context, with courses that cover client systems and support, enterprise information systems and business intelligence and reporting.
You'll also apply what you've learned through a culminating capstone experience.
"The capstone course offers an opportunity to work on a CIS project-based design where you can work with a team to generate a plan in support of business needs," Moynihan said.
Using practical, real-world situations as a launchpad, you'll apply what you've learned throughout the program.
"The knowledge, skills and principles of systems analysis and design, project management, quality assurance and resource management are applied as the team works to formulate and recommend solutions."
Microeconomics, Macroeconomics and Applied Statistics for STEM are dictated courses for the general education program.
General education courses: All online bachelor's students are required to take general education classes, if not obtained in prior coursework. Through these foundation, exploration and integration courses, students learn to think critically, creatively and collaboratively, giving you the edge employers are looking for.
Technology resources: We provide cloud-based virtual environments in some courses to give you access to the technology you need for your degree – and your career. Learn more about our virtual environments.
Save time and tuition: Depending on your scores, you could earn up to 12 math credits – the equivalent of 4 courses – toward your degree for less than $50 per assessment with our Pathways to Math Success assessments.
Earn Credits for What You Already Know
Earn transfer credits for IT certifications and credentials: If you've earned IT certifications through organizations like CompTIA, Google or Amazon Web Services (AWS), you may be eligible to receive credit toward your degree program. Or If you're seeking certification, some IT and computer science courses can help you prepare for specific exams.
Earn credits for work and life experience: Did you know certain work and life experiences - like industry-recognized certifications, law enforcement training and math knowledge - could save you time and money at SNHU? Learn how you could get credit for work or life experience.
List of Courses
Courses May Include
BS in Computer Information Systems Online
BUS 210
Managing and Leading in Business
Students will explore leadership and management theories and how to incorporate them in one's own personal style for effective contribution and collaboration in diverse team environments, and learn about the skills necessary to lead in various organizational structures and areas of business. Students will also examine how the functional areas of business are interrelated and work together in organizations.
BUS 225
Critical Business Skills for Success
Students will learn the critical business skills required for successful leadership and management in organizations. By applying business research skills and data analysis, students will solve problems and support business decisions. Students will also explore various techniques and forms of professional communications and their uses in business contexts.
BUS 400
Driving Business Opportunities
Students will examine the process of formulating strategic plans and maximizing organizational potential, and explore ways in which organizational and external risk and growth opportunities impact strategy. Students will also evaluate the potential of business decisions in relation to gaining a competitive advantage and defend the ways in which strategic decisions align with organizational goals.
QSO 340
Project Management
As modern organizations have become more complex, they have also become more project-driven. This course uses a basic project management framework in which the project life-cycle is broken into organizing, planning, monitoring and controlling the project. You will learn the methodologies and tools necessary at each stage for managing the projects effectively in terms of time, cost, quality, risk and resources.
IT 145
Foundation in Application Development
Students will use programming as a problem-solving technique in business and engineering applications. In writing computer code in a logical, structured, and organized manner, students will learn how to incorporate the key concepts of object orientation into their programming. Additionally, students will learn to write, review, and document interactive applications and work with Software Development Kits and Integrated Development Environment tools.
DAD 220
Introduction to Structured Database Environments
Students will learn to create structured database environments that incorporate basic processing functionality and allow for data management, data manipulation, and data analysis. Students will also construct and analyze queries to address data requirements.
MIS 215
Client Systems and Support
Learn the basics of systems analysis of client systems through the lens of a business analyst. Explore common client systems within an organization, the basic architecture of the overall system, the flow of information within the system, and informed decision making as well as the importance of eCommerce for a client system.
MIS 300
Enterprise Information Systems/Database
Investigate the flow and structure of data within an enterprise computer based environment. Learn to mine, compile and analyze data from client systems using appropriate tools and techniques in response to senior management inquiries.
MIS 350
Business Intelligence and Reporting
Learn about business intelligence tools and techniques for creating reports, and apply these techniques in making data centered decisions. Recommend solutions to business problems that address business needs and requirements through utilizing data visualization tools.
MIS 490
Management Information Systems Capstone
This capstone course is the culminating experience for the Management Information Systems and Computer Information Systems programs. The aim of the capstone is to assess students' ability to synthesize and integrate the knowledge and skills they have developed throughout their coursework, rather than introducing new concepts. This course is structured to support student success in fulfilling program requirements.
Total Credits: 120
Minimum Hardware Requirements
| Component Type | PC (Windows OS) | Apple (Mac OS) |
| --- | --- | --- |
| Operating System | Currently supported operating system from Microsoft. | Currently supported operating system from Apple. |
| Memory (RAM) | 8GB or higher | 8GB or higher |
| Hard Drive | 100GB or higher | 100GB or higher |
| Antivirus Software | Required for campus students. Strongly recommended for online students. | Required for campus students. Strongly recommended for online students. |
| SNHU Purchase Programs | | |
| Internet/ Bandwidth | 5 Mbps Download, 1 Mbps Upload and less than 100 ms Latency | 5 Mbps Download, 1 Mbps Upload and less than 100 ms Latency |
Notes:
Laptop or desktop?  Whichever you choose depends on your personal preference and work style, though laptops tend to offer more flexibility.
Note:  Chromebooks (Chrome OS) and iPads (iOS) do not meet the minimum requirements for coursework at SNHU. These offer limited functionality and do not work with some course technologies. They are not acceptable as the only device you use for coursework. While these devices are convenient and may be used for some course functions, they cannot be your primary device. SNHU does, however, have an affordable laptop option that it recommends: Dell Latitude 3301 with Windows 10.
Office 365 Pro Plus is available free of charge to all SNHU students and faculty. The Office suite will remain free while you are a student at SNHU. Upon graduation you may convert to a paid subscription if you wish. Terms subject to change at Microsoft's discretion. Review system requirements for Microsoft 365 plans for business, education and government.
Antivirus software: Check with your ISP as they may offer antivirus software free of charge to subscribers.
Tuition & Fees
As a private, nonprofit university, we're committed to making college more accessible by making it more affordable. That's why we offer some of the lowest online tuition rates in the nation.
We also offer financial aid packages to those who qualify, plus a 30% tuition discount for U.S. service members, both full and part time, and the spouses of those on active duty.
| Online Undergraduate Programs | Per Course | Per Credit Hour | Annual Cost for 30 credits |
| --- | --- | --- | --- |
| Degree/Certificates | $960 | $320 | $9,600 |
| Degree/Certificates (U.S. service members, both full and part time, and the spouses of those on active duty)* | $675 | $225 | $6,750 |
Tuition Rates are subject to change and are reviewed annually. *Note: students receiving this rate are not eligible for additional discounts.
Additional Costs No Application Fee, $150 Graduation Fee, Course Materials ($ varies by course)
Frequently Asked Questions
What does CIS major stand for?
CIS stands for "computer information systems."
The study of computer information systems refers to the practical use of technology in a business context. This is especially relevant in a world where data is king for organizations across industries.
From healthcare to finance, manufacturing to software, all kinds of fields rely heavily on information systems and data to drive better business decisions.
How long does it take to get a CIS degree?
The length of time it may take you to earn your CIS degree depends on a few factors.
First, if you've attended other accredited institutions previously, you may have credits to transfer in. At Southern New Hampshire University, we'll accept up to 90 credits – that means 75% of your degree could be completed before you even begin your first class with us! (Not only does that save you years of time, but at $360 a credit, that saves you lots on tuition.)
Then, you'll want to determine the number of classes you'll be able to take at a time. SNHU's undergraduate terms are just 8 weeks long, with 6 terms per year. As a full-time student, you can take 2 classes each term, which would allow you to complete 12 courses a year.
However, many of our students also work full time, and attending SNHU as a part-time student can help make you more successful in your program. This means you'd only take 1 class each term, but it may also lengthen your journey to your degree.
Your degree is possible, and you can make it happen on your schedule.
What's the difference between CIS and Computer Science or IT?
While there may be crossover between CIS, computer science and IT, there are differences between these 3 disciplines.
Generally speaking, CIS is computer science through a business lens. While there is some overlap – such as scripting, systems design and data structures – a computer science degree puts a greater emphasis on computer algorithms and code. As a result, computer science is more math-intensive.
Many of the courses in our bachelor's in CIS program actually have more in common with an IT degree. Courses in areas like application development, object analysis and design, structured database environments and introduction to scripting are just as relevant to an IT and CIS professional alike.
Both CIS and IT professionals also act as intermediaries in their organizations. CIS professionals are liaisons for a company's top decision-makers. IT professionals, on the other hand, work across the organization to assist with tech-related issues.
That depends on your skill set and your interests. If computers and technology come naturally to you, then you probably have what it takes to earn your CIS degree.
Students entering the program may be required to take a statistics course, such as Applied Statistics for STEM. The program also requires a business core, which includes courses in accounting and finance.
That said, we also offer Pathways to Math Success assessments. Depending on your scores, you could earn up to 12 math credits toward your degree for less than $50 per assessment, saving you time and money.
It's important to note, too, that while the content of the coursework may be challenging, our community of advisors, instructors and peers are here to give you the support you need to complete your program.
What can I do with a CIS degree?
As a CIS professional, you'll stand at the critical intersection of technology and business. Your expertise can help drive better, higher-impact strategic decisions. You could even play the part of trusted right-hand person for executive leadership – or better yet, become a high-level leader yourself.
CIS is crucial to the success of businesses across industries. In banking and finance, for example, account management systems host massive databases of sensitive client information. In manufacturing, information systems can improve supply chains by connecting manufacturers with their customers, suppliers, service providers and more.
According to the U.S. Bureau of Labor Statistics, the largest employers of computer and information systems managers were:1
Computer systems design and related services
Information
Finance and insurance
Management of companies and enterprises
Manufacturing
All of this is to say that a CIS degree can take you just about anywhere you want to go in terms of industry.
How much money can you make with a CIS degree?
The amount you can make upon earning your CIS degree depends on many factors – including your job title, previous experience, industry and geographic location.
The U.S. Bureau of Labor Statistics reported that computer and information systems managers earned $159,010 per year in 2021, 11% faster than average, with the lowest 10% earning less than about $95,220.1 By comparison, the median annual wage for all workers in that same time period was $45,760.1
That's for you to decide. The right computer information systems degree could position you for success in your field. In addition to well-above-average salary projections, the BLS also predicts that 46,800 new jobs will be added for computer and information systems managers through 2028.1
But there are other factors to consider, too – like cost, reputability, curriculum and more. Here are just a few things that make the CIS degree at SNHU stand out:
Affordable program. We offer some of the lowest online tuition rates in the nation. For active duty military and their spouses, we offer an additional 30% off our already affordable rates. Along with the help of a dedicated military benefits team, veterans can maximize their VA benefits.
Flexible courses. Our flexible online courses mean you can access coursework anytime from the comfort of your own home. That said, if you're looking for an online program that offers hands-on experiences, this is the place for you. Between experiential learning and access to in-person networking events and cyber competitions, you'll have plenty of opportunities to help get your foot in the door.
Expert faculty. Our CIS curriculum is designed and taught by professionals with years of industry expertise. This gives you an opportunity to gain insider knowledge that can help you succeed in your industry.
Respected university. As a private, nonprofit institution, the success of our students is and has always been our bottom line. Southern New Hampshire University is accredited by the New England Commission of Higher Education (NECHE), assuring the quality you deserve for your degree.
Transfer-friendly. Last but not least, we accept up to 90 transfer credits for our online bachelor's in CIS program. Plus, you'll get 15 free electives. That all adds up to finishing your program faster – saving you time and money along the way.
This program and its concentrations are accredited by the Accreditation Council for Business Schools and Programs (ACBSP). Student achievement data can be found on College Navigator.
Related Articles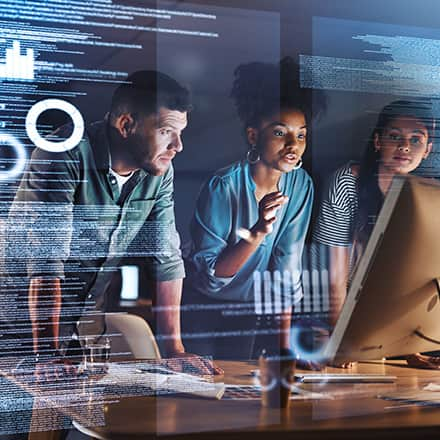 With a computer science degree, you can embark on a career with dozens of potential job roles suited to your interests. You can use the knowledge you develop earning your degree to work in a wide range of potential careers, from software engineering to computer programming or system analysis.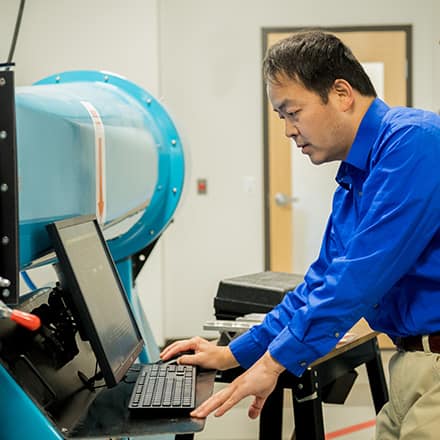 If you've ever dreamed of designing the next generation supersonic airplane or watching the biggest jet engine soar, you may have considered a career in aeronautical engineering. Here are some fundamental questions to help you decide if the field is right for you.
Computer programmers have an integral role to play in nearly every business, academic and nonprofit sector. If you're wondering how to become a computer programmer, the field requires academic knowledge, a passion for math and engineering, adaptability and hands-on experience.
References
Sources & Citations (1, 2)
1 Bureau of Labor Statistics, U.S. Department of Labor, Occupational Outlook Handbook, on the internet, at:
https://www.bls.gov/ooh/computer-and-information-technology/home.htm (viewed May 24, 2022)
https://www.bls.gov/ooh/computer-and-information-technology/information-security-analysts.htm (viewed May 24, 2022)
https://www.bls.gov/ooh/management/computer-and-information-systems-managers.htm (viewed May 24, 2022)
https://www.bls.gov/cps/cpsaat11.htm (viewed May 24, 2022)
Cited projections may not reflect local and/or short-term economic or job conditions and do not guarantee actual job growth.
2 According to survey responses from over 9,200 SNHU online students conducted in the fall of 2019.