Makerspace
At Southern New Hampshire University, we believe everyone has the ability to create. Our Makerspace provides the tools, software and support for every student to explore their interests in a collaborative environment.
Located on the first floor of the Wolak Library Learning Commons in room 106B, the Makerspace is open Monday-Friday from 10 am – 6 pm during the academic year or by appointment. Explore the space with our virtual tour and learn more by watching our YouTube playlist.
Looking for inspiration? See what other SNHU students are creating on our Makerspace Instagram!
Interested in learning more about the emerging creative technologies available in the Makerspace?
Our staff is happy to provide demos, tours and discussions on a variety of topics, such as how these technologies could be used in specific fields, ethical and legal considerations, troubleshooting and more.
Find upcoming events on our Makerspace Instagram or the event calendar.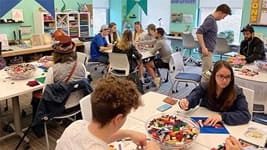 Workshops
Attend our open workshop sessions throughout the academic year (registration may be required for certain workshops). For those who cannot attend a workshop, one-on-one instruction is available.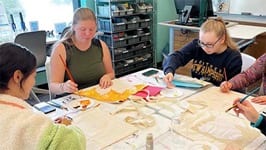 Drop-in and Small Group Sessions
Drop-in hours and small group instruction are available for those who cannot attend a scheduled workshop. Drop-in hours are subject to staff availability.
Class Sessions
Faculty can request Makerspace instruction for their class either during their class time or by choosing a specific date and time. Instruction is available on all equipment and some software and tools. Please contact the Makerspace staff for more information.
Whether for a class project, team building, instruction, student club or more, the Makerspace is your hub for creating.

From posters to engraved business logos and even 3D printed pieces, we have a variety of tools to help turn your ideas into reality:
iMac (24", 2021)
Microsoft Surface Studio 2
HP DesignJet Z9d+ Poster Printer
Sawgrass SG500 Sublimation Printer
Bambu Lab X1 Carbon 3D Printers
Epilog Zing 60W Laser Engraver
Cricut Maker
Cricut Maker 3
Akiles Cardmac Plus Business Card Slitter
Professional Button Makers (1 in and 1.5 in)
XYRON Sticker Makers
Elna Explore 340 Sewing Machine
Brother CS-6000i Sewing Machines
Heat Press
Canon Rebel T5i
Canon 5D Mark IV
Camera Lenses (18-55mm, 55-250mm, 28-135mm, 100mm)
Photo/Video White/Black/Green Screens
Soft Box Lighting
Umbrella Lighting
LED Constant Lighting
DJI Gimbal
GoPro Hero 3+
Ricoh Theta S 360 Camera
Blue Yeti Microphones
Meta Quest 2
Various Hand Tools
Much more
Please note that we don't currently offer mailing services. Students, faculty and staff who wish to use the Makerspace must be able to travel to campus to use the space and services.
Depending on your project, you may find that you are able to design on your own time and computer. Then, you can bring your design to the Makerspace to bring it to life.
Below is a list of commonly used software for users to begin designing on their own.
Canva
A free, online graphic design tool used for posters, presentations, logos, apparel and more.
Cricut Design Space
An online software that allows you to design projects for the Cricut Maker 3.
Fusion 360
A free version of the commercial computer-aided design program for advanced 3D modeling options.
Tinkercad
A free, entry-level 3D modeling program that runs on web browsers and includes tutorials.
Available Materials
The SNHU Makerspace has a wide variety of equipment, software, tools, consumables, electronics, crafting materials and more available for students, faculty and staff to use. Our staff is available to help with the equipment located in the Makerspace, and we have safety guides available when needed. For specific questions about available software or materials, please contact our staff at makerspace@snhu.edu.
Learn More About the Makerspace
From tutorials on common Makerspace projects to information about the equipment you can use, view our Makerspace YouTube playlist to explore further!
FAQs
What is the Makerspace's mission and vision?
SNHU Makerspace Mission Statement
Our mission is to provide a welcoming and inclusive environment that supports formal and informal learning with an interdisciplinary approach, while providing a sense of belonging for students, staff and faculty. We are committed to empowering our community to explore, create and innovate through collaborative and community-driven projects.
SNHU Makerspace Vision Statement
To be a leading academic Makerspace that fosters a culture of creativity, experimentation and lifelong learning while promoting interdisciplinary collaboration and social responsibility.
Who can use the Makerspace?
All currently enrolled Southern New Hampshire University students, faculty and staff can use the Makerspace. Users may be asked to present a valid SNHU ID to use the space and equipment.
What are the rules and guidelines for using the Makerspace?
Please follow the ground rules for using the Makerspace at all times. Individual pieces of equipment, tools or consumable materials may have their own guidelines and policies for use. If you have any questions regarding use of the Makerspace or any of the items in the space, please contact the staff at makerspace@snhu.edu.
What does it cost to use the Makerspace?
There are no costs to use the Makerspace equipment, software or tools with the exception of the HP DesignJet Z6200 (large format printer). Please reach out to the Makerspace staff to inquire about costs for using these machines before printing your project.