Campus Faculty
SNHU professors are leaders in their fields who are committed to going above and beyond to help our students succeed.
Our full-time and adjunct professors bring extensive academic, career and life experience to the classroom. They bring the wisdom of experienced teachers and mentors. But above all, they bring a passion for drawing out the best in each and every student. Inside and outside the classroom, they go the extra mile – so students can too.
Our faculty subject matter experts are available for media interviews on a range of topics, including business, aviation and engineering, computer science and technology, and finance and economics. To contact a faculty expert, reach out to the Office of External Affairs at media@snhu.edu.
Distinguished Chair in Ethics and Social Responsibility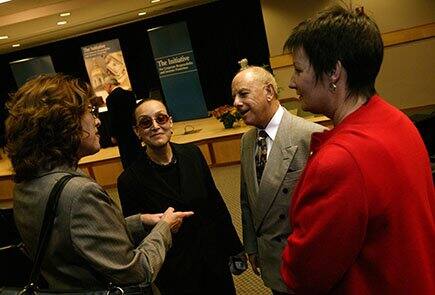 In 1999, the chair was established to assist students in learning about and leading ethical professional and personal lives, drawing upon the works of ancient Greek intellectuals whose teachings have shaped the history of Western civilization from antiquity to the present.
Christos Papoutsy partly attributes his successful career in the electronics industry to the education he received at SNHU, where he earned a B.S. degree and later was awarded an honorary Doctor of Laws degree.
Through his keen interest in Greek history and culture he met his wife, Mary, a classicist by training. Together the Papoutsy's encourage the study of classical antiquity and Hellenism, pointing out their lasting impact upon Western development and thought.
The current purpose of the Christos and Mary Papoutsy Chair in Ethics and Social Responsibility is to educate students, staff, and the SNHU community about the social and ethical issues facing today's global environment. One of the goals of the Chair is to develop state of the art theory and research in ethics.
This position is a two-year appointment which will commence in the fall of 2017. In order to achieve the goals of the Chair, the first year the Chair will be awarded a sabbatical-type leave to conduct research.
The second year of the appointment will focus on fostering campus and community-wide dialogue and debate about ethical issues.
Southern New Hampshire University is pleased to announce the two-year appointment of Dr. Joshua Becker as the Christos and Mary Papoutsy Distinguished Chair in Ethics and Social Responsibility.